You already know from the previous post that I signed a lot of players on free transfers to prepare my League One season with Chester. Maybe I signed a little bit too many, out of the fear that my squad won't be able to resist in the new competition. I couldn't resist though and I signed another youngster on a free transfer, another regen. His name is Stefan Lehner and I found him while browsing through the European National Teams. I found it very curious that a player is selected for his national team at only 18 years of age, so I decided to sign him because he was out of contract at his club. He is a left winger, and I think that he has what it takes to become a good player.

Enough about transfers and contracts, let's see the results from the first half of the season. We'll go month by month.
August 2009
Our first game was a home match against Colchester. Our fans were eager to see the new players and the old ones perform in League One. And we didn't disappoint them, we won the game 3-1. We won another home game in the League Cup, and then came the first defeat, 2-1 away to Crewe Alexandra. The last three games of the month were a mixed bag, we won the two games we had to play in League One and lost the difficult tie against Everton in the League Cup. Our main goal, the League One championship was going as planned so far, we had 3 wins and only one loss. But it was too early to celebrate.

September 2009
September began with an easy away match to Accrington, a League Two team, in the Johnstone's Trophy. We won 4-0, but our great fears were the League One games. We managed to get a very good 2-2 draw away at Peterborough, one of the good League One teams and morale was on the rise. We had two home games in a row and won both convincingly, 3-o against Brighton and 2-1 against Walsall. We were on a great run in the League, six games without defeat, 5 wins and one draw. The great run came to an end in a bitter away game against Huddersfield. We lost 2-1, but if you look at the match statistics you will notice that they scored twice although they had only one shot on target. The other goal was a fumble of our defence, an own goal. 

That was a painful defeat, all the players and staff were very sad at the end of the game. Our fans too. Despite that we were holding the top spot in the League One table at the end of September! Journalists were maliciously saying that we should be on our way down the table sooner or later.

October 2009
After the huge disappointmeint suffered in the Huddersfield game it was difficult to lift the spirits in the dressing room. The players were angry, frustrated, sad. And that began to show on the pitch. We lost our next three league games, missing a huge number of chances every single game and making enormous defensive mistakes. The low morale was one of the reasons, and maybe the fact that the numerous new players didn't have the time to gel just yet. We easily won the Johnstone's Tropy tie against Shrewsbury, but that was no consolation. I thought that the next game, at the Deva Stadium on October 20th against Southend would be crucial. We had to win to gain some momentum again. We were already slipping towards the lower parts of the table. It was a dramatic game, we finally won it 2-1 with a goal scored right in the dying moments of the game. Oh, and I forgot to mention that Southend missed a penalty kick! We were lucky, but I think the lads deserved the victory. 

The next three league games were triumphant, we won all three in style: 3-0 away at Leyton Orient, 1-0 at home against Tranmere Rovers and a beautiful 2-0 win at home against MK Dons. Thinks were beginning to look good again, we were in the best part of the table, on the 3rd place.

November 2009
In November we had only three league matches, but all of them were against tough opponents: away against Bristol Rovers and Oldham and at home versus Norwich. But the first game of the month was in the Johnstone's Tropy quarter final, against Crewe. We lost 2-1, an identical score to the one that the two teams produced in the match league. That wasn't a tragedy, we recovered fast and qualified for the FA Cup third round after two great victories: 4-0 against Notts Co and 5-3 (after leading 4-0 at the break) against Stockport. 
But the League One games were the most important. I thought that if we'd escape November alive we should be okay for the last month of the year too. And we managed to get enough points to keep us in front: 1 win, 1 defeat and 1 draw, four points for our hopes.

And the hopes were rising, as we won 2-0 against Norwich, a team that the media predicted would finish 2nd! It was a good month overall.

December 2009
December started badly, we lost our first game away at Milwall, 2-3. We recovered fast and we managed to win the next 2 games against Shrewsbury at home (3-0) and Yeovil away (1-0). We had two matches to go, at home with Stockport and away against Swindon. We played only one game though, because our home game was postponed, which delayed the away game for January 2009.

Or pitch was not looking good, and the same could be said about the stadium and the training facilities.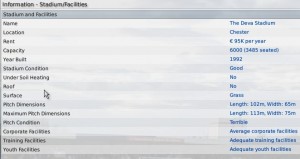 We finally played the home game against Stockport and won it convincingly, 4-0. The third place was ours at the end of the year, but the gap was not big. We were on a play-off place but we had to suffer all through June to make our secret dream come true, promotion to Coca-Cola Championship.

Now let's meet the players that made this possible:
Most League Goals – Febian Brandy, striker, on loan from Manchester United, scored 13 goals. Also made the most assists, 7. And received the most MoM awards, 4. His blistering pace was a threat to each and every defence.

Most League Appearances – Sam Hewson, central midfielder, on loan from Manchester United last season too, 22 appearances ot of 22. Precise as a Swiss clock.

Best Pass Completion Ratio – Rodrigo Possebon, central midfielder from Brazil, on loan from Manchester United last season too. The number was an impressive 77 percent.

Best Average Rating – Federico Almerares, striker, our Argentinian star, bought last season for 4,000 euro from FC Basel. He had a 7.52 average rating.

Unfortunately Almerares only played 13 games, due to several injuries. In fact, in the one year and a half he spent with us he was with the physio about 4 months and a half :(

That's the first half of our League One season, I think it went great for our Chester. The media predict we will finish 23rd. I seriously doubt that ;) But I don't know if we will be able to obtain the promotion to Coca-Cola Championship… The competition is fierce and the opponents are very good. But it would make a beautiful fairytale, wouldn't it? ;)

Subscribe to our Newsletter