Hello folks, here I am waking up after the hangover caused by celebrating the miraculous Champions League win :) Arsenal offered me a huge salary and an enormous transfer budget to become their manager at the end of the season but I declined , I want to win all that I can with Chester City, I put too much work into this team to leave it just when it started to play like I dreamed it would. I have a confession to make: in real life I'm the type of person that doesn't manage his triumphs well. After a success I always find myself admiring the triumph instead of taking in further. I react better to defeats, a defeat always makes me try harder and eventually succeed. Now I'll try to manage Chester's successes in order to bring more triumphs and not complacency. 
OK, sorry for the long introduction, let's get down to the facts. Our board has a lot of money in the club account so they finally decided to build a new top notch stadium for our team, the Chester Stadium, that will be ready next summer, in 2016. Maybe after all I did for them they could have named it the Johnny Karp Stadium :)

At the start of the new season the board wanted us to qualify for the UEFA Champions League, I told them that we will definitely go for another Premier League title. That gave me more than 70 million euro to spend on transfers and along with the income from the players I was planning to sell I was quite confident that I would make some good signings.

I sold only 2 important players: our keeper, Serdar, and Wijnaldum. Although Georginio is a talented player I was fed up with his lack of discipline, so I sold him to Arsenal for 10 million euro. As for our keeper, he's a good lad but I was planning to sign a great goalkeeper instead.

And here's the list of new signings: 4 big names and four youngsters for the future…

Let me present the big name signings one by one. 
Armand Traore, a good French left back with great pace and crossing. I already had a good left back but he is quite injury prone so a good rival on the bench wouldn't hurt at all.
Renato Augusto is a Brazilian attacking midfielder that can play any role in midfield, from right and left winger to central midfielder. He will be a backup for Willians Santana and Choco, a replacement for Georginio Wijnaldum.

Rene Adler is the keeper I chose to replace Serdar. I signed him on a free transfer and I think that I made quite a good deal since my scouts tell me that he's twice the player that Serdar will ever be.

And now, the cherry on the cake, the biggest signing that I ever made. 60 million euro, 30 upfront and 30 in monthly installments, the one, the only, the magnificent… Sergio Aguero! He's the greatest player that ever played for Chester City, a really big name and a wonderful player. The shirt sales went through the roof our stores were open day and night to accomodate all the fans that wanted a shirt with his name on the back and, of course, the number 10. Obviously I expect a lot from him and it will be very important that he adapts fast to our squad and to our style of play.

Aguero was away with his national team for the Copa America and I only could use him in the last friendly game of the season, the most important.
Aguero scored against AC Milan in the first game he ever played for us, I can only hope that he will score a lot more in the future in the official games.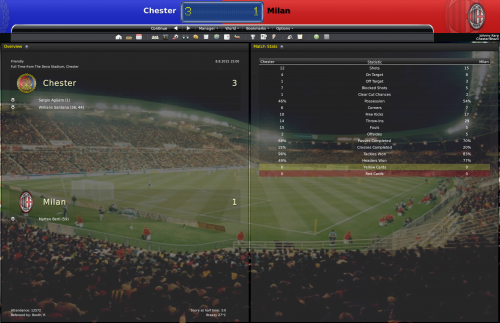 Following our great last season and our big name signings the bookmakers agreed that we are the favorites for the Premier League title! That's quite a responsibility to manage…

That was our pre season, preparing to win the trophies that we didn't win so far, the FA Cup and the Club World Cup. But there's another thing. I mentioned Copa America earlier… Brazil sacked their manager after the Copa America and offered me the greatest job in world football!

What do you think, did I accept it or not? You're damn right I accepted! Now I'll have more work to do, but to manage Brazil is a wonderful challenge for me. If I'll win the FA Cup and the Club World Cup with Chester this season I might resign and focus on Brazil, if not I'll try to carry on with both of them. We'll see what the future will bring.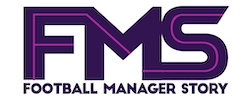 Subscribe to our Newsletter