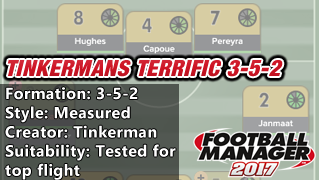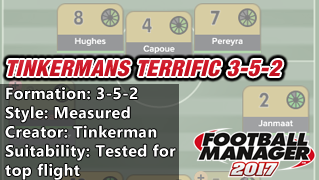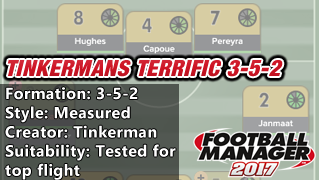 Hi guys
Welcome to another tactic in our Best FM 2017 tactics series. This tactic is built on three at the back which is becoming increasingly popular in world football at the moment. There are also two attacking wing backs, three players in the middle of the pitch which ensures we are not overrun in midfield. Finally the two strikers cause havoc, scoring goals and creating for eachother. Testing was completed in the latest patch with Watford. But before moving on with  this tactic, don't forget to check out our other killer tactics for football manager 17. :)
Best FM 2017 Tactics: Formation and Player Roles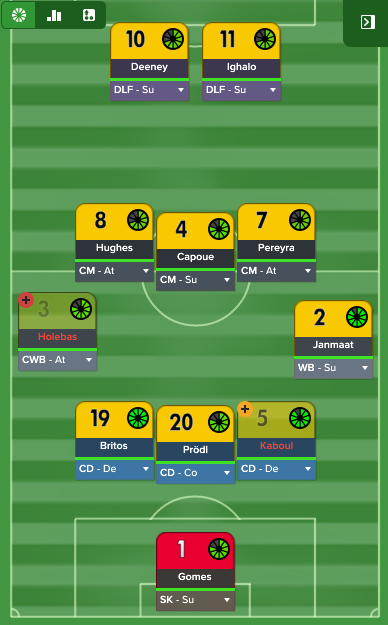 What I love about this formation is the strong spine of the team, it is very solid through the middle of the pitch. The block of 3 centre backs, 3 central midfielders and 2 strikers really help to dominate games. Of course this leaves a lot of work in the wide areas for the wingbacks, however if you have good wingbacks with good stamina they will be fine. This tactic also allowed my strikers to score 49 league goals between them which was nice as I enjoy my strikers getting the goals.
GK – sweeper keeper (support) – Just use the best you have and focus on other key positions for transfers first. I purchased Predrag Rajkovic in January and he looks a fantastic prospect.
CD – central defenders (defend and cover) – Typical attributes for centre backs are important. You will need at least 5 good centre backs in your squad depending on how many competitions your in. I would recommend a left footer on the left side if possible, it makes passing out from the back more comfortable. Also, I would generally play the most pacey defender in the centre with the cover duty.
WB –  normal and complete (support and attack) – I decided to have one wing back more defensive than the other to try and give the team some more defensive stability as I didn't want both being caught forward and getting hit on the counter attack.
CM – central midfielders (support and attack) – The two midfielders with attack duty bomb forward and chip in with goals and assists whereas the midfielder with the support duty hangs back to give more defensive stability. Signed will hughes from derby and he done really well in the cm(A) role.
ST – deep lying forwards (support) – Important players in the team as they are relied on for the majority of goals. I like to play different striker types together when possible e.g one quick, one powerful in the air.
Best FM 2017 Tactics: Team Instructions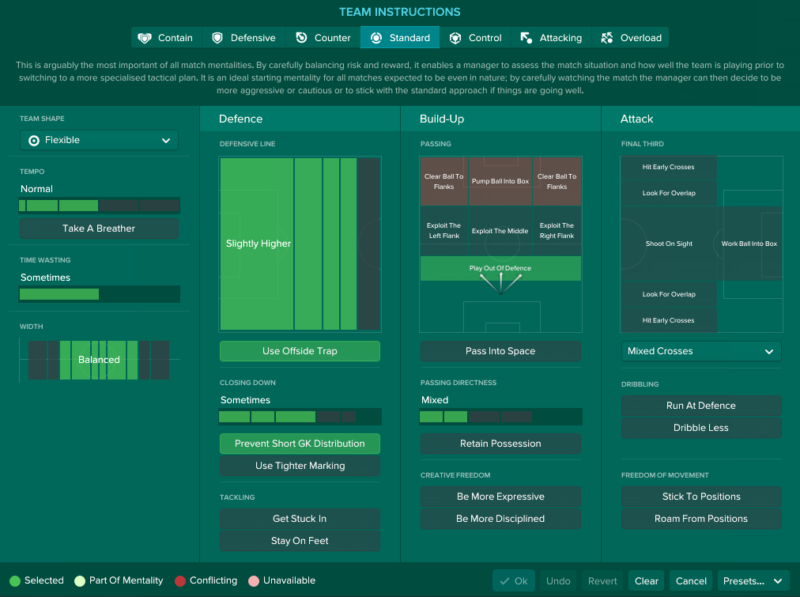 The team instructions are very simple, went for a standard approach and a flexible team shape. Everything is self explanatory. The majority of the core instructions are included with the individual player instructions, therefore, the download is crucial to the tactics success.
Best Tactics for FM 17 : the Results
Premier League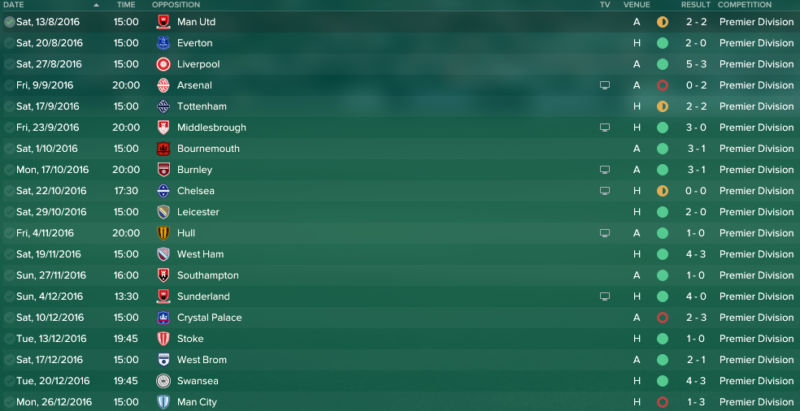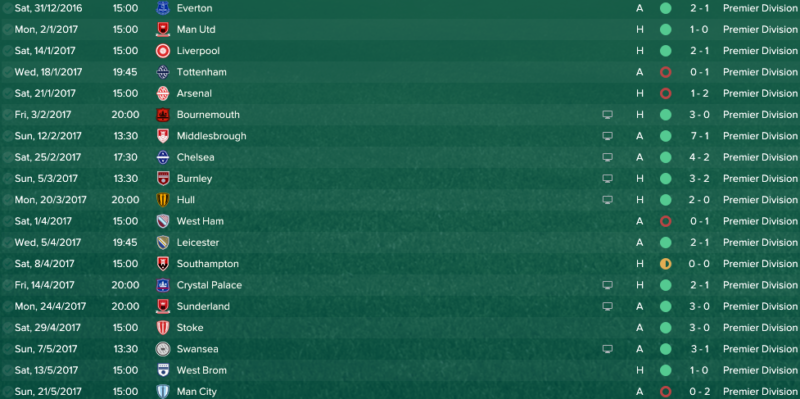 We focused on the league and won it with 85 points.
Best FM 2017 Tactics: Tinkerman's Top Tips
These tips are very important so please use them for the best results.
Get the tactic fluid as quickly as possible – play at least 5 friendlies in pre-season and have the tactic in all 3 slots.
Pre-season training – fitness (average), team cohesion (high) & tactics (average) -rotate between these three. Match preparation – match tactics with max focus.
During season training – balanced (medium). Match preparation – defensive positioning with little focus (half a day). Allow rest after matches during season.
You need the right players – so for example look to sell your wingers unless they are capable of playing as WB's or strikers. Use the funds to buy players to suit the tactic and try to get 2 players for each position.
Use your AM or best coach with high tactical knowledge attribute for opposition instructions.
Set your WB's to take corners and throw ins.
Indvidual player instructions are crucial so you must download to get best results.
Train players for the role and position if it is not their natural role and position.
VERY IMPORTANT – When a player gets a yellow card remove their individual player instruction to 'tackle harder' or change to 'ease off tackles'. I recommend for players with a high aggression attribute always change to 'ease off tackles'.
Best FM 2017 Tactics: Download
If you would like to give the tactic a go, please follow the instructions below:


1. Click the download link above and download the file.
2. Once the file is downloaded move it to the following folder documents>sports interactive>football manager 2017>tactics
3. Now load the game as normal and enter the tactics screen.
4. In the tactics screen, click the tactic you currently have loaded then select 'load' from the drop-down menu
5. Select 'Tinkerman's Terrific 3-5-2' and click  load.
Finally, thanks for reading. Please feel free to leave a comment if you have any questions and I will try to respond as soon as possible. Hope you enjoy :)
The Tinkerman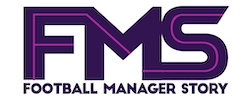 Subscribe to our Newsletter