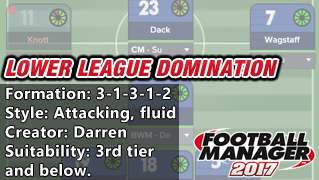 best FM 17 tactics by Darren Smith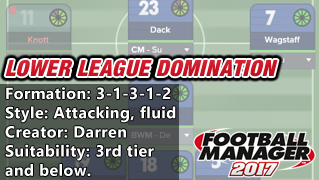 Hi guys and welcome to the first edition of our best FM 17 tactics series. If you struggle for stability in the lower leagues, desire high possession and enjoy dominating games then look no further. This FM 2017 tactics  is suitable for the lower leagues, specifically League One and below in England which Is where I tested to great success.
Best FM 2017 Tactics: Formation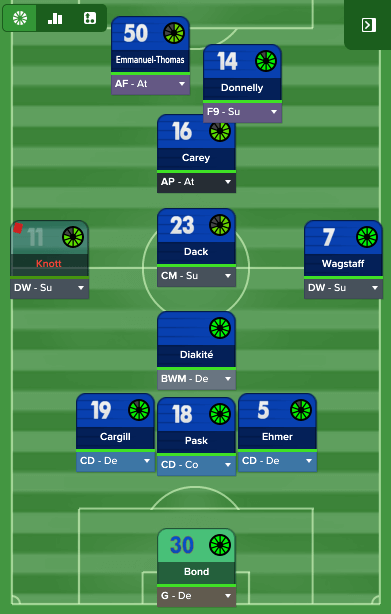 Not your normal lower league formation I found great success using this shape. The three centre backs are solid and split to cover more width when necessary, the DMC breaks up play while the central midfielder gets involved with all phases of play. I deploy two defensive wingers to defend the flanks but also attack out wide and link up the play. The advanced playmaker is our key, he scores, assists and drops deep to collect the ball before driving forward. Both strikers link up well, the advanced forward is our main goal threat while the false nine pulls defenders out of position and makes late runs into the box.
This shape seems to work well against a multitude of formations and very well away from home. However, you may find it hard against narrow formation that defend quite deep.
Best FM 2017 Tactics: Team Instructions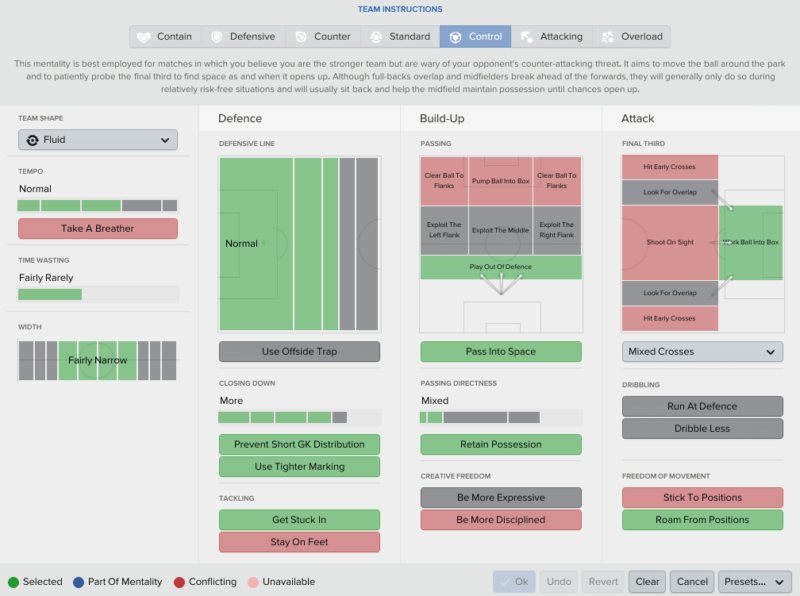 I didn't want your stereotypical lower league approach of hit and hope Football. This tactic is based around ball retention, working opportunities and pressing the opposition into mistakes. The majority of my instructions match this ethos, I also ask my team to roam from their positions, this makes our movement more unpredictable.
Note I ask my players to get stuck in, you may need to reconsider this if yellow and red cards become an issue. This will vary on your team and opposition instructions. I didn't have an issue personally. Note: For full effect download this tactic, do not try and copy it as there are specific player instructions which are important.
Best FM 17 Tactics: Player Roles
GK – goalkeeper (defend) – standard goalkeeper
CD – central defender (defend) – typical central defenders as ever, tackling, positioning, strength and heading are key attributes, try and avoid slow centre backs as you can be in danger of the counter attack and passes over the top.
CD – central (cover) – Important attribute is acceleration and pace, this guy needs to clean up through passes and mistakes.
DM – ball winning midfielder (defend) – This guy will break up play and that is it. Passing is always nice but I think a physical, hard tackling DMC could be best.
MR/ML – defensive winger (support) – An all round winger would be ideal but left footed for the left and right for the right is best. Speed is helpful and the better their delivery the more you will score. Just beware, without decent work rate and the willingness to defend you may be exploited down the flanks.
MC – central midfielder (support) – This guy links up play, arrives late in the box and acts as your transition from phase to phase. An all rounder is best but favour more attacking over defending ability.
AMC – advanced playmaker (attack) – Here we have your main threat, this chap makes or breaks the tactic alongside your strikers. You need flair, vision, speed, dribbling and the better he can finish the more you'll score.
ST – false nine (support) – A source for assists and goals, an all round striker is best but favour speed, dribbling ability and finishing.
ST – advanced forward (attack) – Pure and simple you need a goal machine, someone who will find the net. More specifically a player with good dribbling ability and physical stats especially speed are welcome.
Defensive positioning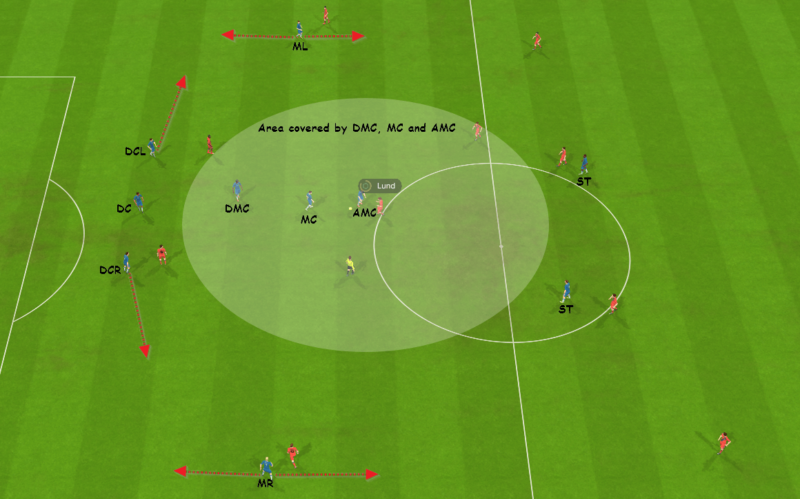 The image above shows our general shape while defending. The two wider centre backs split when in possession to add width but then tighten up once possession is lost. The middle DC drops deeper to cover any through balls. My DMC, MC and AMC cover the white shaded area, taking turns to close down depending on opposition positioning. The defensive wingers are very important, as you can see they sit fairly deep when not in possession, almost like wing backs. When we regain possession both wingers push on into the attacking phase as seen below.
Attacking movement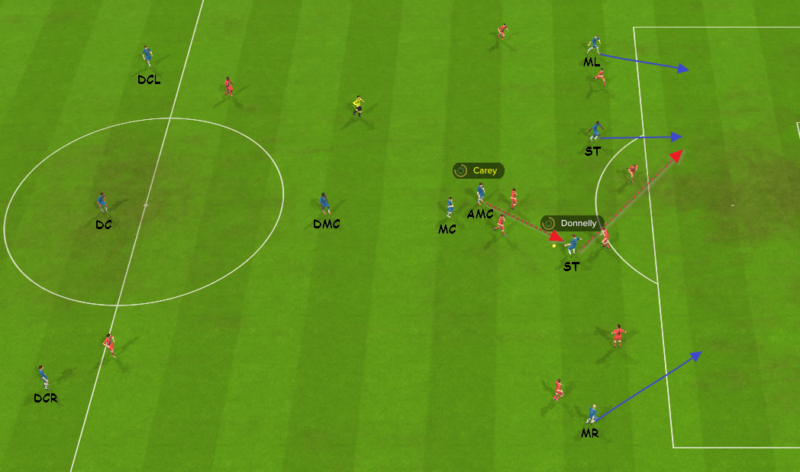 You can now gain an understanding for the importance of stamina and work rate in these two wide areas. The AMC gets into range and then picks out a pass or shifts into an area of space, hence the need for passing and general creativity. My false nine sits just deep of the advanced forward and acts as a pivot of sorts also arriving late in the box from crosses. There is a decent amount of movement and passing options against most opposition.
Best FM 17 Tactics : Results
Here are my results with Gillingham in League One and cup competitions. Some good form all round really considering the team at our disposal.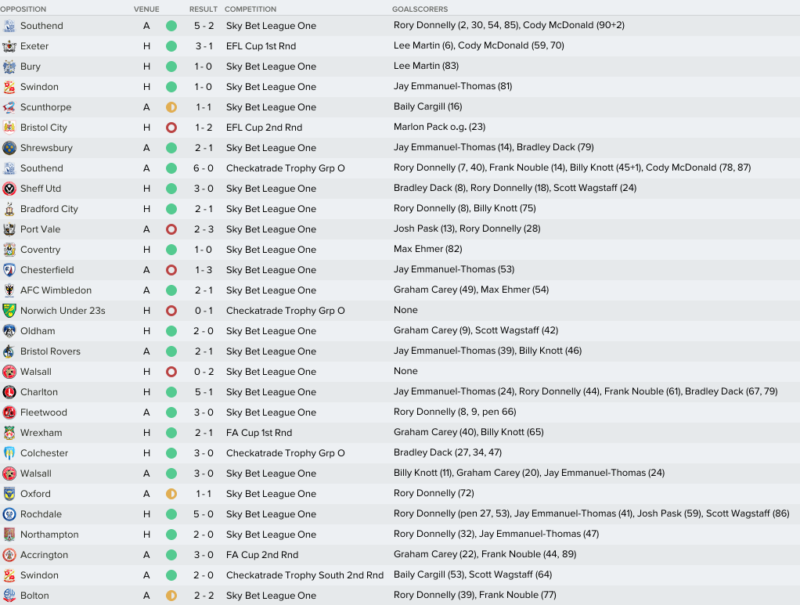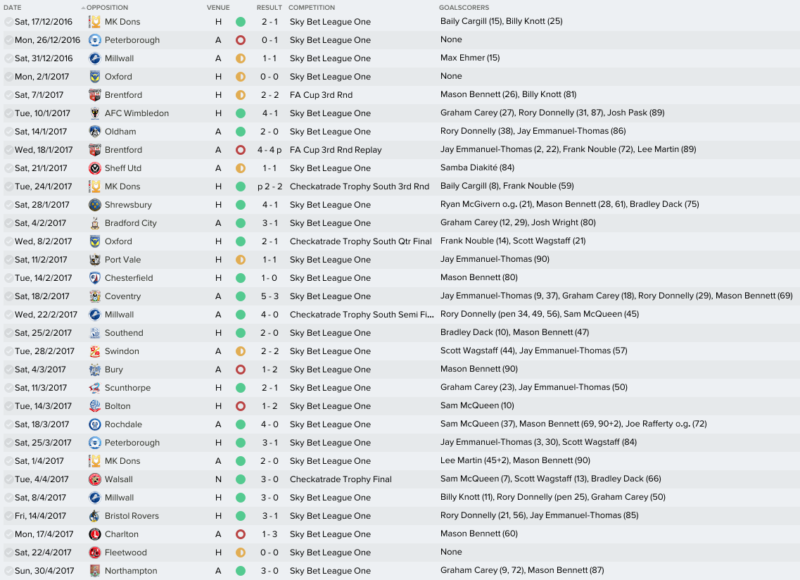 We were predicted to finish 12th, so top spot and the Checkatrade trophy represents a real over achievement.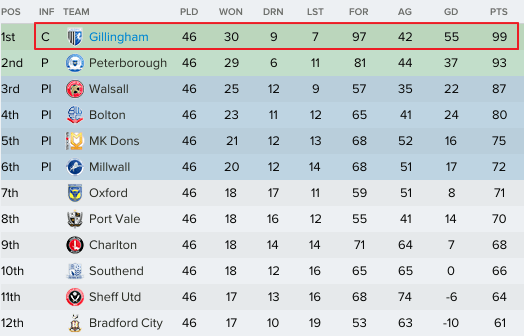 Team Stats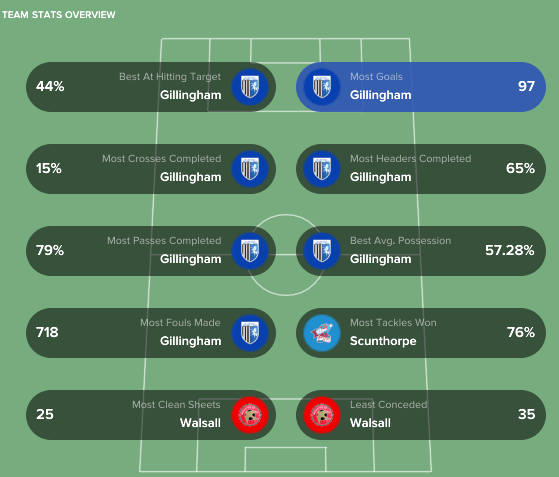 Just wanted to demonstrate how well we did in all areas. High possession, pass completion, shots on target and goals scored. Worth noting the foul count though, you may need to watch this adjust accordingly if needed.
Player Stats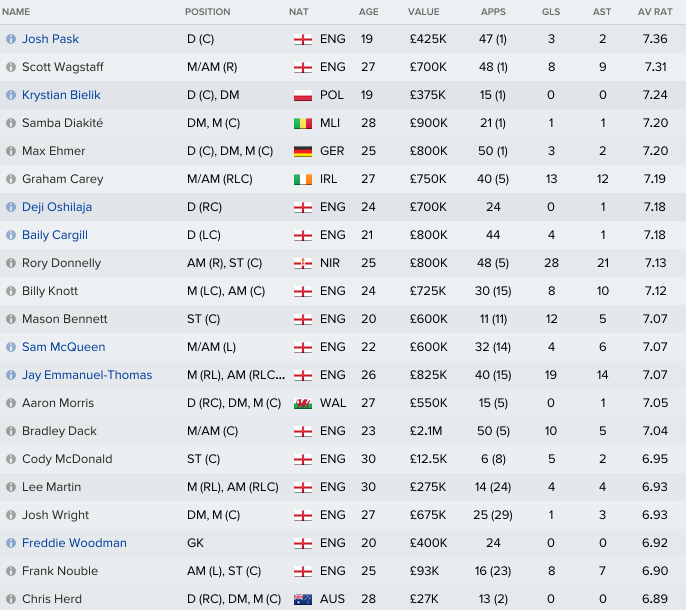 The stats above show how many players get involved and chip in with assists and goals. But the defenders, AMC and strikers are clearly vital in boosting those numbers.
Best FM 2017 Tactics: Top Tips
This has been tested for patch 17.1.1, we cannot predict whether this will work in future patches due to potential match engine changes.
As with any tactic it needs loading at the start of pre-season and don't sign a whole new team, these two things will see you under perform not because of a poor tactic but because of poor management. Preperation is very important you need a squad full of match fit players and good team chemistry to make any system work.
Pre-season:  General training – team cohesion  with high intensity for half and the then train fitness at high intensity.
During Season: General Training – balanced, Match Preparation – take assistants advice and judge by form.
For opposition instructions use your assistant manager or coach with best tactical knowledge.
Best FM 17 Tactics: Download
If you would like to give the tactic a try, follow the instructions below:


1. Click the download link above and download the file.
2. Once the file is downloaded move it to the following folder documents>sports interactive>football manager 2017>tactics
3. Now load the game as normal and enter the tactics screen.
4. In the tactics screen, click the tactic you currently have loaded then select 'load' from the drop-down menu
5. Select 'Lower League Domination' and click  load.
Thanks for reading. Please feel free to leave a comment. Hope you enjoy :)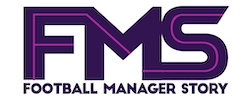 Subscribe to our Newsletter