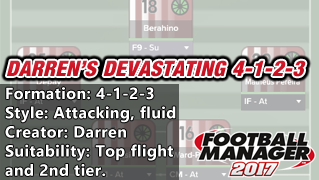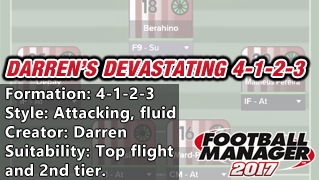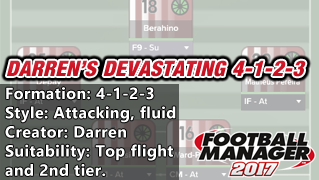 Hi guys and welcome to another edition of our best FM 2017 tactics series. You may remember last years tactic FM 16 4-1-2-3 which proved to be one of our most popular downloads yet, well here is version 2.0 recreated for FM 2017. If you like devastating attacks, plenty of excitement and edge of your seat Football this is the tactic for you. Plenty of goals and pressing Football for all.
---
FM 2019 regen dates youth intake
---
Best FM 2017 Tactics: Formation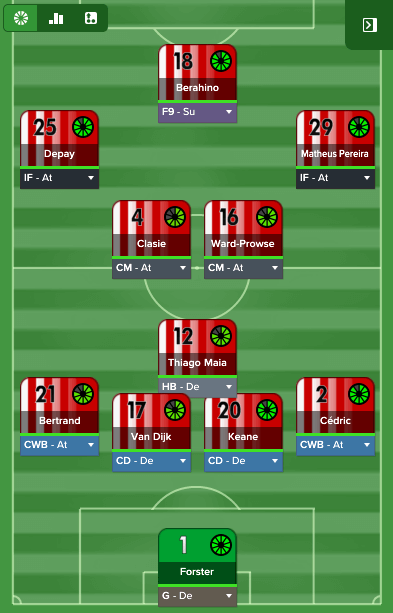 This system is based around the popular 4-1-2-3, or 4-5-1 as some prefer. The two central defenders and half back offer security…the rest? Well its a bit chaotic with complete wing backs bombing on the overlap, two attacking central midfielders making late runs into the box, a false nine pulling defenders away and two marauding inside forwards with the freedom to do as they please.
Sounds like a defensive nightmare I know, but that three man defensive shield keeps it all together and every player is instructed to mark tightly and close down so they all do a job defensively. This FM 2017 version is very similar to last years, shape and roles haven't changed but I have made a few amendments to individual instructions.
Best FM 2017 Tactics: Team Instructions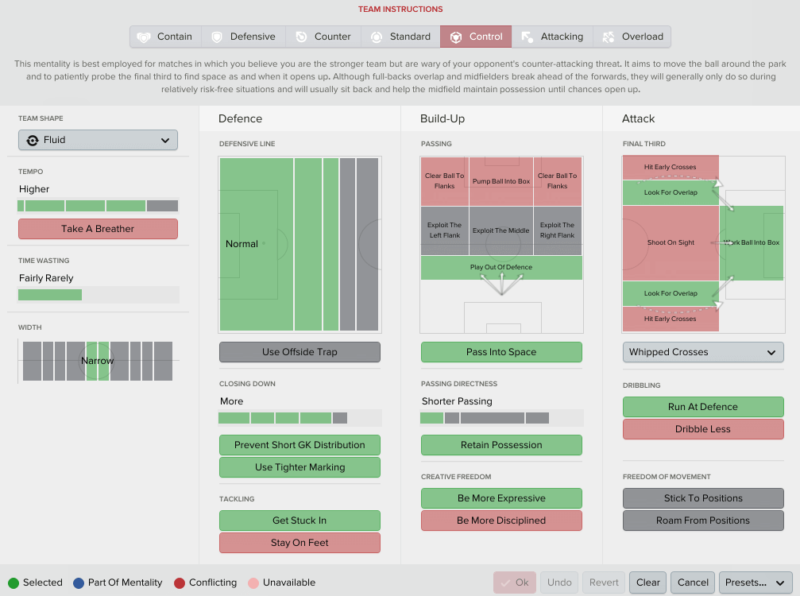 All instructions should remain the same regardless of opponent, the only time you may feel the need to adjust is if your opponent pack out the middle of the field and you keep losing possession as a result, then playing a little wider may help. This is a pressing tactic that unsettles the opposition and includes some very physical play.
Before we move on, please do not ask me to list the individual player instructions, I have made the effort of making, testing and writing this tactic up, adding the individual instructions would just make the post too long. However, the player instructions are very, very important and that is why I have put this tactic up for download.
Best FM 2017 Tactics: Player Roles
GK – goalkeeper (defend) – standard goalkeeper
CD – central defender (defend) – typical central defenders as ever, tackling, positioning, strength and heading are key attributes, try and avoid slow centre backs as you can be in danger of the counter attack and passes over the top.
DR/DL – complete wing backs (attack) – Very important to the success of this tactic. These guys overlap the inside forwards and a better cross means more goals. Though must work hard to get back and speed is vital also.
DM – half back (defend) – This guy can drop back to form a three man defence or act as a shield in front of your defence so he needs to tackle, head the ball, mark and pass. Defensive attributes are best but an all round midfielder would be ideal.
CM – central midfielder (attack) – The complete midfielder would be ideal but players with great physical ability and good speed are best, both CM's are instructed to get further forward and dribble more as well as move into channels. They must be able to pass and the better they are in front of goal the more they'll score.
AMR/AML – inside forward (attack) – lots of goals and assists from these two players, they have a lot of freedom and you need someone who has vision, flair, speed, dribbling and finishing ability. Also off the ball is important as the ability to be lost in the box will make scoring easier. The better these two are the more success you will gain and magician dribblers are preferred but I also found long shot ability a handy extra.
ST – false nine (support) – Possibly the hardest position to fill. This guy must do it all, he needs speed, dribbling, flair and the usual finishing attributes. Off the ball is very important as is anticipation but don't underestimate how good passing should be, this guy needs to pick out the inside forwards. Note I found great false nines that didn't work as they could not carry the ball well, so get speed and dribbling ability.
Best FM 2017 Tactics: Results
Premier League with Southampton.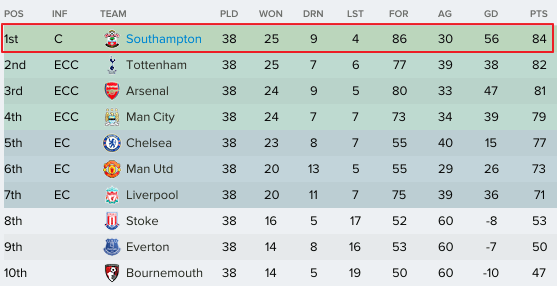 We actually won every trophy on offer. Worth noting though that I strengthened heavily for the season and gained Depay and Lemar on loan for nothing so two very vital signings at little outlay. Southampton have a massive budget if you request more and up the expectations, worth noting for those who like a little to spend…not to mention a number of high value players that aren't suitable for the tactic. All of which were sold for decent money.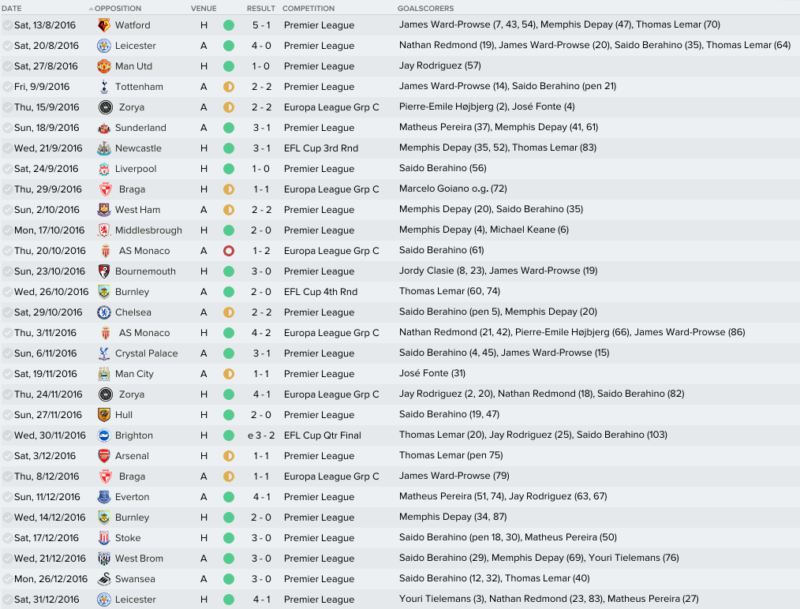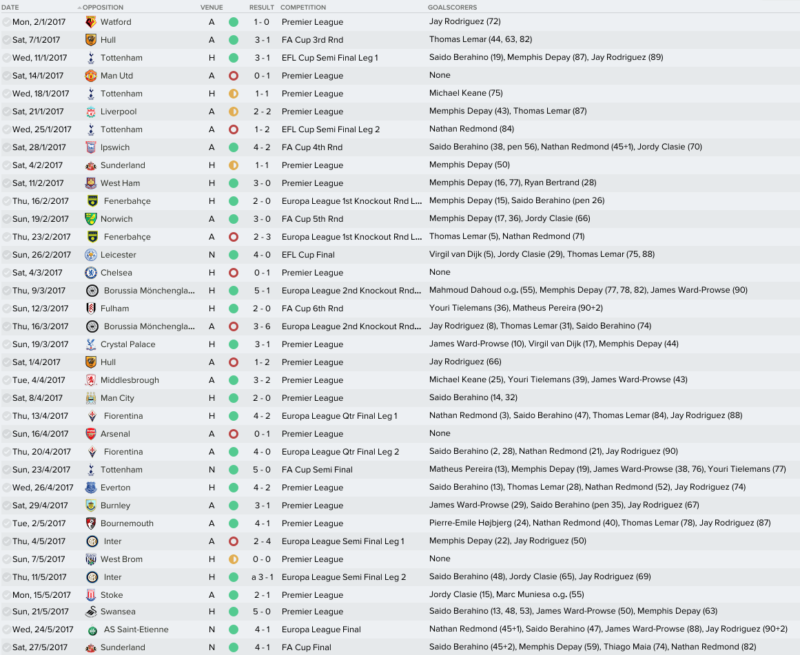 Player Stats
I cannot stress enough how important the F9 and inside forwards are, if they have a bad day you will have a bad day. If you can have strength in depth also it helps as one from the bench can really turn a game. Also don't underestimate the importance of those complete wing backs, as seen below, Cedric chipped in with a number of assists. Yes I spent a lot of money, but with that we won the lot, on a more modest budget you can still have an extremely good season…to prove that I played eleven games with Sheffield Wednesday below.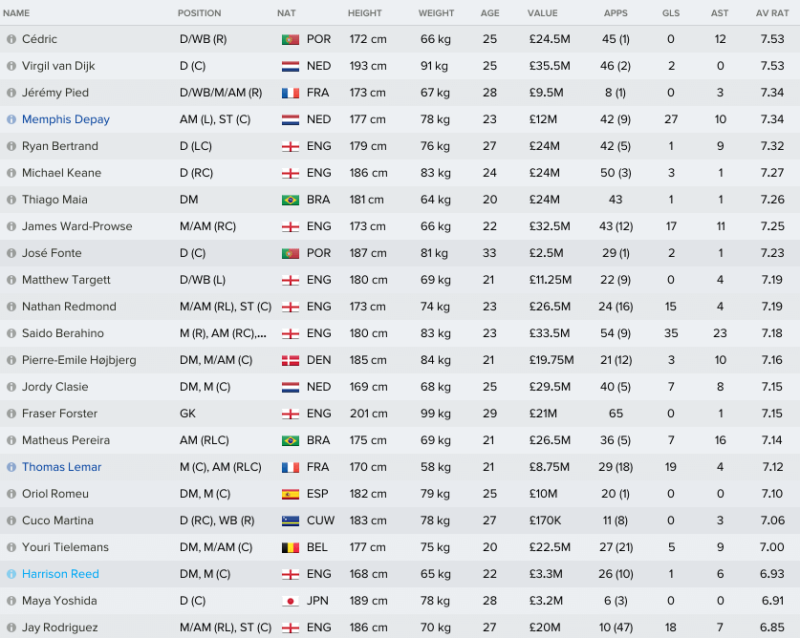 Short test with Sheffield Wednesday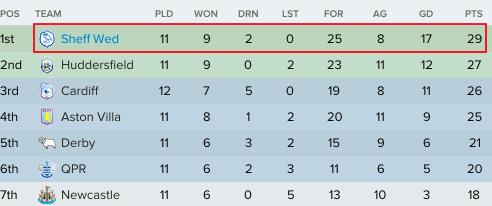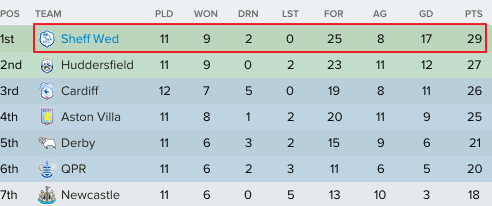 Note we are top after 11 games despite the false nine (Forestieri) not clicking with the tactic. He has only scored two goals.
Best FM 2017 Tactics: Top Tips
This has been tested for patch 16.1.2. We cannot predict whether this will work on later patches due to potential match engine changes.
Note, this tactic can seem inconsistent at times. You may be watching in key highlights mode and not seeing all the chances your players are missing. If your players are not creating chances then you do not have a suitable squad to use this system. Remember the front three are key.
As with any tactic it needs loading at the start of pre-season. Also avoid signing a whole new team unless you are experienced doing so. These two things will see you under perform not because of a poor tactic but because of poor management.
Pre-season:  General training – team cohesion  with high intensity.
During Season: General Training – balanced (medium intensity), Match Preparation – take assistants advice and judge by form, I found attacking movement most often when on song.
For opposition instructions use your assistant manager or coach with best tactical knowledge.
Be aware you need a decent size squad. At least two players per position to allow for injuries and bans if you are in Europe.
If you do not have suitable players for the DR, DL, AMR, AML and ST then this tactic will be hindered.
Best FM 2017 Tactics: Download
If you would like to give the tactic a try, follow the instructions below:


1. Click the download link above and download the file.
2. Once the file is downloaded move it to the following folder documents>sports interactive>football manager 2017>tactics
3. Now load the game as normal and enter the tactics screen.
4. In the tactics screen, click the tactic you currently have loaded then select 'load' from the drop-down menu
5. Select 'Darren's devastating 4-1-2-3 2.0′ and click  load.
Thanks for reading. Please feel free to leave a comment. Hope you enjoy :)
This FMS best FM 2018 tactic has been updated for the FM 2018 version of the game, you check it out clicking  here. :)
You can find our other amazing tactics for FM 17 by clicking here. :)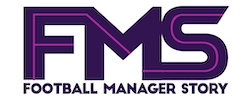 Subscribe to our Newsletter