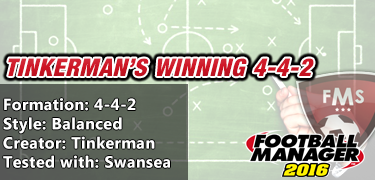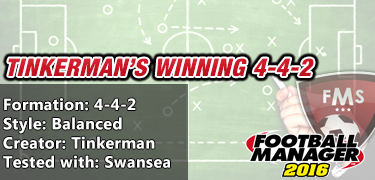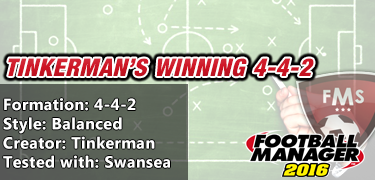 Welcome to my latest tactic in the Best FM 2016 tactics series. This tactic has been tested with Swansea City in the premier league during 2015/2016 season and the results are exceptional. This is a solid tactic which dominates possession, creates chances, scores goals and keeps it relatively tight at the back. If you like the sound of this tactic check out below for further details.
Best FM 2016 Tactics: Formation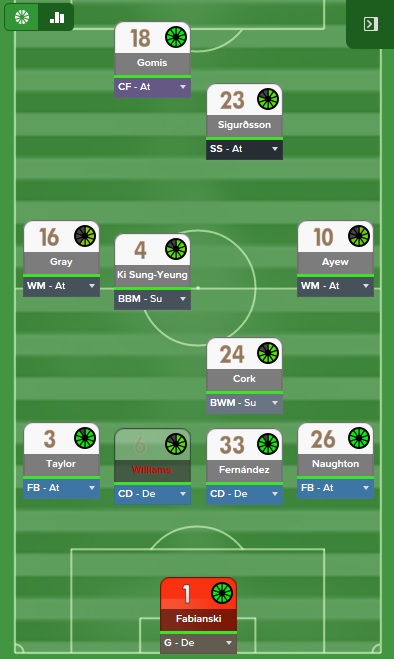 You may call this a 4-1-3-1-1 or something else but I'm calling it a 4-4-2 because it started out as a typical 4-4-2 and works as a 4-4-2. The formation as shown above is different from a typical 4-4-2 with one central midfielder deeper than the rest of the midfield and one striker withdrawn into the attacking midfield position. I opted to use a defensive midfielder to reduce the space in front  of the two central defenders and provide a defensive shield. The second striker was withdrawn into attacking midfield to provide a link between midfield and striker.
Best FM 2016 Tactics: Team Instructions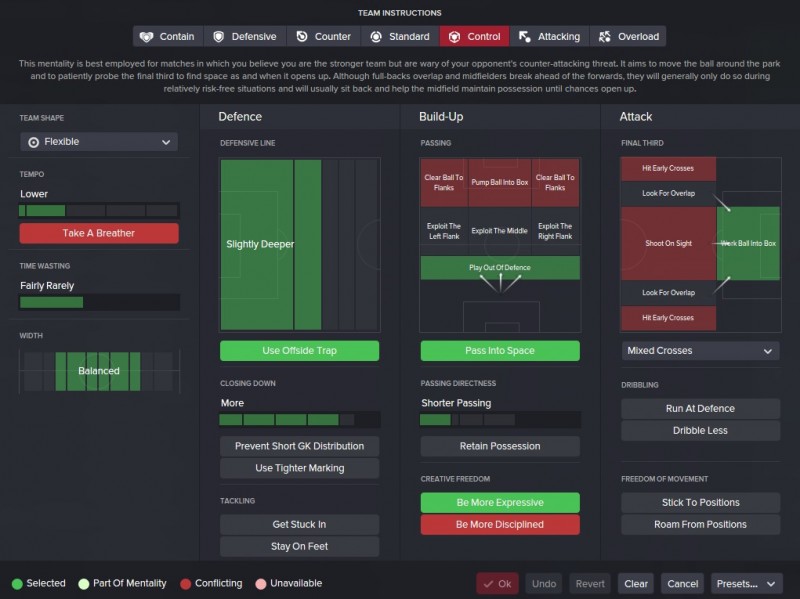 The team instructions above were used for all matches during the season with Swansea. I used the control mentality because I enjoy watching my team dominate matches and having the majority of possession. I also wanted to be solid at the back so I felt control was the best option. The flexible team shape was used as I usually play with fluid or very fluid but this time I wanted the team to keep its shape more often but still have the possibility for some fluid movement when opportunties arise. The rest of the instructions are self explanatory really, they are what I found to work best in this formation.
Best FM 2016 Tactics: Players Roles
GK – Goalkeeper (defend) – Usual goalkeeper requirements.
DR/DL – full back (attack) – must be capable of defending (tackling & positioning) and have the energy  and desire to get up and down the pitch (stamina, workrate & teamwork). Good crossing ability would also be advisable.
DC – central defender (defend) – get defenders with the typical attributes for central defenders, tackling, positioning, strength and heading.
DMC – ball winning midfielder (support) – deepest lying midfielder who helps snuff out opposition attacks. Must be hard working, have good stamina and tackling ability.
MC – box to box midfielder (support) – similar to the DMC, staminia is important to get up and down the pitch, but should also be capble of creating and scoring goals. Basically an all round midfield player.
MR/ML – wide midfielder (attack) – very important players, score and assist loads. I recommend using left footer on right and vice versa but not vital. Also if you have a lack of players with a good rating for ML/MR don't worry, you can just retrain AMR/AML to play here because I find the attributes are more important than positional ability.
AMC – shadow striker (attack) – bucket loads of goals and assists, Sigurdsson was awesome in this role. Important to have a player who will score and also be capable of creating goals in this position.
ST – complete forward (attack) – This will be your main goalscorer, should have good finishing, technique and composure.
Best FM 2016 Tactics: Training
Pre-season

During Season

The above graphics show the training regimes I used during the test with Swansea and it seemed to work quite well. Many of the players developed well and showed considerable attribute improvements by the end of the season. During pre-season I suggest changing the focus each week between team cohesion, fitness and tactical. For individual player training I trained players for the position/role they were playing in the tactic.
Best FM 2016 Tactics: Results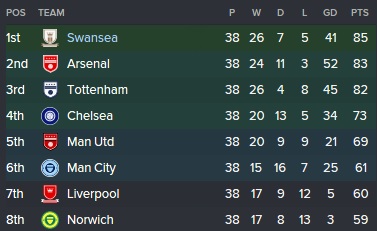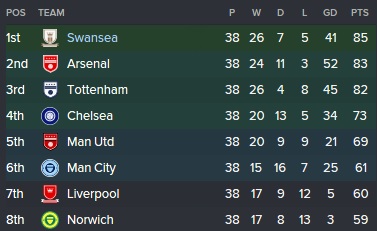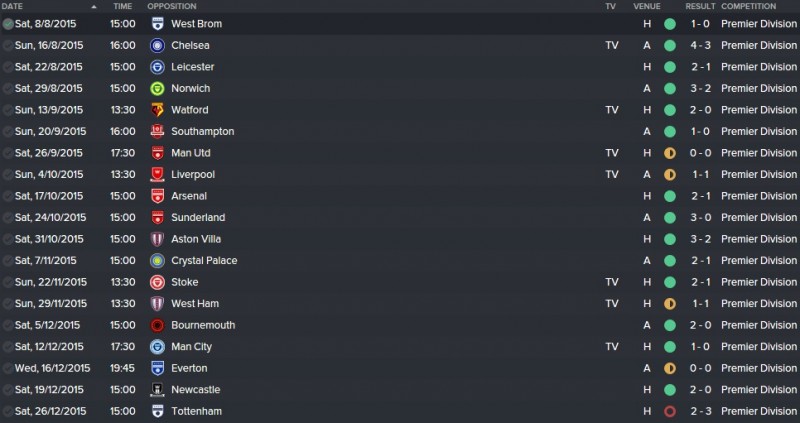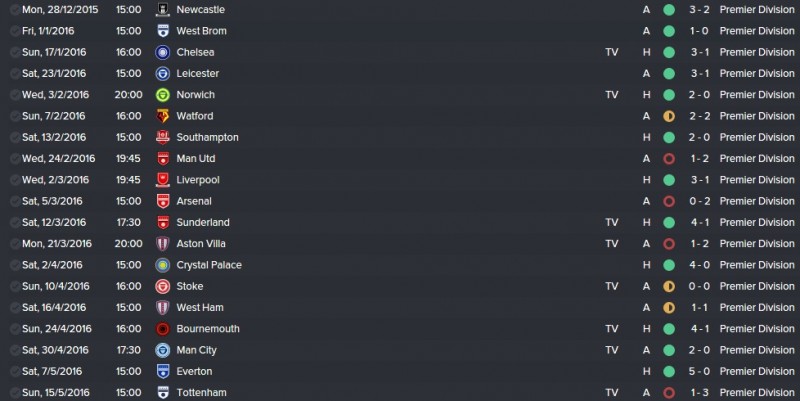 A great result winning the league with Swansea. My focus was on the league so no significant cup runs this time around as we were knocked out in the earlier rounds after fielding the second 11 for each cup game.
Best FM 2016 Tactics: Tinkerman's Top Tips
These tips are really important if you want success with this tactic you must take these on board, but don't worry they are really simple.
Get the tactic fluid as quick as possible – play at least 5 friendlies in pre-season and don't have other tactics in the slots until this one is fluid. Placing this tactic in two or more slots will improve time until it becomes fluid.
You need at least two players for each position, so build your squad with this in mind, if you have a small budget, players who can play two positions are invaluable.
Use a player with strong right foot ability on LM and vice versa.
Use your AM or best coach with high tactical knowledge attribute for opposition instructions.
Set your AMC or MR to take corners. This corner routine could be improved so if you have a better one, you can implement it yourself into the tactic.
Indvidual player instructions are crucial so you must download the tactic to get the best results.
Best FM 2016 Tactics: Download
If you would like to give the tactic a go, please follow the instructions below.


1. Click the download link above and download the file.
2. Once the file is downloaded move it to the following folder documents>sports interactive>football manager 2016>tactics
3. Now load the game as normal and enter the tactics screen.
4. In the tactics screen, click the tactic you currently have loaded then select 'load' from the drop-down menu
5. Select 'Tinkerman's Winning 4-4-2′ and click  load.
Thanks for reading. Please feel free to leave a comment or feedback. Enjoy!
The Tinkerman

Subscribe to our Newsletter