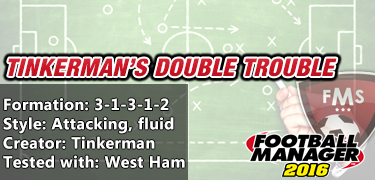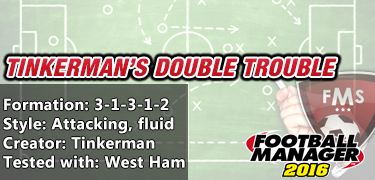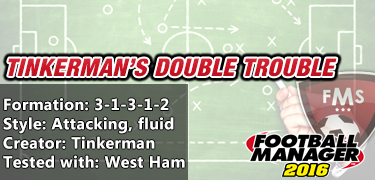 Hi guys
Welcome to our latest FM 2016 tactic, I hope your all enjoying this year's game. It is definitely a challenge to create decent tactics but I have got one for you here. It will get you plenty of goals from your front two – hence the name 'double trouble' – plus exciting football. Tactic testing has been completed with West Ham during first season, winning the league by 7 points!!
Best FM 2016 Tactics: Formation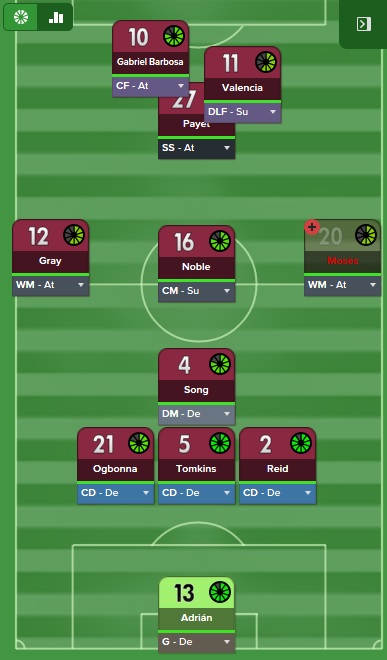 The formation is a  and was based upon Tinkerman's Magical 3-1-3-3 from FM 15. The back three and defensive midfielder provide the main defensive roles and are instructed to close down less to try and stay in shape and solid by not getting pulled out of position. The rest of the players or the front 6 create and score the goals while also making some contribution defensively. As the name of the tactic suggests the front two are goal machines, during the course of the season in all competitions my strikers banged in over 100 goals between them. The midfielders will also chip in some some goals and bags of assists especially the AMC (Payet) who got 26 assists in 44 starts.
Best FM 2016 Tactics: Team Instructions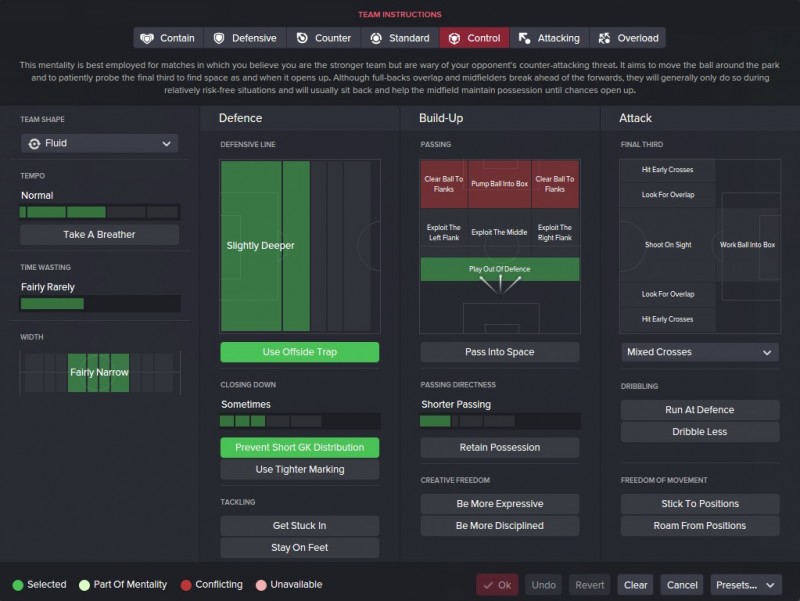 The team instructions were fixed as above for the entire season and they are very simple really. I have tried to not over complicate things here. We tried to pass the ball short and play out from the back because too many long balls from the back wasting possession was frustrating me. Defensively we dropped a little deeper to try and remain solid but also closing down at times and preventing the opposition from playing out from the back through their GK.
Best FM 2016 Tactics: Player Roles
GK – goalkeeper (defend) – Usual attributes here, get the best one you can. However if you have a small budget and an average GK he will be fine, I would spend the budget elsewhere.
CD – central defender (defend) – Obviously the usual defensive attributes are important, try to make sure you have some pace back there as well as it really helps alot.
DM – defensive midfielder (defend) – Important attributes include workrate, teamwork, positioning, tackling and strength etc.
CM – central midfielder (support) – Quite important player, he is essentially in midfield on his own at times so must get through a lot of work and have the ability to help out the defence and support the attack.
MR/ML – wide midfielder (attack) – Probably the most important players in the tactic. Use a right footed player for left side and vice versa. These are basically inside forwards with a much deeper starting position, they create goals and havoc for the opposition but also chase back and help the defence.
AMC – shadow striker (attack) – Will chip in with goals and assists, must be able to finish and provide key passes, look for finishing, composure, vision and passing.
STRC – deep lying forward (support) – Scores a load and will provide a lot for the other striker as well.
STLC – complete forward (attack) – Have your best finisher/goalscorer here and a striker who can create goals and pass as the DLF.
Best FM 2016 Tactics: Results
Premier league
A fantastic season for West Ham, winning the league with 86 points. Results got better as the season went on, from mid December we only lost two games and became more consistent. Nothing much to report in the cups, played a severly weakened team and got knocked out early to Chelsea and Fulham. In the Europa League I also rested a lot of players, we got to the semi-final but the journey ended there. Sandwiched between the two semi-final legs was a league defining game against Spurs which we won 1-0 so a lot of players were rested for that.
Best FM 2016 Tactics: Tinkerman's Top Tips
These tips are really important if you want success with this tactic you must take these on board, but don't worry they are really simple.
Get the tactic fluid as quick as possible – play at least 5 friendlies in pre-season and don't have other tactics in the slots until this one is fluid.
Pre-season training – fitness (average), team cohesion (high) & tactics (average) -rotate between these three. Match preparation – match tactics with max focus.
During season training – balanced (medium). Match preparation – defensive positioning with little focus (half a day). Allow rest after matches during season.
You need the right players – so for example look to sell your full backs unless they are capable of playing CD or LM/RM. Use the funds to buy players to suit the tactic and try to get 2 players for each position.
Use a player with strong right foot ability on LM and vice versa.
Use your AM or best coach with high tactical knowledge attribute for opposition instructions.
Set your AMC to take corners.
Indvidual player instructions are crucial so you must download to get best results.
Train players for the role and position if it is not their natural role and position.
Don't expect the record for fewest goals conceded or you will be disappointed but do expect to score loads and win loads of games :)
Best FM 2016 Tactics: Download
If you would like to give the tactic a go, please follow the instructions below.


1. Click the download link above and download the file.
2. Once the file is downloaded move it to the following folder documents>sports interactive>football manager 2016>tactics
3. Now load the game as normal and enter the tactics screen.
4. In the tactics screen, click the tactic you currently have loaded then select 'load' from the drop-down menu
5. Select 'Tinkerman's Double Trouble′ and click  load.
Thanks for reading. Please feel free to leave a comment or feedback. Enjoy!
The Tinkerman

Subscribe to our Newsletter