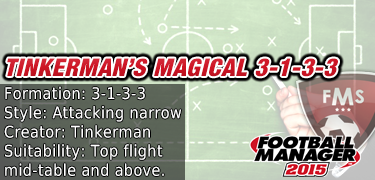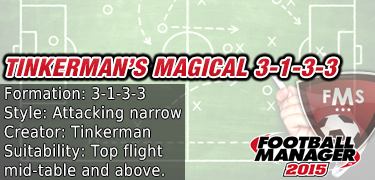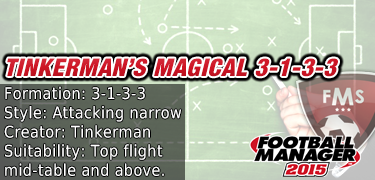 Hi guys
Welcome to my latest tactic in the series. If you have been trying to master three at the back, this is the tactic for you. Testing has been carried out with West Ham and the Premier League was won in the first season scoring a staggering 128 goals along the way. Many of the goals were scored from brilliant attacking play making it a pleasure to watch the magical 3-1-3-3 in action.
Best FM 2015 Tactics: Formation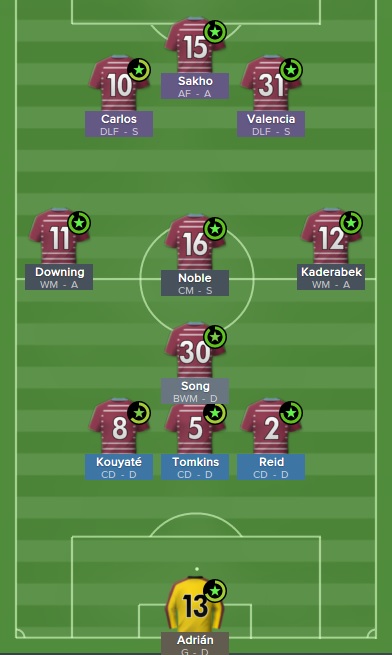 The tactic as stated already is in the shape of 3-1-3-3. The back three central defenders are protected by the ball wining midfielder. These four players generally remain in defensive positions when attacking. Then we have the three midfielders, two wide midfielders and one central midfielder. All three contribute a lot going forward both in terms of assists and goals. Then we have the front three who cause pure devastation in the opposition defence.
Best FM 2015 Tactics: Team Instructions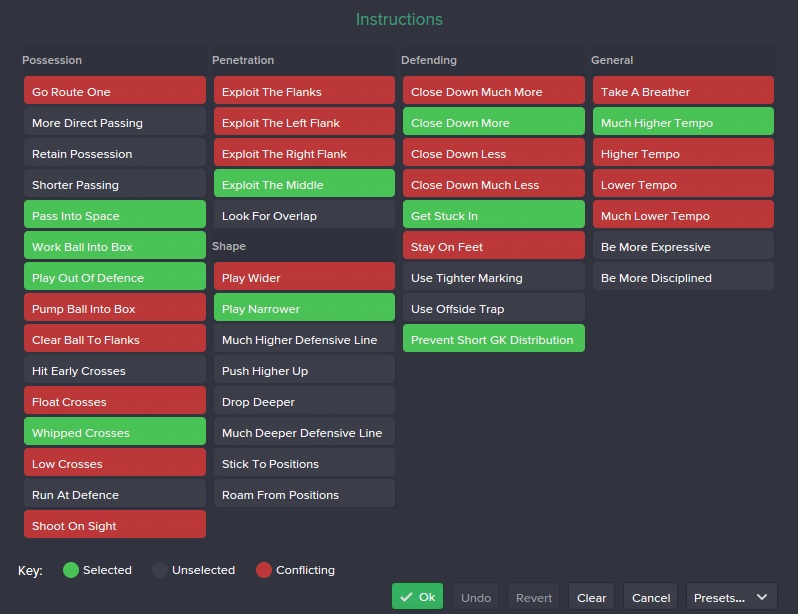 The magical 3-1-3-3 uses a control mentality and fluid team shape. This was maintained for all matches including home, away and tough opposition. Generally this tactic dominates possession, we had the highest average possession in the league (55%). I feel this is mainly due to the control mentality and team instructions to work the ball into box and play out of defence which also creates fantastic football to watch with many goals coming from great passing moves. The rest of the team instructions are self explanatory.
Best FM 2015 Tactics: Player Roles
GK – goalkeeper (defend) – standard goalkeeper
CD – central defender (defend) – typical central defenders as ever, tackling, positioning, strength and heading are key attributes, I suggest playing your centre back with the most pace in the centre as he may be best placed to make recovery tackles and will have the pace to get there.
DM – ball wining midfielder (defend) – This guy will stay deep when attacking, a very important player in the team who has a lot of work to do defensively. Important attributes are tackling, positioning and work rate.
CM – central midfielder (support) – Gets up and down the pitch contributing to defence and attack, must have a good engine ability to run all game. Will chip in with a few goals.
RM/LM – wide midfielder (attack) – lots of goals and assists from these two players, the ability to score and create is important. They are out wide on their own so should also have high levels of work rate and team work.
ST – deep lying forward (support) – these two players will drop into midfield, pick up the ball and look to play in the other strikers or wide midfielders. They will also chip in with a few goals.
ST – advanced forward (attack) – a goalscoring machine, put your best finisher here, ideally he will have reasonable pace and off the ball movement as well. Sakho scored 39 goals from 31 games in this role. He missed a few games due to the African cup of nations and injury.
Best FM 2015 Tactics: Results
Premier League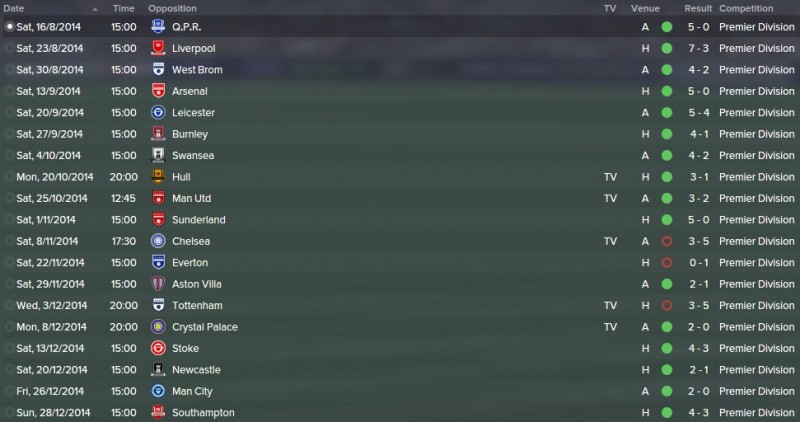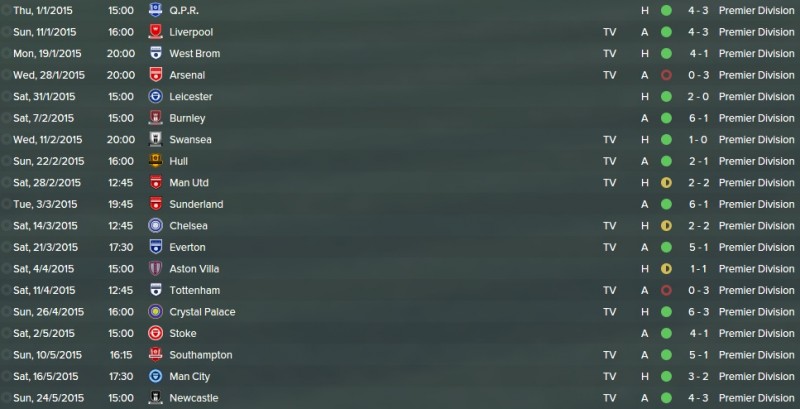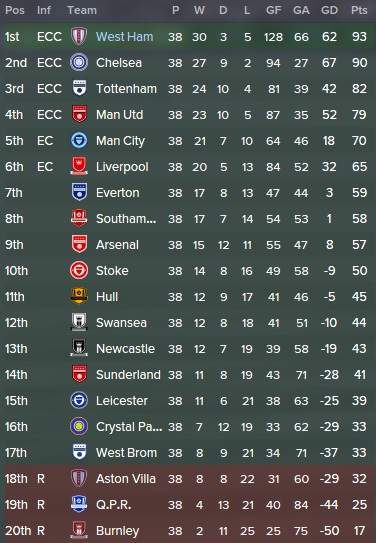 A fantastic season for the Hammers, winning the title with 93 points. A total of 128 goals scored is fantastic. We did concede quite a few but at the end of the day, its the results that matter, 30 wins from 38 games is a great achievement.
Player Stats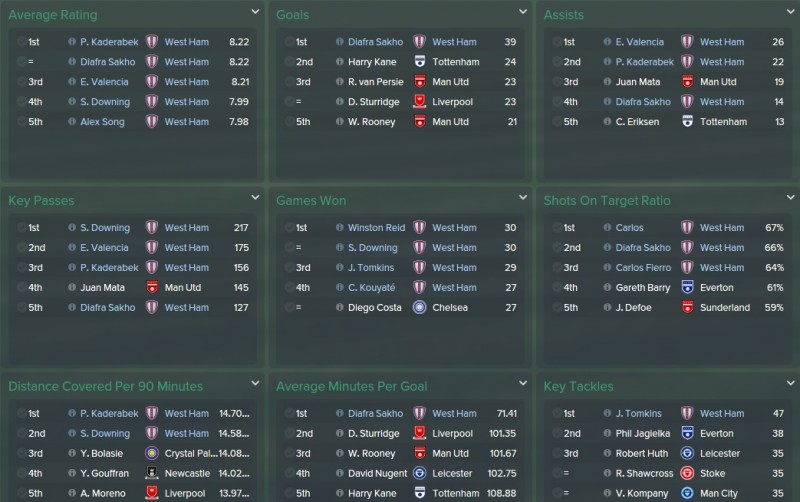 The stats above show just how well the players performed in the tactic and pretty much self explanatory.
Results with Juventus
I wanted to have a look at the tactic in a top team in another country to check it's performance. I was pretty happy with the results. See the league table below, after the first 10 matches. A 100% win record and lots of goals scored. Crucially the defence performed very well suggesting that with a good squad and good defenders, good defensive figures can be achieved. Higher quality players also exert more control of the game hence less opportunities for the opposition.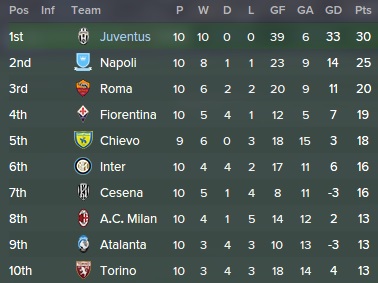 Best FM 2015 Tactics: Tinkerman's Top Tips
Pre-season:  General training – team cohesion  with high intensity (alternate weeks), Match Preparation – match tactics (50%).
During Season: General Training – balanced, Match Preparation – attacking movement (10%).
Keep corner instructions as they are with the download but set your left midfielder to take right sided corners and your right midfielder to take left sided corners.
Keep set piece instructions for free kicks and throws as they are with the download.
For opposition instructions use your assistant manager or coach with best tactical knowledge.
Try to get the tactic as fluid as possible during pre-season by organising more friendlies if necessary.
Finally:
Don't expect to keep a record number of clean sheets, but do expect to witness some truly magical football and score an incredible number of goals :)
Best FM 2015 Tactics: Download
If you would like to give the tactic a try, follow the instructions below:


1. Click the download link above and download the file.
2. Once the file is downloaded move it to the following folder documents>sports interactive>football manager 2015>tactics
3. Now load the game as normal and enter the tactics screen.
4. In the tactics screen, click the tactic you currently have loaded then select manage tactics from the drop-down menu
5. Then Import and then load 'Tinkerman's Magical 3-1-3-3 into your game, then you will be able to select the tactic from the list.
Thanks for reading. Please feel free to leave a comment and let me know how the tactic works for you. Hope you enjoy :)

Subscribe to our Newsletter