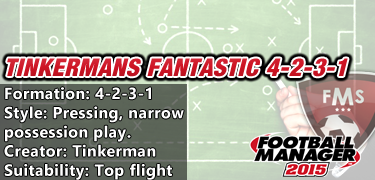 Hi guys, welcome to the latest tactic in our best FM 2015 tactics series.  This tactic is based on the popular 4-2-3-1 with a flat back four, two central midfielders, two wide players and a no 10 behind the striker. You can see the team shape below with my first choice 11. Testing was completed with Spurs and we managed to win a quadruple of trophies during the first season. In the premier league we scored the most, conceded the least and had the highest average possession.
Best FM 2015 Tactics: Formation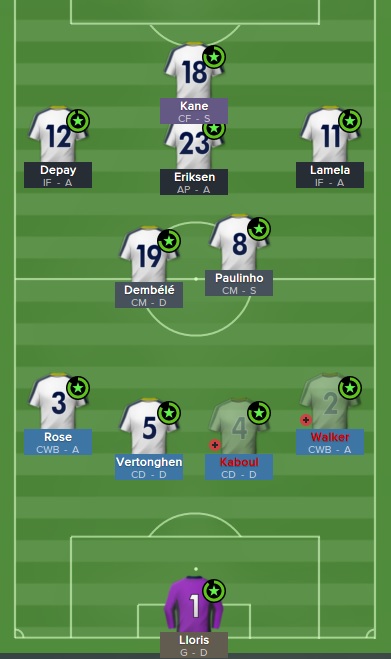 The attacking mentality was maintained for all matches during the season including home, away, cup games etc. I opted for a team shape of very fluid to encourage for free flowing football and so all players would contribute to all phases of play.
The team shape 4-2-3-1 is a popular formation these days used by many clubs. Until now I found it a difficult formation to crack on this years game. I enjoy using this formation because it utilises the no 10 position very well and most clubs have good options in this position.
Best FM 2015 Tactics: Team Instructions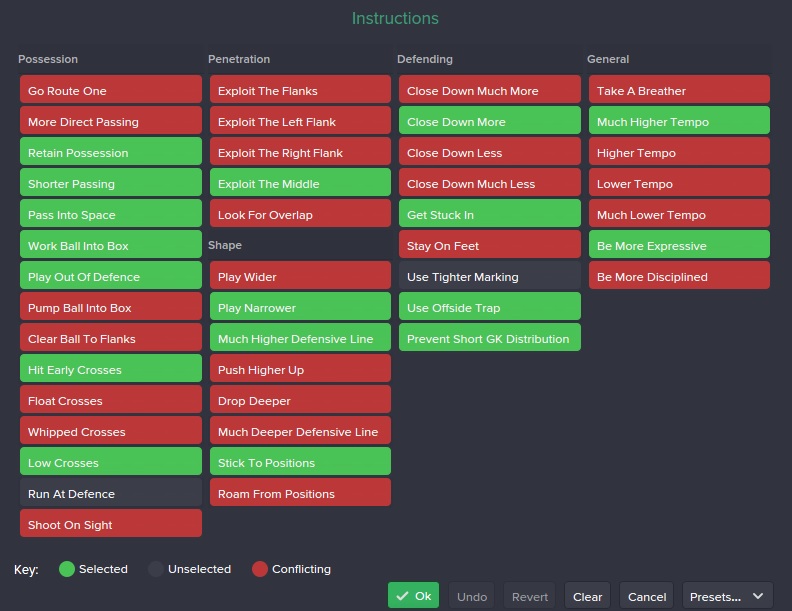 Quite of lot of instructions here, in general the team tries to play good football by playing out from the back and working the ball into the box in forward areas. There is also emphasis on retaining possession and employing shorter passing. The majority of the play is intended to go through the middle of the pitch through the AMC and inside forwards who will cut inside. This allows space for the wingbacks to get forward and be very effective. Another feature of the play is the much higher tempo and closing down instruction which puts pressure on the opposition and often results in mistakes.
The much higher defensive line works well in tandem with using the offside trap and closes the space for the opposition to get in behind the two CM's. I find that without a DM you can sometimes be undone in behind your CM's and the high defensive line helps this a lot. However a word of caution here, this can be a high risk strategy for smaller clubs especially if you have slow defenders or are playing against very fast attackers.
Best FM 2015 Tactics: Player Roles
GK – goalkeeper (D) – Your typical goalkeeper
DR/DL – complete wing back (A) – I love this role on FM, these guys will create havoc, my four wing backs they managed 42 assists between them, throughout the season. Stamina, pace and crossing are key attributes.
DC – central defender (D) – Your typical central defender, as ever aerial ability will be important. However in this tactic I feel good attributes for pace, acceleration and positioning would be particularly useful due to the high defensive line.
MC – central midfielders – I would play your midfielder with the best defensive attributes such as tackling and positioning with the defend duty. For the support duty, this player needs to be able to control the game as well as defend and attack. It would be useful if he has good passing and carries a goal threat when arriving late in the box.
AML/AMR – inside forward (A) – You should aim to use a right footed player on the left and vice versa. These guys should have good pace dribbling and finishing ability.
AMC – advanced playmaker (A) – Important player, Eriksen managed 10 goals and 12 assists in 35 PL appearances. Dribbling, technique, passing and vision are key attributes.
ST – complete forward (S) – Ideally you will have an all-rounder for this role, a striker, who can score goals as well as create for others.
Best FM 2015 Tactics: Results
Capital One Cup

Some very difficult cup draws including Chelsea, Man City, Everton and Man United in the final.
FA Cup

A brilliant series of results in the FA cup scoring 22 goals in 6 matches.
Europa League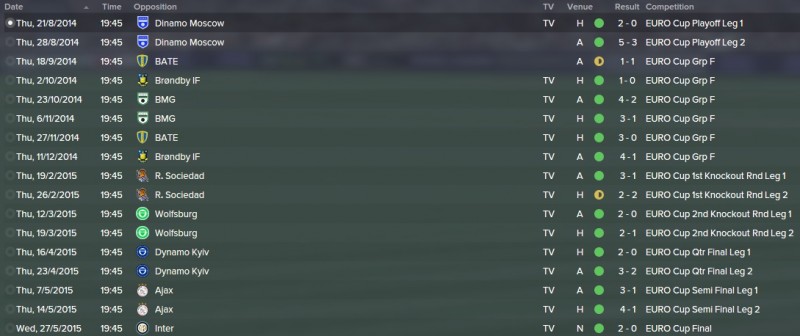 Another trophy for Spurs, beating some good sides comfortably over two legs. I used this competition to field some second choice players as well.
Premier League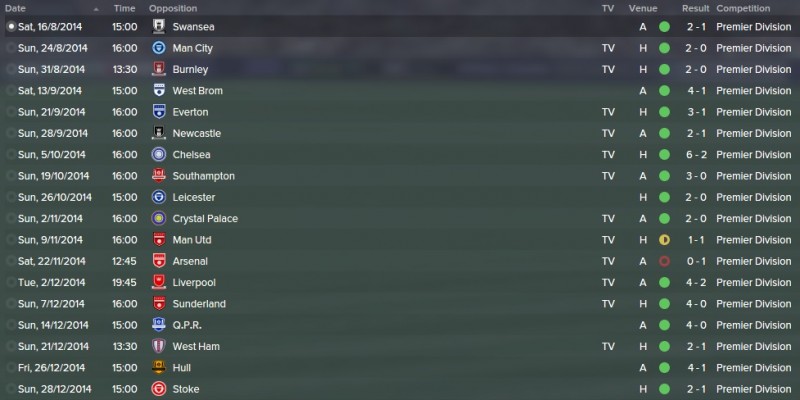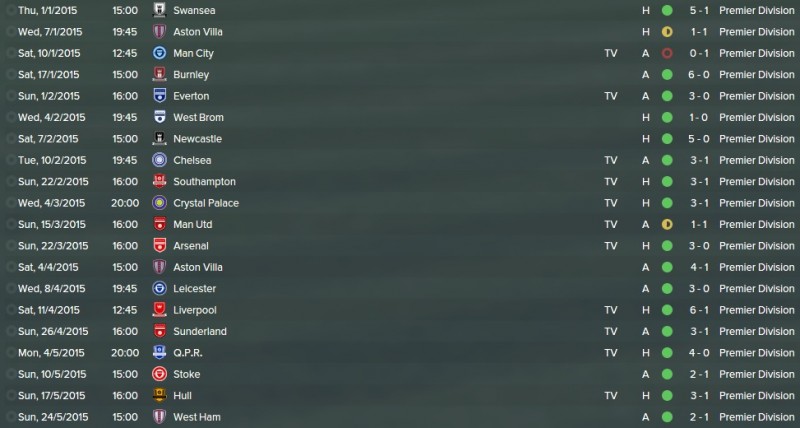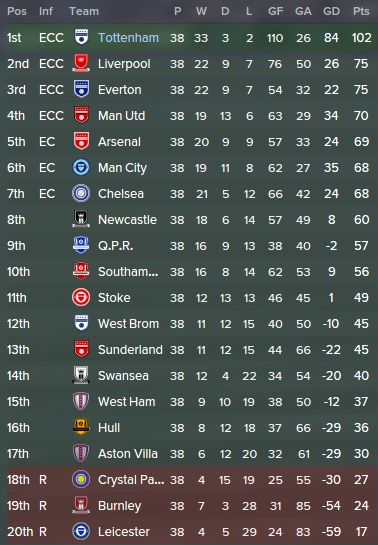 A fantastic set of results winning the league by a 27 point margin, scoring the most goals in the league and conceding the fewest. The points total of 102 smashes the PL record points total. The only defeats we had came away at arsenal and man city, in which we were only beaten 1 nil. This suggests a strong tactic which will not be turned over easily and especially not by a large margin.
Best FM 2015 Tactics: Tinkerman's Top Tips
Pre-season:  General training – team cohesion  with high intensity (alternate weeks), Match Preparation – match tactics (50%).
During Season: General Training – balanced, Match Preparation – attacking movement (10%).
Use left footed player as inside forward on right hand side and vice versa.
Keep corner instructions as they are with the download but set your LB's to take right sided corners and your RB's to take left sided corners.
Keep set piece instructions for free kicks and throws as they are with the download.
For opposition instructions use your assistant manager or coach with best tactical knowledge.
Try to get the tactic as fluid as possible during pre-season by organising more friendlies if necessary.
Best FM 2015 Tactics: Download
If you would like to give the tactic a try follow the instructions below:


1. Click the download link above and download the file.
2. Once the file is downloaded move it to the following folder documents>sports interactive>football manager 2015>tactics
3. Now load the game as normal and enter the tactics screen.
4. In the tactics screen, click the tactic you currently have loaded then select manage tactics from the drop-down menu
5. Then Import and then load 'Tinkerman's 4-2-3-1' into your game, then you will be able to select the tactic from the list.
Thanks for reading. Please feel free to leave a comment and let me know how the tactic works for you. Hope you enjoy :)
The Tinkerman

Subscribe to our Newsletter