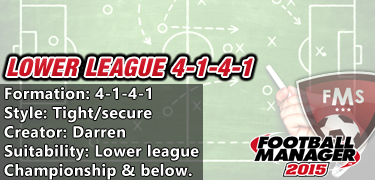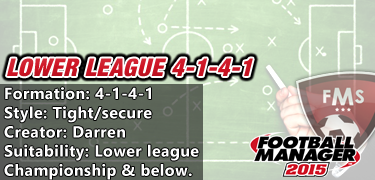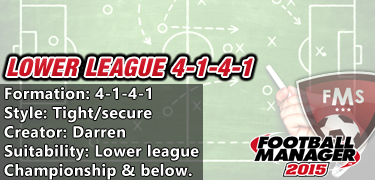 Hey guys and welcome to our best FM 2015 tactics series. After suffering far too many shock results and away day thrashings to Chelsea I set about creating a stable tactic, so where better to start than one created last year. My untouchable 4-5-1 was very successful during early patches so I set about re-creating it with some tweaks and landed on this flat 4-1-4-1.
All our best FM 2015 tactics are tested until we feel happy with the end result, but they will only work with the right players. This tactic for instance was tested with Bournemouth, Bristol City and the MK Dons. But you could implement this into other leagues, providing you posses the right players to fill the roles. All testing took place on patch 15.2, we don't have a crystal ball and can't guarantee this working in future patches.
Best FM 2015 Tactics: Formation

The strategy should stay as control for most home matches and the easy away days, only change to counter for tough matches and uncertain away days. Note when you use counter the quality of play will drop, but it may help scrape tough results. You will of course need to monitor this as it may vary slightly for your side.
Team shape is flexible as the formation needs an injection of unpredictability while still remaining secure defensively.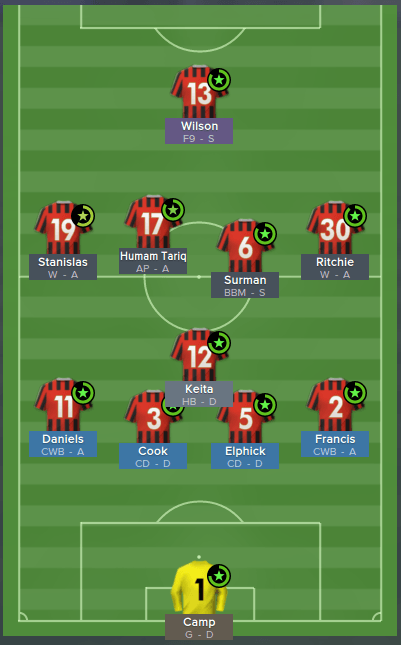 At first glance you may be concerned by the lone striker, using the role false nine could suggest no one attacking the defensive line which was a concern. However, the wingers use that open space in front of them as does the box to box midfielder and advanced playmaker, the false nine drags defenders out of position leaving gaps to exploit and is key to build up play.
In the previous patch this was a 4-5-1 with ball winning midfielder instead of the half back, but despite domination we were caught out, switching to DMC address' the balance as he fills in so the DC's can split to fill the void left by those marauding wing backs.
This tactic can take some time to get going. Do not expect instant impact, in the beginning you may feel like the striker is positioned out of the game, you may struggle to create and take chances also. However, the more suitable your side the quicker you'll get going.
Best FM 2015 Tactics: Instructions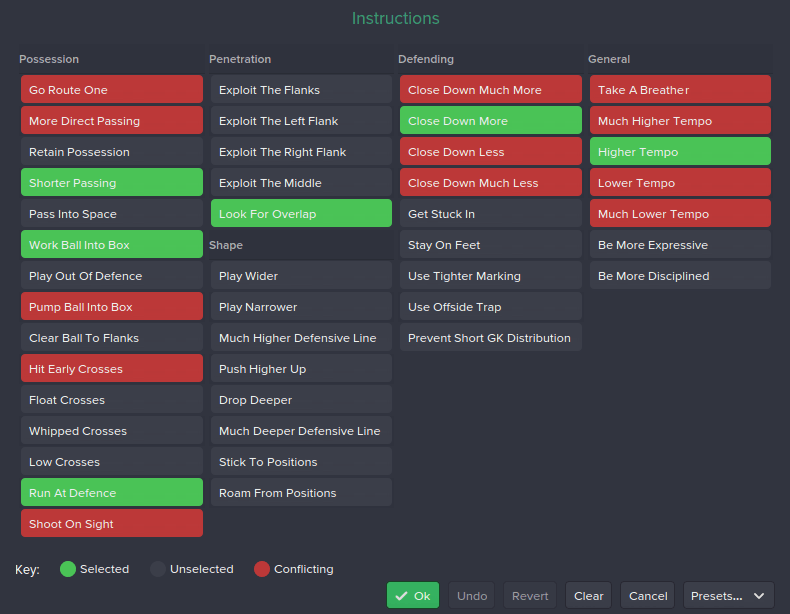 It isn't hard to maintain possession with a flat 4-1-4-1, but I use short passing anyway as lumping forward too often won't work, the lone striker would get isolated and this is all about the build up play. With that in mind I want my players to run the ball forward as well as work it into the box, we have to combat long shots which is always an issue with such a formation. That is why I set a lot of the attacking minded players to shoot less often.
I want my complete wing backs to advance past the wingers drawing defenders out of position so look for overlap is selected. With so many men behind the ball it makes sense to pressure the opposition with close down more.
Best FM 2015 Tactics: Roles
GK: goalkeeper – defend – Nothing specific required, just your standard keeper.
DR/DL: complete wing back – attack – Very important players, they overlap on the wings and get crosses into the box. Speed is very important, stamina too and the obvious defensive attributes. But the better these guys are at crossing and dribbling the more chances you will create and the more goals you will score.
DC's: central defender – defend – Nothing specific required other than your general defensive attributes. Good heading and jumping will really help with the excessive crosses we endure in FM15. Note acceleration is a real help, I wouldn't select slow defenders and if facing issue with balls over the top set player instructions of close down far less.
DMC: half back – defend – This guys primary objective is to win back possession and chase down the opposition but he starts each defensive move by joining the back to two to form a three. While we need good defensive attributes, passing, vision and good physicals are a real bonus. (Instructions – shoot less often.)
MC: box to box midfielder – support – We want someone with acceleration, dribbling and great work rate for this role. He will run up and down the pitch, good shooting ability will be a bonus and you ideally need the complete midfielder, one that can attack as well as defend, but I'd take the attacking play over defence. (Instructions – shoot less often.)
MC: advanced playmaker – attack – Your creative outlet through the middle, we are looking for passing ability, technique, vision and good dribbling ideally supported by decent pace and acceleration. This guy needs to move the ball forward then pick out your striker and wide men. (Instructions – shoot less often, get further forward.)
MR/ML: winger – attack – Very important, these guys must be fast, skillful and competent dribblers. The better they can cross the more goals you'll score. A second rate winger will see your performance drop drastically. However, it is worth noting you can use inside forwards. I found that Stanislas and Ritchie cut inside off their own accord despite the role of winger been assigned and caused problems doing so. They could however take a fair amount of time to adapt to this tactic. (Instructions – shoots less often, more direct passes.)
ST: false nine – support – I can't overstate this, your false nine must be an all rounder. He is on his own, so should have no less than 13 for acceleration to move away from defenders. I"d put speed above aerial ability but both would be good. This guy needs to get involved in build up play and may try the occasional shot from range so appropriate attributes would help. Above all else, he needs time to adapt, Wilson didn't play well initially for me, but then couldn't stop scoring. (Instructions – shoot less often.)
Best FM 2015 Tactics: In Action
The back four should stay solid while the half back sits just in front and will follow the ball. The B2B and advanced playmaker stagger slightly closing down anyone that may approach. The wingers will close down but also track back to help defend, in this scenario the ball went to the wing where both wing back and winger were on the opposition like a rash from both sides.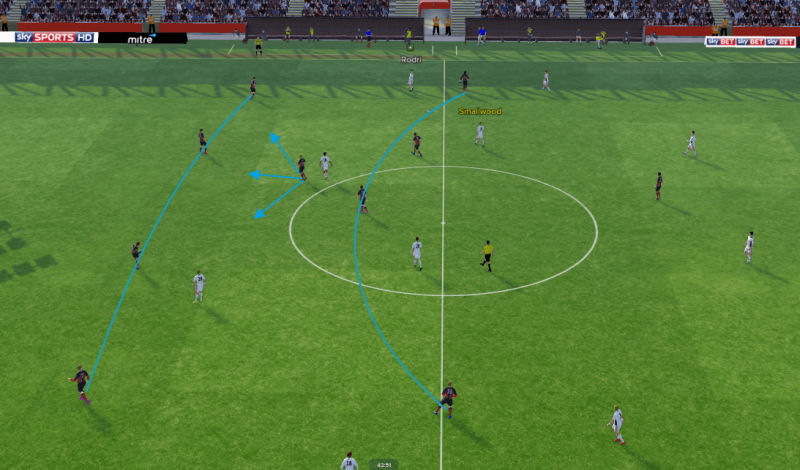 The screenshot below shows my F9 receiving the ball deep. This happens often and while he holds up play the wingers, both MC's and complete wing backs bomb forward. We then see a relay of pass and move, making it hard for the opposition to track and remain tight, this pulls players out of position.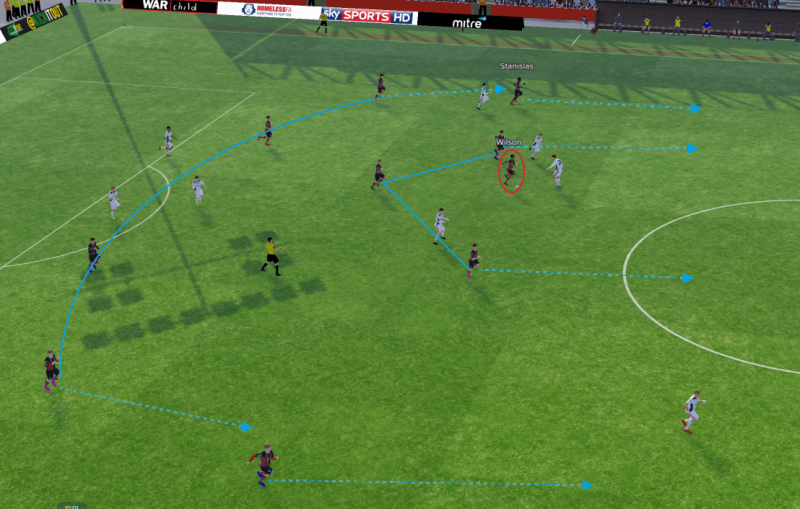 In the opposition area both wingers and ST tend to sit just off the defence waiting for a pass. This makes it hard for the back four to close my MC's down and offers them space to roam. You can see plenty of passing opportunities below. The image below also demonstrates why MC's with the ability to dribble work well as they are left in this situation often.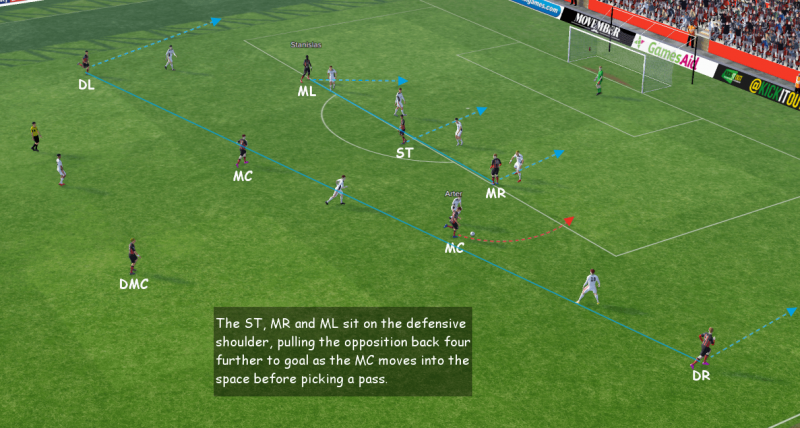 The screenshot below shows another method of attack, the ST drops behind the wingers to pick up possession. As a result the DC's are left with an awkward decision, leave the striker in space or close him down and leave gaps in behind. Electing option two saw my advanced playmaker clean through to score and he wasn't the only passing option.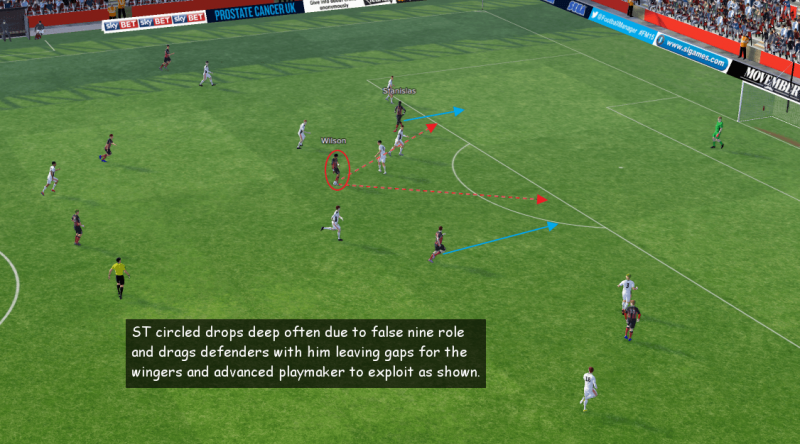 Results with Bournemouth
Cup results
While we were caught out against Huddersfield in the Carling Cup, we showed promise in the FA Cup beating City and Liverpool.

Championship results
This tactic just clicked with Bournemouth, we had the perfect players and a good sized squad. Results show this as we barely conceded and scored in abundance. We suffered some bad injuries near the seasons end hence the dip in form.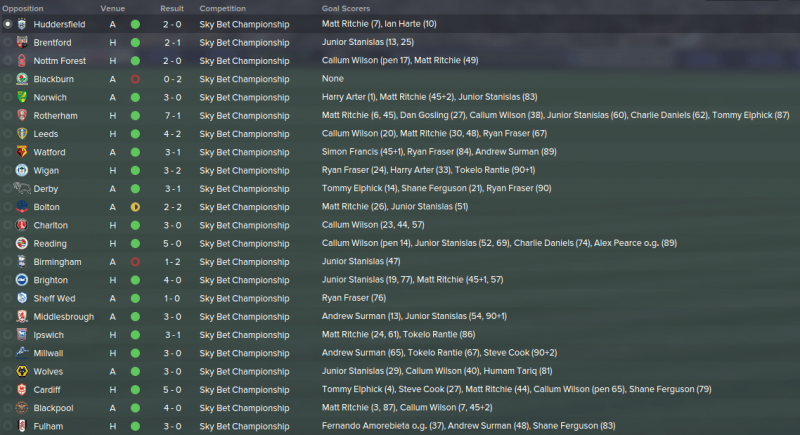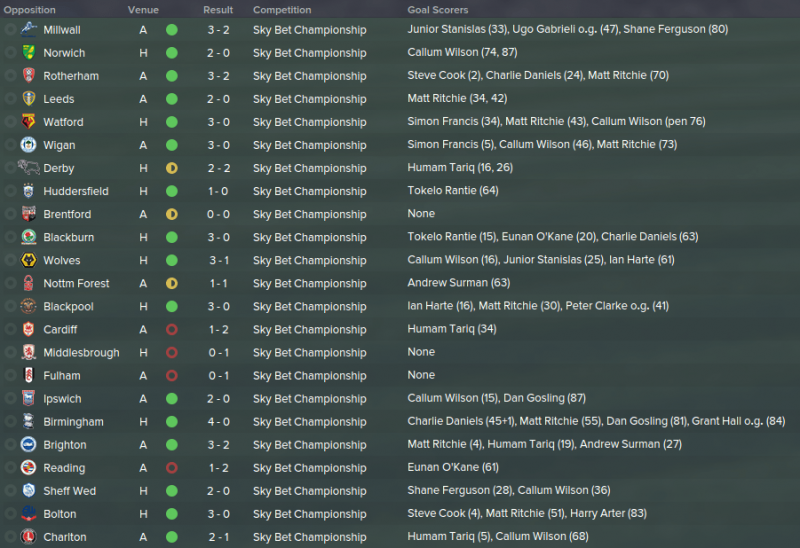 Championship League table
Setting a new record for points total is testament to the tactics suitability.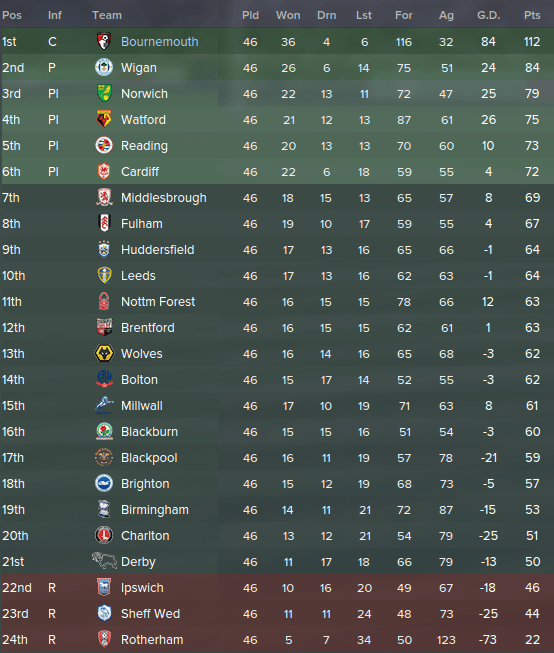 Squad
My backline were superb. As were the wingers, both Ritchie and Stanislas cut inside from their wide positions and this led to goals, 40 between them. Callum Wilson was my false nine and he setup almost as many as he scored, showing how this tactic works. Surman and Tariq finished as my best MC duo.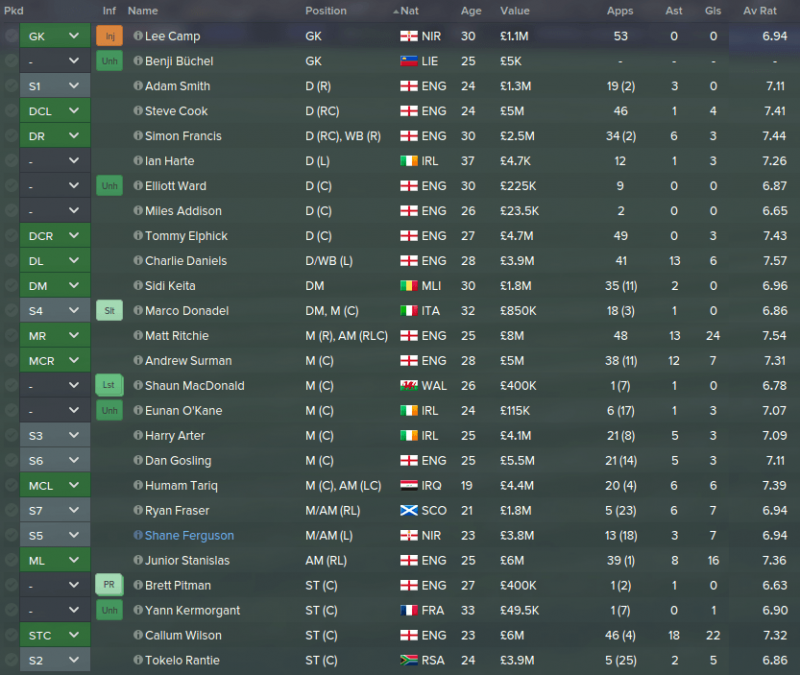 Signings
Shane Ferguson on loan as backup on the left wing. Humam Tariq for advanced playmaker though he didn't get the work permit till nearer Christmas. Both Donadel and Keita were used in rotation at DMC.
Important Notes
I prepared this tactic through pre-season. Training was set to team cohesion and high intensity throughout pre-season and match prep as tactics only. Through the season I changed to balanced training. The match prep should change based on your next opponent and what may have been a problem in the last match, but a good assistants advice can be trusted here.
Every tactic needs time. I didn't feel like Bournemouth were in full flow for the first 5 or 6 matches.
You must have the right players to use this tactic, I have already highlighted what is required. If it doesn't work, then chances are its your selection or team talks that are the issue.
For opposition instructions just ask your assistant manager to set them every match, he tends to know best. Your AM won't always be right, but unless you know what to look for in his errors, leave the instructions to him. Without these instructions been done properly the tactic won't work. Make sure you have someone competent setting these instructions.
There are no specific pitch dimensions I'd recommend.
This tactic has been tested in patch 15.2, I can't guarantee it working past that point.
Best FM 2015 Tactics: Lower League 4-1-4-1
If you like what you see, then just click the download image below and download the file from mediafire, then follow the instructions.


1) Once download is complete, move the file to the following folder documents>sports interactive>football manager 2015>tactics
2) Now load the game as normal and enter the tactics screen.
3) In the tactics screen, click the tactic you currently have loaded (situated next to the strategy setting) then select manage tactics from the drop-down as shown below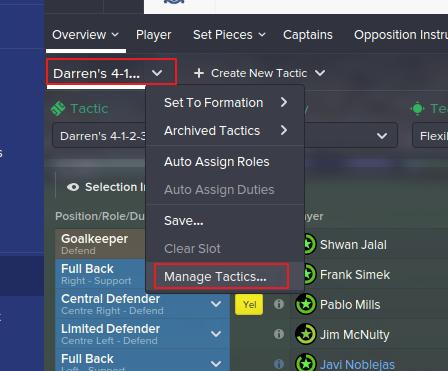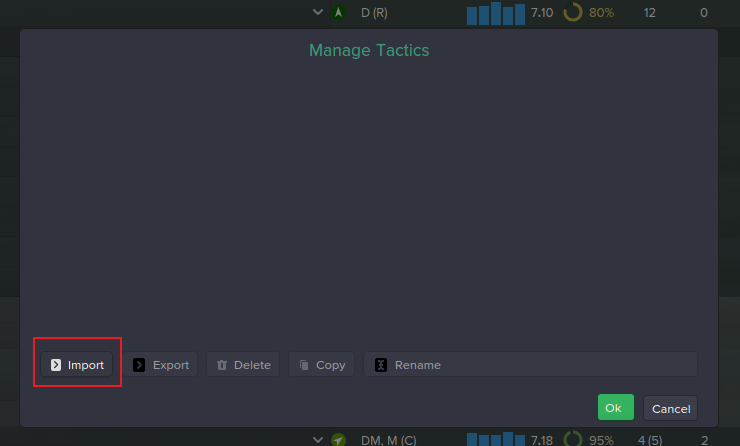 4) Select 'Lower League 4-1-4-1' and click load. As shown below.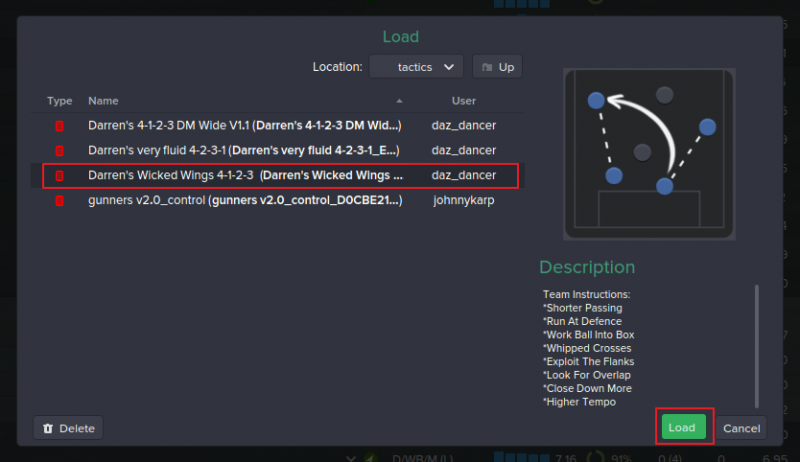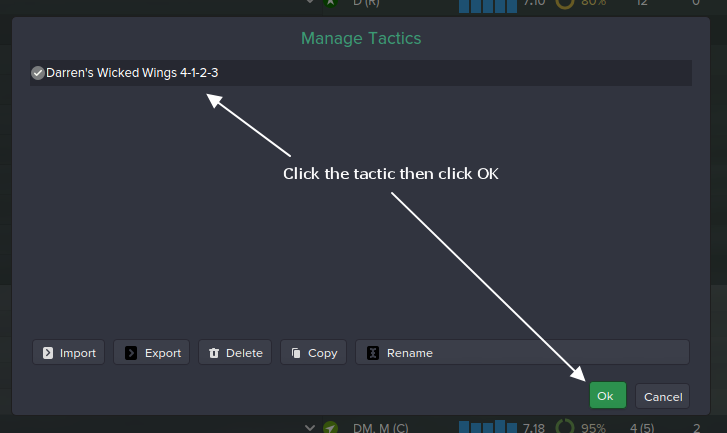 5) Now click the drop-down arrow next to the old tactic name and select my tactic from the top (see screenshot below. You may need to click continue before it appears.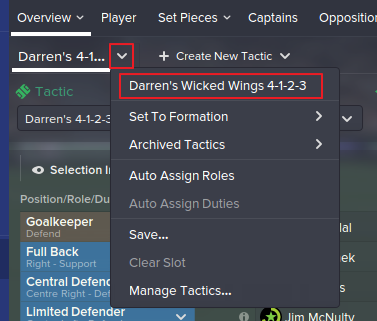 Well that is my best FM 2015 tactic to date. Thanks for reading and please do share this post on Facebook and Twitter…sharing our site will help us grow and I'd really appreciate it. For those trying this out I hope it works as well for you as it did for me.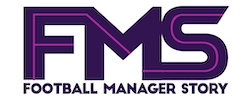 Subscribe to our Newsletter