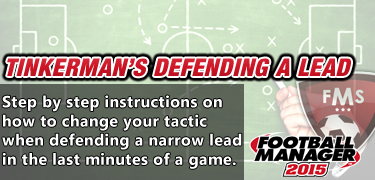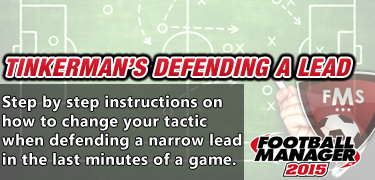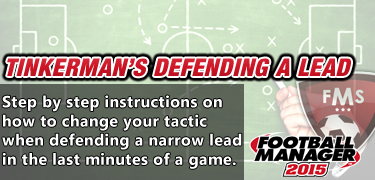 I am sure you will all agree, there is nothing more frustrating on FM, than dominating a game, holding a one goal lead until near the end and then the opposition equalize in the dying moments……..which leads to devastation…. thumping of the desk or whatever other ways you show your anger at the result. This post aims to give some tips on how to avoid conceding late goals and details of the tactic I used alongside 'Tinkerman's Goalscoring Strikeforce' to close out games and hold onto the victory.
First I am going to explain the types of finishes to games which I have identified when wining by one goal:
Dominated the game, unlucky to not be up by more than one goal. Still dominating the game into the last 10/15 minutes with the opposition creating nothing. I would tend to leave the tactics as they are in this case.
Dominated the game, unlucky not to be up by more than one goal, but the opposition have started to create chances and look dangerous. In this case I always revert to my tactic for closing out games.
Dominated the game, winning by two or more goals and the opposition has come back into the game to be one goal behind. In my experience this happens quite a lot in the game and there is a good chance the equalizer will arrive unless you revert tactics.
A game which is 50/50 or in oppositions favour in terms of the balance of play but you find yourself one goal ahead. In this case I would always revert to my tactic for closing out games.
Obviously there are no clear cut answers and this philosophy will not work 100% of the time but it seems to work for me :)
Best FM 2015 Tactics: Setting up your tactic for defending a lead
To create your defending a lead tactic, load a copy of your current tactic into one of the slots not used.  Then follow these steps:
Positional changes – Usually I keep the players in the same positions. Sometimes I have sacrificed a striker for an extra midfielder but it means you need a substitution available late in the game which is not always the case. I wouldn't change too much here.
Adjust mentality and team shape – Contain, defensive or counter would be best mentality. I prefer contain. You may also decide to adjust the team shape to flexible, structured or highly structured.
Adjust team instructions – Consider including instructions such as waste time, play even safer and be more disciplined.
Adjust player roles – In this case I changed the complete wing backs (attack) to limited full backs (defend). I also changed one CM to a defend duty and one to a support duty. In general you should give some of your players a more defensive minded role.
As I have said you will have to see what works best for your team. In play I would recommend not employing the tactic too early, I try to wait until at around minute 80 .
If you are using 'Tinkerman's Goalscoring Formation' my corresponding defend a lead tactic is shown below and the download link is also available.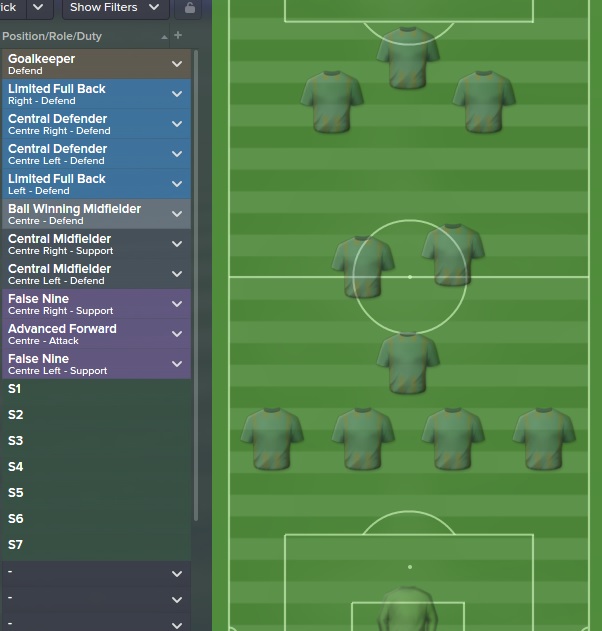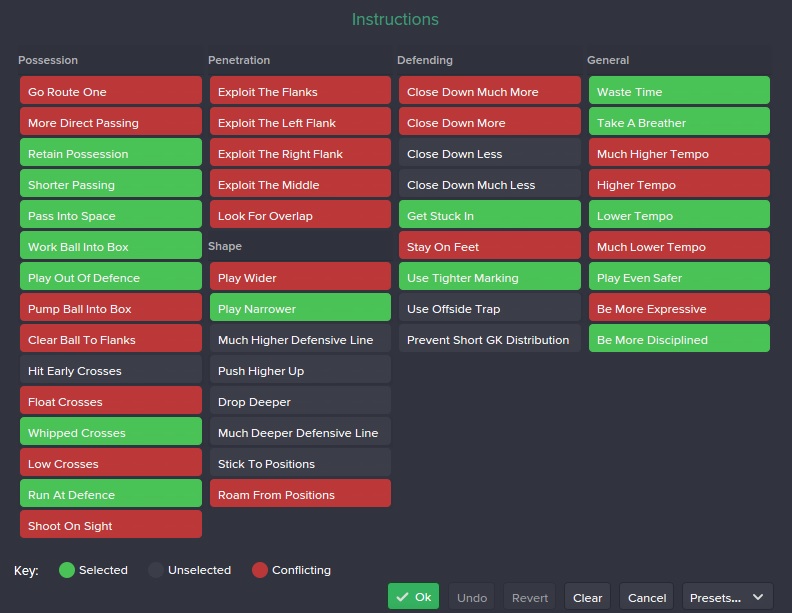 Best FM 2015 Tactics: Tinkerman's Top Tips
Get your defend a lead tactic trained up to fluid and have it in one of your tactic slots ready to use when needed.
Don't expect it to work every time. Remember this is football, last minute goals do and will happen, as long as your tactic allows you to close out the majority of games when it is employed. For example, Mourinho at Chelsea, a specialist in closing out games from a winning position, however this season they have conceded late goals to drop points twice in the league so far.
Avoid using too early in a match, I find it draws the opposition forward and they find the breakthrough. I feel around 78-80mins is the earliest it should be used.
This tactic in the download is for use alongside Tinkerman's Goalscoring Strikeforce. For use alongside other tactics I recommend you create your own defend a lead version using the steps above.
Best FM 2015 Tactics: Download
If  you would like to give the tactic a try follow the instructions below:


1. Click the download link above and download the file.
2. Once the file is downloaded move it to the following folder documents>sports interactive>football manager 2015>tactics
3. Now load the game as normal and enter the tactics screen.
4. In the tactics screen, click the tactic you currently have loaded then select manage tactics from the drop-down menu
5. Then Import and then load 'Tinkerman's Goalscoring Strikeforce – defend a lead' into your game, then you will be able to select the tactic from the list.
Thanks for reading. Please feel free to leave a comment and let me know how defending a lead works for you. Hope you enjoy :)
The Tinkerman

Subscribe to our Newsletter