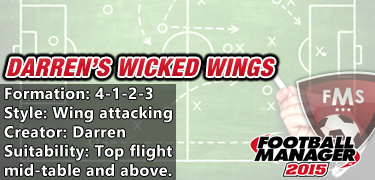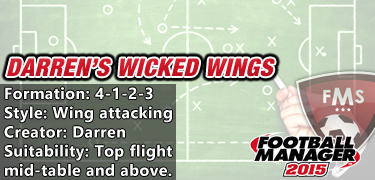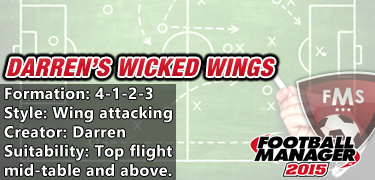 Hey guys and welcome to our best FM 2015 tactics series. As many may have noticed the wings can be exploited in FM15, my tactic evolves around this and as a result I named it Darren's Wicked Wings. The formation could be perceived as a 4-5-1 or a 4-3-3 but I prefer to call it a 4-1-2-3, you can see the shape below.
All our best FM 2015 tactics are tested until we feel happy with the end result, but they will only work with the right players. This tactic for instance was tested with Everton and suits them well. Other top flight clubs (mainly top half teams) should be suitable if they posses the right players to fill the roles. All testing took place on patch 15.1.3, we don't have a crystal ball and can't guarantee this working in future patches.
Best FM 2015 Tactics: Formation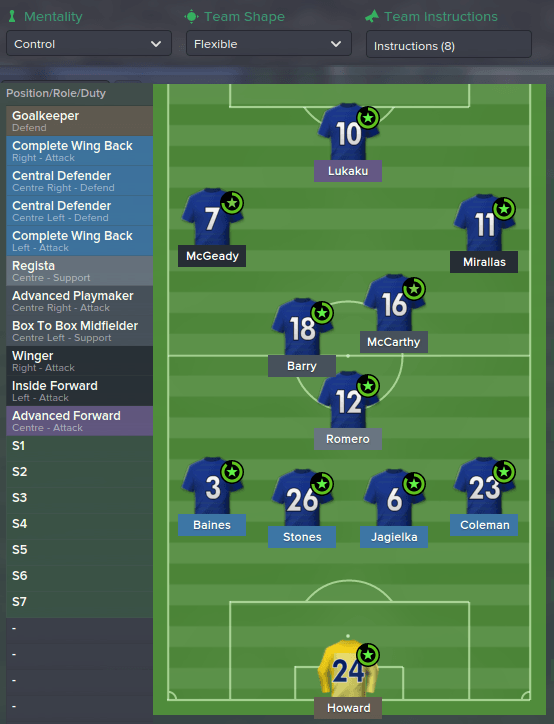 The strategy is very, very important to whatever success you have with this tactic. I generally use control when facing easy opposition at home. I'll change to counter against very tough opposition and during away matches. What you'll find is the team seem to struggle with the counter strategy at times, but it can scrape results when you may have lost using control, counter can also help pull lesser opposition onto you away from home leaving gaps to exploit.
This all comes down to your team so you'll have to gauge the strategy as you play. If dominated when using counter strategy, switch to control, this should help take the match back but only if you avoid being caught out. As you can see the shape is very simple. A flat four with a triangle in midfield and another triangle upfront. You'll notice the wings are very adventurous with two complete wing backs, a winger and inside forward this will take advantage of the AI's weakness down both flanks.
Time and time again I have been caught out on the wings, so I decided attack was the best form of defence, it seems to work well. Your striker should score a reasonable amount, while your winger and inside forward should chip in heavily also. The wing backs can provide a high number of assists and if the advanced playmaker is well suited he'll be up there in the ratings also.
Please note there will be times when adapting is inevitable. You may have taken the lead and come under intense pressure, depending on where this pressure comes from you should adjust roles. If the wings are getting hammered then adjust the complete wing backs to full backs, if you are struggling through the middle then maybe the regista needs changing to something less aggressive like an anchor man. In this years game you must use common sense, those hoping for click and play tactics or easy answers, you'll be looking a long time.
Best FM 2015 Tactics: Instructions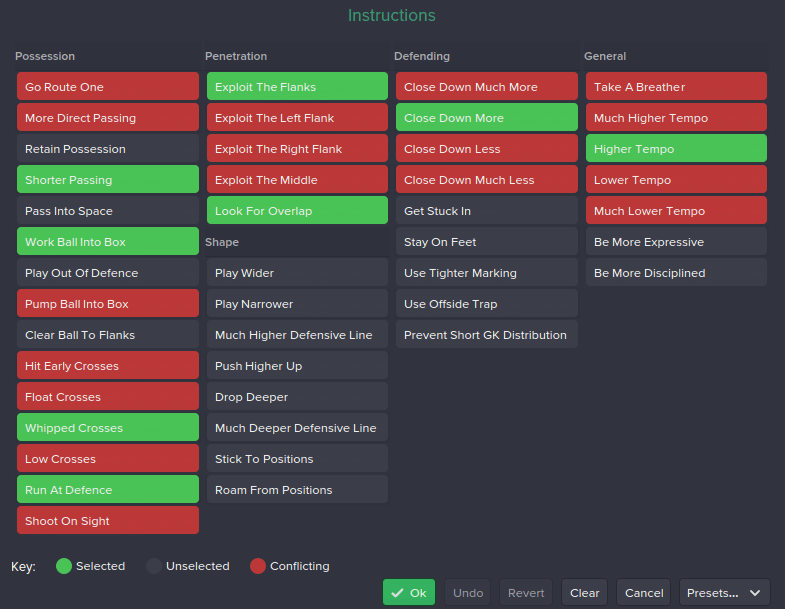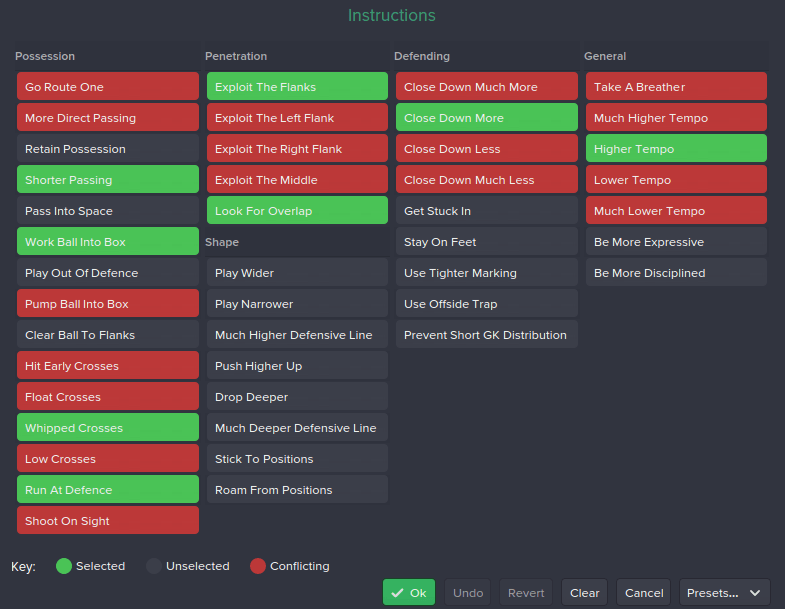 Simple instructions, I set the dribble more and whipped crosses to exploit the match engine as both are tough to handle. We have covered the wide areas as a problem for the opposition, so exploit flanks and look for the overlap are selected. I always prefer a higher tempo and work the ball into box seems to limit silly long shots. Shorter passing is to keep the possession stats reasonable without having to set retain possession which I feel can see you run in circles on occasion.
Best FM 2015 Tactics: Roles
GK: goalkeeper – defend – Nothing specific required, just your standard keeper.
DR/DL: complete wing back – attack – Very important players, they overlap on the wings and get crosses into the box. Speed is very important, stamina too and the obvious defensive attributes. But the better these guys are at crossing and dribbling the more chances you will create and the more goals you will score.
DC's: central defender – defend – Nothing specific required other than your general defensive attributes. Good heading and jumping will really help with the excessive crosses we endure in FM15, but acceleration could be useful also.
DMC: regista – support – This guy will do it all, win the ball back then look for a pass to start your next attack and even move the ball forward himself. Good physicals are a bonus, work rate and tackling are very important alongside the usual attributes for this role.
MC: box to box midfielder – support – We want someone with acceleration, dribbling and great work rate for this role. He will run up and down the pitch, good shooting ability will be a bonus and you ideally need the complete midfielder, one that can attack as well as defend.
MC: advanced playmaker – attack – Your creative outlet through the middle, we are looking for passing ability, technique, vision and good dribbling ideally supported by decent pace and acceleration. This guy needs to move the ball forward then pick out your striker and wide men.
AMR: winger – attack – Very important, this guy must be fast, skillful and a competent dribbler. The better he can cross the more goals you'll score. A second rate winger will see your performance drop drastically.
AML: inside forward – attack – Just as important, your inside forward needs to the same qualities as above. However, he will also look to move the ball inside and open up the defence. The better this chap in front of goal the bigger impact he'll have.
ST: advanced forward – attack – I can't overstate this, your advanced forward must be an all rounder. He is on his own, so should have no less than 13 for acceleration to move away from defenders. This tactic relies on crossing so the better he is in the air the more he'll score, but I"d put speed above that. You also need the AF to create his own opportunities. Lukaku, Destro and Ferreyra would work well, maybe someone like Mitrovic and as an alternative Fierro.
Best FM 2015 Tactics: In Action
The screenshot below demonstrates our defensive shape. Both wing backs will go out to challenge the flanks, while the AMR and AML will run back to track runs, or stay forward depending. All other defensive or supporting players huddle in the middle to form a barrier.The two DC's with our DMC just in between and then the two MC's in front of him, this huddle will be broken to close down the opposition and depending on your strategy. The more adventurous you are the harder it becomes for them to get back and maintain this shape.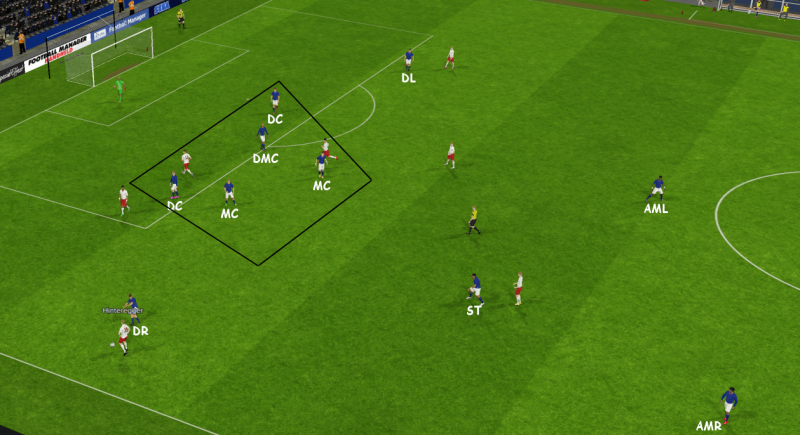 Once possession is won there are many options as shown in the screenshot below. The complete wing backs can charge forward, offer responsibility to the DMC or try a long pass to the front three. Both MC's will offer themselves to get the ball, while the winger and inside forward will vary, they will either hug the defensive line trying to break it or drop deeper to get on the ball.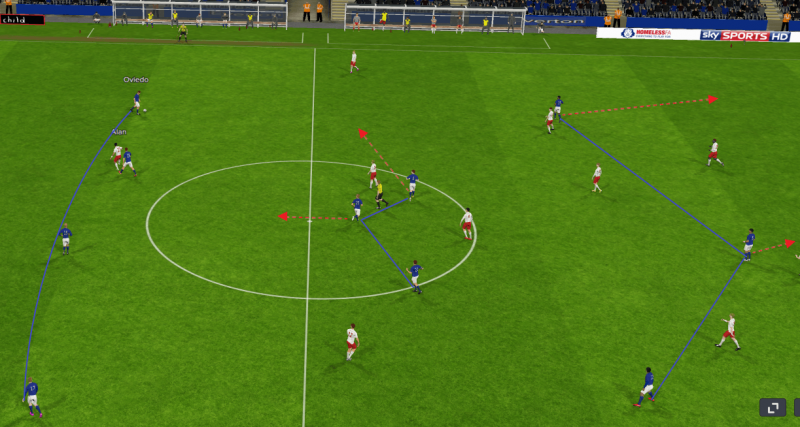 Now for the attacking phase and an all out onslaught. That about describes what you'll see in the ME, somehow due to the DMC's stability, the B2B midfielder and complete wing backs been so willing to work back its rare we get caught out. But you'll see the screenshot below shows a lot of blue shirts in the attacking third.
When the ball is centre stage, the AMR and AML squeeze in and sit just off the striker forming a front three, the DMC sits while the two MC's hold their ground working the ball forward waiting for a pass. The two complete wing backs have no limit to their ambition in driving forward making for a lot of passing options. This should overwhelm your opposition and is why you must get the strategy right, as too attacking will leave you exposed and too conservative won't lead to enough players taking risks.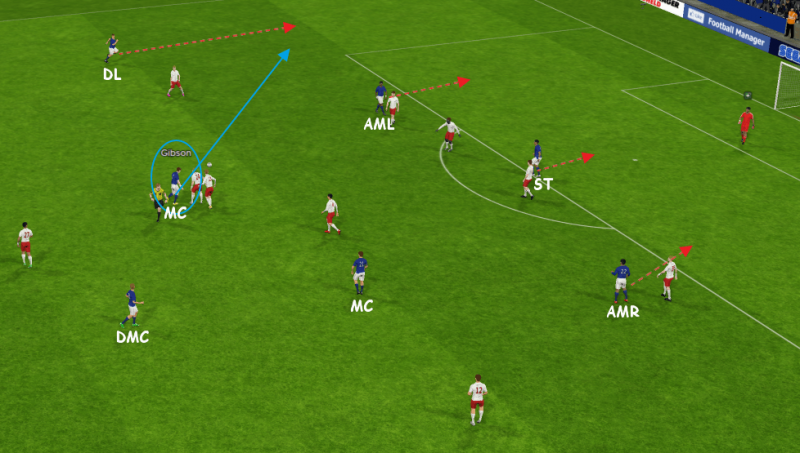 The video below shows some of the play possible with this tactic, you'll notice a lot of goals coming from the wings. Please watch in 1080HD for the best viewing.
Results with Everton
League Cup
This competition was used to rest players for my main focus, the league. Yet we still reached the semi-final and were unfortunate to lose over two legs to the eventual winners, Arsenal.

FA Cup
After beating Burnley and West Ham with a weakened XI we were robbed against Man Utd during a match we dominated.

Europa League
I again used this competition to rest players, yet we still progressed and quite easily. It wasn't until the quarter-final that I really started fielding a strong XI as we won the competition.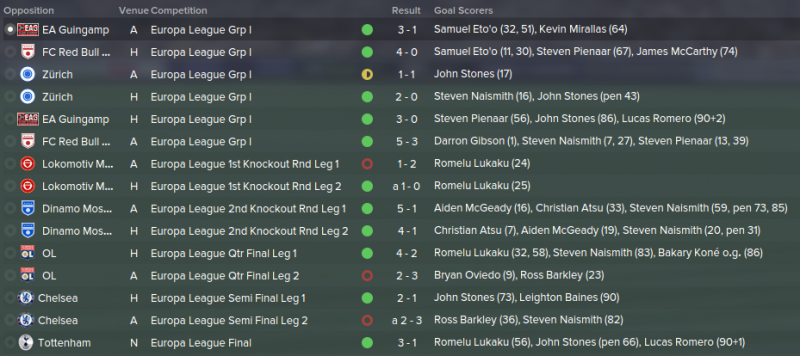 Premier League results
In my opinion our EPL form was nothing short of brilliant, we won when it was expected and even pulled off some shock results. Bar one or two slips, I can't see a bad result in there and for me that shows a stable tactic.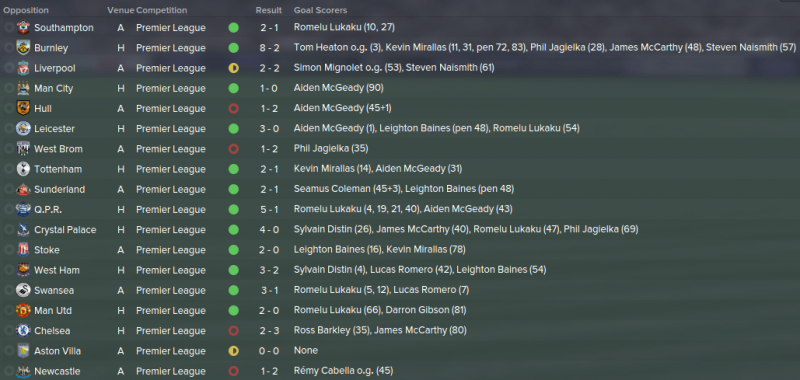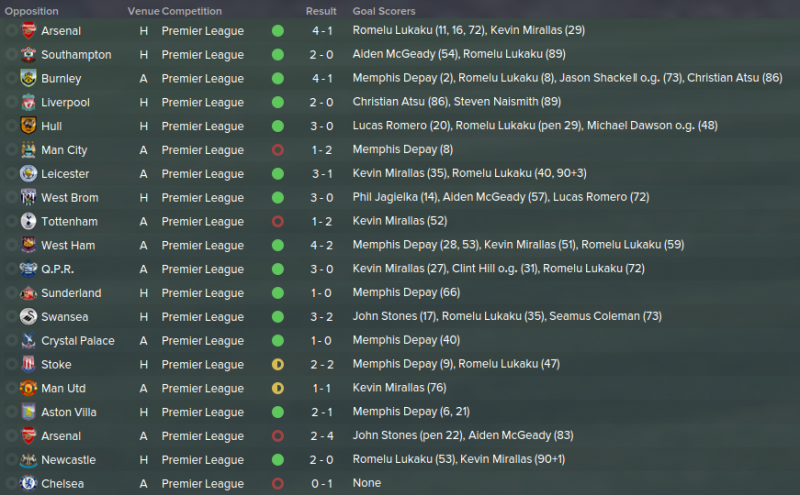 Premier League table
You can't argue with the table, Chelsea were immense, untouchable. So to be second with ease and on 82 points is great. Some seasons that may take you close to a title challenge.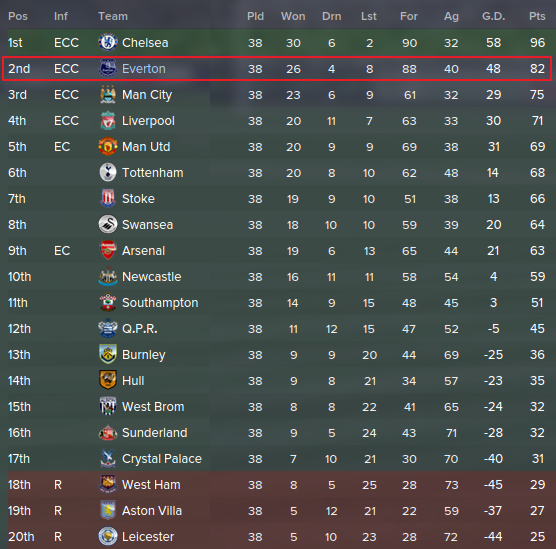 Signings
Not many, just Lucas Romero and Gaston Gil Romero to rotate as box to box midfielder and regista. Then in January I bought Depay for the left wing.
Important Notes
I prepared this tactic through pre-season. Training was set to team cohesion and high intensity throughout pre-season and match prep as tactics only. Through the season I changed to balanced training. The match prep should change based on your next opponent and what may have been a problem in the last match, but a good assistants advice can be trusted here.
Every tactic needs time, I didn't see Everton in full flow for about 6 to 7 games.
You must have the right players to use this tactic, I have already highlighted what is required. If it doesn't work, then chances are its your selection, team talks or strategy that are the issue.
For opposition instructions just ask your assistant manager to set them every match, he tends to know best. Your AM won't always be right, but unless you know what to look for in his errors, leave the instructions to him. Without these instructions been done properly the tactic won't work.
There are no specific pitch dimensions I'd recommend.
This tactic has been tested in patch 15.1.3, I can't guarantee it working past that point.
Best FM 2015 Tactics: Wicked Wings Download
If you like what you see, then just click the download image below and download the file from mediafire, then follow the instructions.


1) Once download is complete, move the file to the following folder documents>sports interactive>football manager 2015>tactics
2) Now load the game as normal and enter the tactics screen.
3) In the tactics screen, click the tactic you currently have loaded (situated next to the strategy setting) then select manage tactics from the drop-down as shown below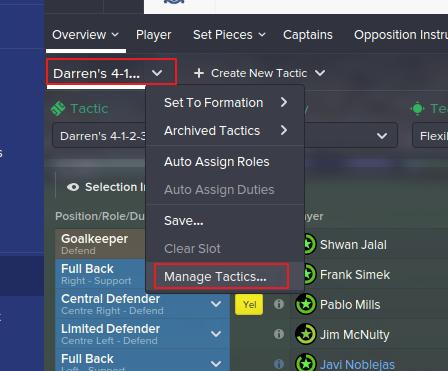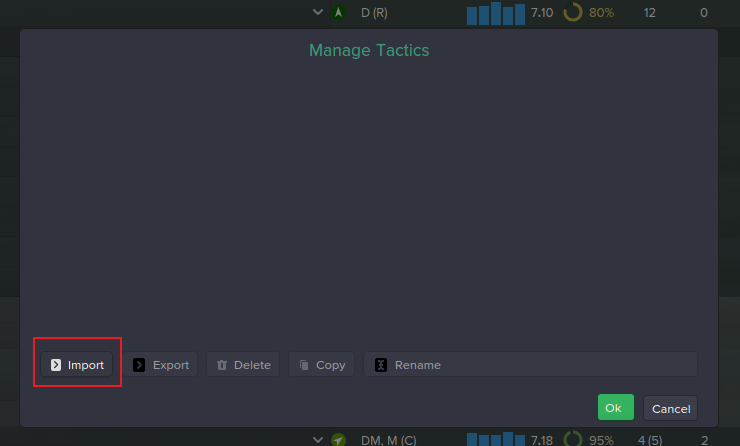 4) Select 'Darren's Wicked Wings 4-1-2-3' and click load. As shown below.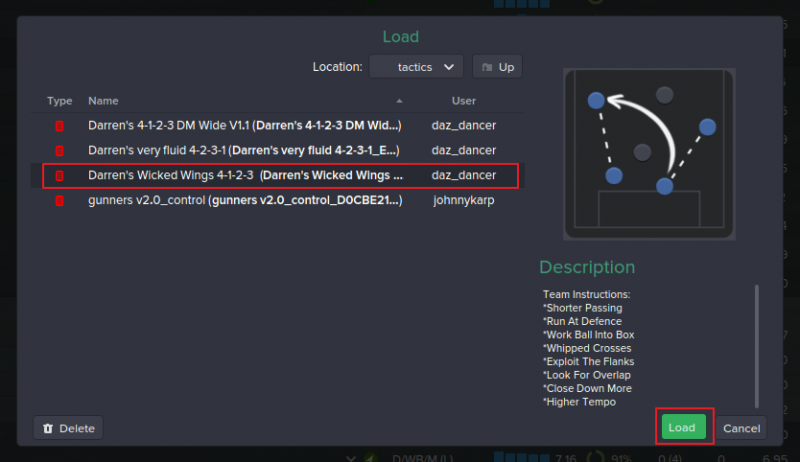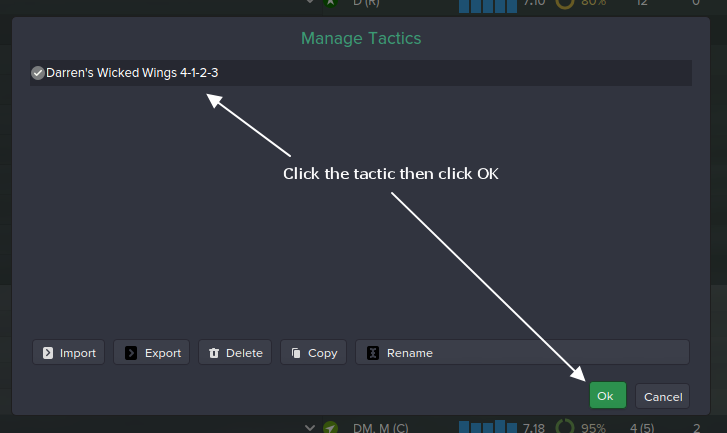 5) Now click the drop-down arrow next to the old tactic name and select my tactic from the top (see screenshot below. You may need to click continue before it appears.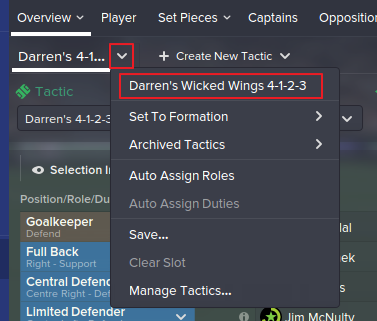 Well that is my best FM 2015 tactic to date. Thanks for reading and please do share this post on Facebook and Twitter…sharing our site will help us grow and I'd really appreciate it. For those trying this out I hope it works as well for you as it did for me.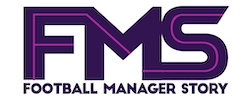 Subscribe to our Newsletter