Hello Everyone or Здравствуйте as the Russians say! 
Welcome back to another instalment of my quest to bring massive amounts of success to relatively new and mega rich Anzhi Makhachkala. In the last post, we had managed to defy expectations and win both the Russian Premier League and also the Russian Cup, both for the first time in the clubs history. With winning the Russian Premier League, we also qualified for the holy grail of football…The Champions League… could we defy even more critics and lift the Champions League? Well probably not this season or the next but were going to give it a dam good go…but before all that its pre-season time and that means transfers…but before that, me and the Anzhi board sat down and had a few discussions… 

So with a massive 26.5m plus a stupid amount to spend on wages… 
Transfers
There were a lot of players moaning about not getting a chance to play so I shipped them out to our Division One feeder clubs. 
Last season we raided Dinamo Moscow for players, this time it was CSKA Moscow (plus one from Dinamo Moscow) and the good thing is that their all talented Russian players. Let me introduce you to them… 
Pavel Mamaev 

Alexey Igonin my back up defensive midfielder in my eyes just wasn't strong enough anymore and at 34 years old it was time for him to move on. Mamaev cost a hell of a lot but he is the best Russian defensive midfield and will be for years to come. He and Taras Stepanenko will be rotated throughout the season as a continuously look to strengthen my midfield. 
Georgy Schennikov 

Schennikov is one probably the most talented Russian youngster around and once I knew he was interested in joining Anzhi…I didn't hesitate one bit. He is the perfect player to replace Yury Zhirkov in the future. Signing the youngster now means that I can put Zhirkov back into left winger roll, the position he was so destructive in the early stage of last season and this signing also means that I can rotate the left hand side and keep the players fresher. 35m in my eyes isn't that expensive because he will feature in my Anzhi team for at least the next 10 years…so he'll cost an average of 3.5m a season. 
Alan Dzagoev 

Alexandr Sapeta ended up having to play nearly every game from January onwards and it was nervy as I didn't really have any cover in the attacking midfield position, well I had Willian but he was so effective on the wing. As soon as I saw Alan Dzagoev's name after I'd selected 'unrealistic transfers' even if Xavi had have been there, Dzagoev would have still been signed. I have an absolute weird fixation with his player…even ask Darren, he's the only player I've suggested for his 'Scout Network'. In real life he's currently playing at the top of his game and is centre of everything good in Russian football. I didn't care how much he costed…I was signing him.  
Leandro Fernandez 

I came across his chap just before the Russian Euro 2012 squad was announced, he had just qualified for Russian citizenship and was selected to be part of the squad. As soon as the championships were over talks began and days later I have a new centreback. Leandro Fernandez will help in not just strengthening my defence but allow me to field more foreign players elsewhere as I struggled a bit with both Jan Vertonghen and Rafael Toloi being foreign and I didn't want to rely on Ali Gadjibekov too much. Yeah he's 29 and 16.5m is a tad expensive but he's Russian and decent…do I need to say any more. 
So that's the transfers out of the way next to show you our pre-season results… 
Pre-season Results 
Pretty straight forward results and the only main point of these matches were really for fitness. I'm struggling to get any better friendlies and trying to set up a tour of a country seem to be impossible, but to get results against Russian teams, that I could potentially play this coming season are kind of handy.  
Now lets get down to the business end of the season, because the Champions League draw isn't until the end of August…this means I can show you our results in the Russian Premier League, Russian Cup and our first chance of silverware this season in the Russian Super Cup. Now the Russian structure is baffling! I'll start with the Russian Cup which started before the Super Cup, normal nations use the Super Cup as a season opener…not Russia lol. 
Russian Cup 
With only one friendly played I was very worried about the first match against Kuban, and decided to field a full strength team…no messing around resting players and it worked, we'd managed a nice 5-0 victory. Our next match was a massive encounter against Zenit. We managed to muster up a 3-1 victory and had eliminated one of our main threats…we were on track to retain our Russian Cup. As I said above the Russians are crazy and the draw for each stage of the Russian Cup was done on the same day so this is who are still left in the Russian Cup and who we'd have to play to get to the final and who we'd have to play if we got there. 
Now with the Russian Cup firmly on the way could we win our first piece of silverware in the 2012/2013 season… 
Russian Super Cup 
Final – CSKA Moscow v Anzhi Makhachkala (Central, Kazan – 30,000) 
We couldn't have made a better start to the final, Samuel Eto'o gave us the lead in the very first minute of the match but, it didn't last as on 8 minutes Jan Vertonghen left the field injured. Totally against the run of play we managed to make it 2-0, a thunderbolt of a finish from Pavel Mamaev, against his former club as well. CSKA Moscow licked their wounds and replied instantly through Keisuke Honda. We led at the half time but it didn't take CSKA Moscow long to level the game in the second half, Tomas Necid made it 2-2. The game looked destined to go into extra time and possibly penalties, but in the 90th minute Willian had different ideas and sent me and the Anzhi fans into raptures and he sealed the Russian Cup 3-2. What a game, what a player!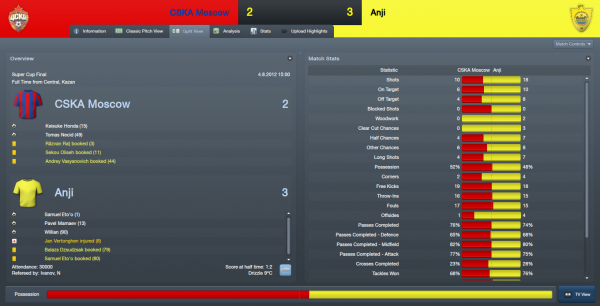 After the heroics of the Russian Super Cup its time to bring you the opening four fixtures of our Russian Premier League campaign, I'm afraid there won't be a League Table screenshot as I forgot to take one. 
Russian Premier League 
August 
Our season opener couldn't have been more difficult, we would be kicking off our title defence against Spartak Moscow. Well I thought it would be a difficult match but we went in at half time 3-1 to the good, Willian picked up where he left off in the last game and Balazs Dzsudzsak with two goals gave us the emphatic lead. Samuel Eto'o added to the tally in the second half and we recorded a 4-1 victory. We then had to travel to Terek, this turned out to be a very frustrating tie and end in a 0-0 draw, I have no idea how looking back at the stats…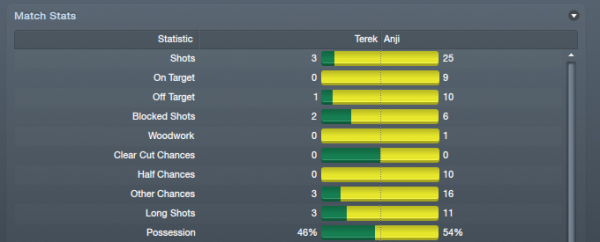 We needed an instant reply to the disappointment of the Terek result and Volga NN was the perfect match in which to do so and the players didn't disappoint, Willian, Samuel Eto'o and Balazs Dzsudzsak were all on the scoresheet as we recorded a 3-0 victory. Our last match of August was against the team we defeated in the Russian Cup Final last season Krylja Sovetov. Krylja played a very defensive 4-5-1 formation, which as in the Russian Cup Final we struggled to breakdown but Willian did so just before half time and in the second half the floodgates opened with Samuel Eto'o netting two and Vaclav Kedlec who made a substitute appearance (on for Samuel Eto'o) finishing the match off, 4-0 the final score.
So 10 points from a possibly 12, I couldn't have asked for more and we'd kicked off the season in great form. No on to the bit I've been waiting to see… 
Champions League Group Stage Draw 
WOW REALLY!!! Juventus, Marseille and Real Madrid…well you did want the Champions League to be the interesting part, think it could be an early bath for us or possibly a Europa League place. I'll leave you with the Champions League and Russian Premier League Title odds… 


Oh wait…message from Sulyeman Kerimov… 
No comment :)
So that's it for this post thank you for reading and the next post will show our progress in the League and Champions League as the Russian Cup doesn't kick back off until April. If you have any comments or want any screenshot please request them below 
Cheers again 
Martin Pickard x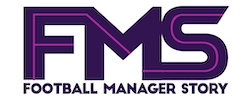 Subscribe to our Newsletter