Hey Everyone!
It's been a long time since my last post and I apologise, but I'm back with another instalment of my Russian adventure with Anzhi Makhachkala. Last season you might remember that we successfully retained our Russian League and Super Cup titles, but lost in the Final of the Russian Cup. In the Champions League we managed to navigate through the Group Stages but for the second time in two seasons we fell at the 1st Knockout rounds. Hopefully we can go a stage further this year, so let me share our season with you…
Firstly we had some amazing news…news I wasn't expecting for another year…


Transfers
IN

William

William not to be mixed up with Willian signed for us last season but due to the U18 rule in Brazil he joins us now he 18. He looks like an absolute monster but with the current strikers Anzhi have I'll struggle to fit him in, but he was too amazing to let slip through our fingers and as you can see he was sent to our feeder team for first team football.
Marek Hamsik

Marek Hamsik joins to try and strengthen our midfield, I just felt that he could potentially make the difference in Champions League and help take us one stage further. Everyone knows who he is and is stats are awesome.
Roberto

Apologies for this screenshot but it is taken a year in the future and as you can see he has slightly improved in a few areas. He came into the team and went straight out on loan. Its a great way of getting them up to speed with Russian football and the cold brrr!
OUT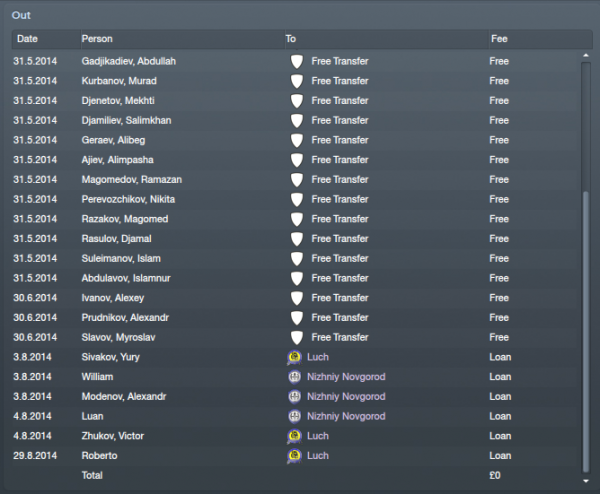 As you can see I had a mass clearout and many people left the team on free transfers, the most noticeable is Alexandr Prudnikov, who is the only player to have featured for the first team. 6 of my youngster went on loan to my feeders clubs Luch and Nizhniy Novgorod.
So as always the first match of these posts are the Super Cup Final and yet again we had an early chance of some silverware…
Russian Super Cup Final vs Volga NN (Khimik, Kemerovo – 29,656)
Starting Formation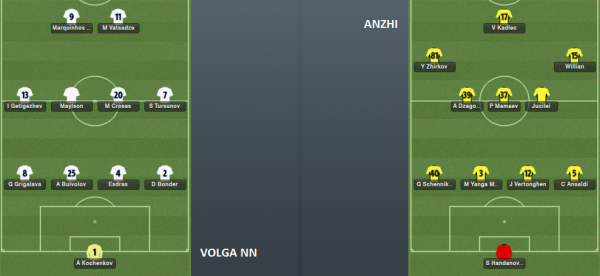 I was definitely wanting revenge for our Russian Cup Final defeat and expected a big win…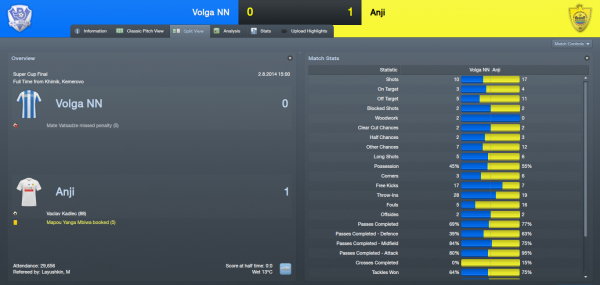 Well we'd won but it wasn't the goal feast that I wanted, but we lifted the Super Cup for a 4th time. So with our first piece of silverware in the cabinet, our fans and the board we're expecting more, so how did the league season pan out..

Russian Premier League Results (First 15 games)

As you can see we went unbeaten in the fist half of the season and kept 9 clean sheets on the way, it was nearly a perfect 15 wins for 15 but Spartak Moscow managed to hold out for a share of the points. So with 43 points from a possible 45 we must have been sitting pretty at the top of the table…

Yeah of course we we're, a nice 8 point lead and 2 games in hand of 2nd placed Lokomotiv Moscow. We looked to be cruising to our 4th Russian League title.
Russian Premier League Results (Last 15 games)

Again we dominated, with another 14 wins from 15 games but this time it was Zenit who managed to nick a few points from us. I was overjoyed we the teams performances and the 13 clean sheets to go with the 9 in the first half of the season is just amazing. Obviously with 86 points from 90 we had to be champions again…but by how many points?

It ended up being an obliteration, I've never won a league by so many points before! I've definitely taken Anzhi to new heights and I cannot see it ended due to the fact that the big teams in Russia don't seem to be signing big players. So with the league title in the bag, how did we do in the Russian Cup…
Russian Cup
We started off the competition against very easy opponents, even with a young squad out we still managed to record a massive 8-0 victory, we then faced Rubin who we're beat 4-2, but they put up a fight. We then had an easier Quarter-Final match again Tom Tomsk and again with a youngish side they were disposed of with some ease. This then set us up with Volga NN in the Semi-Final, you may remember that Volga NN beat us in last years final so I was after revenge…which we managed to do with a 2-0 victory, we we're through to the Russian Cup Final again…
Russian Cup Final vs Terek Grozny (Trade Union Central – 34,800)
Starting Formation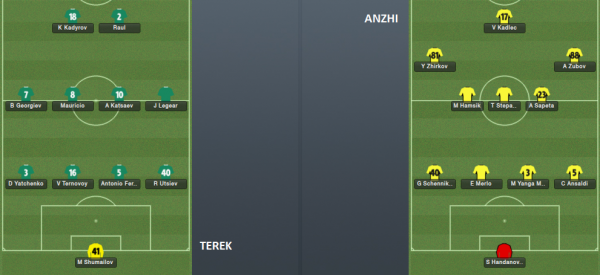 I wasn't expecting much of a performance from Terek as they'd finished mid table and hadn't caused many upsets this season. You might be thinking…why are the likes of Zenit and CSKA not in the final…well that's because they play with reserve/youth players in this competition and don't really bother with it. But I do lol…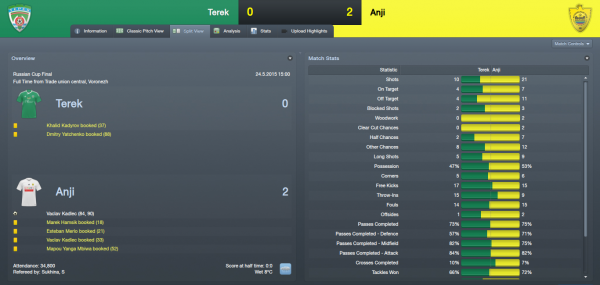 Well we won but we definitely left it late, Vaclav Kadlec with two goals in the last 6 minutes secured another Russian Cup Title.
So enough with the domestic campaign, I bet you're all itching to find out how with did in our 3rd Champions League campaign, well here we go…
Champions League Campaign
Group Stage Draw

I was quietly confident after the draw was made, Bayern had been stuggling in the league and Shakhtar and Bursaspor weren't going places in this competition, lets take a look at the results
As you can see we dominated the group, the loss came due to me giving fringe players some champions league experience, obviously we'd topped the group but who'd joined us in the knockout rounds…
I was seriously suprised to see that it was Shakhtar that joined us but I wasn't bothered about them and I was hoping for a kind knockout draw
Champions League Knockout Draw
BRILLIANT!!! Manchester United…for the 3rd time in 3 years we'd drawn one of the top english teams, I had a bad feeling that our quest for Champions League glory was going to come to an abrupt end, but here was go…
Champions League 1st Knockout Round Leg 1 vs Manchester United (Old Trafford, Manchester – 74,164)
Starting Formation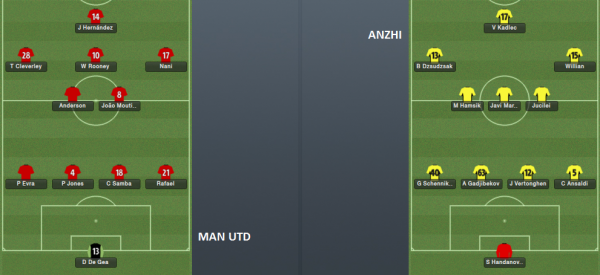 When I saw the United line-up my heart sank a little, they were at full strength and there attacking force was just ridiculous. We on the other hand had a problem in defence and Gadjibekov started. Could we do the unthinkable and get a result at Old Trafford?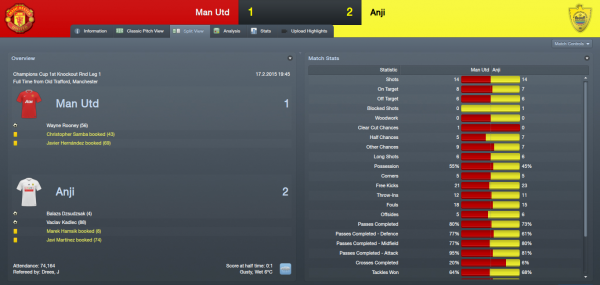 I was ecstatic, I couldn't believe that we'd beaten Manchester United, especially at Old Trafford. Even though Balazs Dzsudzsak scored so early in the match, Vaclav Kadlec was the star of the show with the all important winning goal. Could we finish the job back in Makhachkala, lets find out…
Champions League 1st Knockout Round Leg 2 vs Manchester United (Anji Stadium, Makhachkala – 23,836)
Starting Formation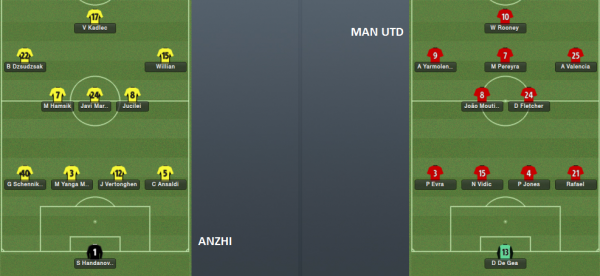 Our defensive was back up to full strength with Yanga Mbiwa and Vertonghen coming back from injury and it was a very different Manchester United team, here we go…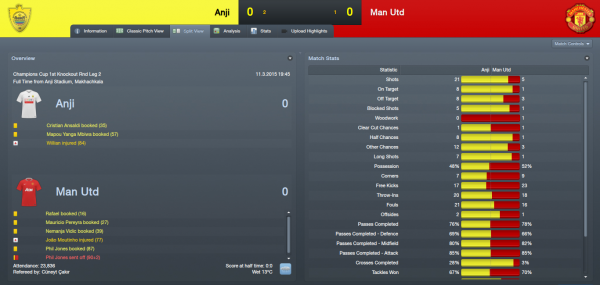 We'd done it! A 0-0 draw was good enough for me, it was nail biting stuff as I know as a Manchester United fan how matches against them can go to the wire, but we defended fantastically and probably should have scored but we'd booked our place in the Quarter Finals for the first time.
Champions League Quarter Final Draw
I was starting to get fed up of seeing Real Madrid's name and realised that this was going to be tough, tougher than Manchester United, but we were ready…
Champions League Quarter Final Leg 1 vs Real Madrid (Santiago Bernabeu, Madrid – 78,801)
Starting Formation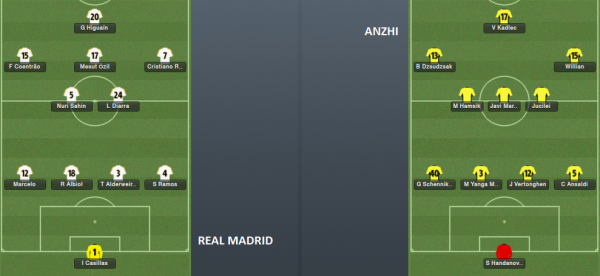 It looked a very strong Real Madrid team to me, they only seemed to be missing Xabi Alonso, but still this was going to be a tough encounter…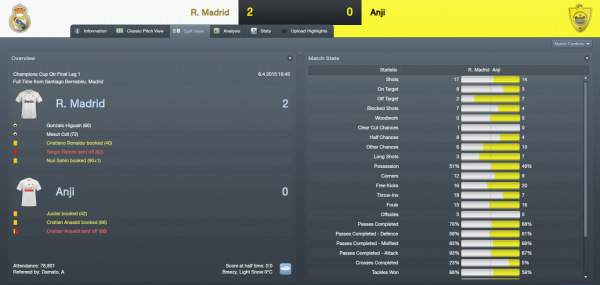 It ended up being too tough for us, even when they were reduced to 10 men we couldn't keep our heads and we ended with 10 men too. We needed a miracle as we headed back to Makhachkala.
Champions League Quarter Final Leg 2 vs Real Madrid (Anji Stadium, Makhachkala – 23,836)
Starting Formation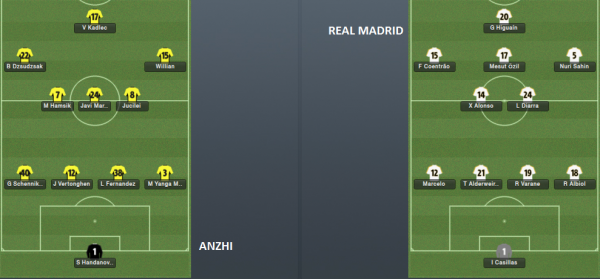 This time Real Madrid weren't at full strength and I did smell a victory but probably not the 3-0 we required to go through, but anyway we were up for it nevertheless…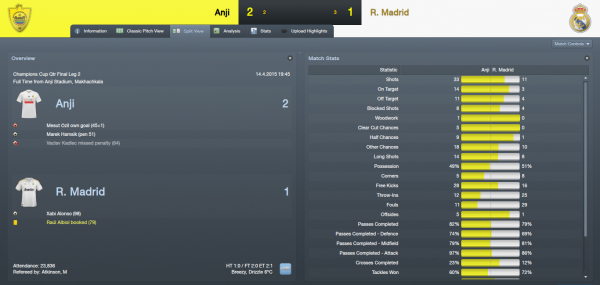 We did manage a victory but 2-1 wasn't enough to see us into the Semi-Finals and we crashed out of the Champions League. We were up against very tough opponents and it was fantastic that we have managed to improve and reach the Quarter Final after struggling in the Knockouts for the last few years, a bit more luck next year and we could find ourselves going even further. So just before a end the post…I have an announcement to share with yous…

Oh yes! the story takes on a new dimension…After the World Cup 2014, the previous manager retired and I thought why not…I didn't actually think that they'd appoint me as the Nation Team manager but they did and this was my target…

Now I was appointed the Russian National Team manager at the beginning of the season but i'm not going into all the friendlies and results in this post, but I will be showing you our full qualifying campaign in the next update. I will give you a sneek peek and tell you the teams in our qualifying group…
So thats about it for this update…oh wait actually I want to share two more bits of information with you…

Hopefully this settles any questions people have about this save…I am going to stay at Anzhi until at least until they are the most successful team in Russia, to achieve this we need to beat Spartak Moscow's 9 Russian League titles…something were well on the way to doing.
Next piece of news…

I've finally got my man! I've been waiting since I started this story to sign him and knowing that he's finally joining us is fantastic! Just thought I'd get you excited for the next update :)
Well that is definitely it for this update, again i'm sorry it took forever to arrive but I've finally manage to write it and it here now…I promise the next update will be quicker arriving. I can't wait to read your comments :)
Regards
Martin Pickard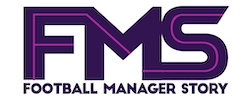 Subscribe to our Newsletter