Hey Everyone!
Welcome back to another update on my Football Manager 2012 story with Anzhi Makhachkala. Last season we managed to retain our Russian League and Cup titles and also managed to add the Russian Super Cup to our growing trophy cabinet. We also had a very successful Champions League campaign, managing to reach the 1st knockout stage in our very first Champions League outing. Could we achieve the same success as last year? or possibly add Champions League glory…we'll lets find out in a full season review.
Transfers
IN 
Roman Pavlyuchenko

I'd finally managed to sign a Russian striker, I did try to sign Pavlyuchenko in the first season but he wasn't interested in joining. Now at 31 years old, he's not the best striker I have and he will probably only be used in rotation but he'll be able to do a job in the Russian League. 
Mapou Yanga Mbiwa 

Mbiwa comes in to help strengthen the defence further. I felt that even though my current defence was up to the job I didn't have much cover if anyone got injured for a lengthy period of time. He can play all over the back line and will be a great addition.
Victor Zhukov 

Now you might think that Zhukov stats are awful but he has 4 star potential or so my scout says, so he comes in as a guinea pig…to see if I can nurture youngsters and get them to reach their potential…at 3 million it's a nice project that hasn't cost much and I'll keep you posted on this progress. As you can see he was shipped out on loan before I could get chance to get an Anzhi screenshot lol. 
Dentinho 

Dentinho comes in to aid Willian. In my eyes last season Willian played far too many games and I was fortunate not to lose him through long term injury. Dentinho comes in to rotate with Willian and possibly Dzsudzsak if needs be and he can also play as a fast striker. 
Alexandr Modenov

Modenov is probably the best Russian regen I have been able to get my hands on…but I honestly thought I was going to lose out to Spartak Moscow. I scouted him towards the back end of last season and as soon as Spartak Moscow came sniffing I had to act right away. He looks like he could be one for the future possibly to replace Alexandr Sapeta or Alan Dzagoev or maybe Willian if I retrain him. He like Zhukov was shipped out on loan before I could get chance to get an Anzhi screenshot lol. 
Esteban Merlo 

I must have spent hours looking for potential wonderkids to bring into my Anzhi team and along came Esteban Merlo. I couldn't believe how good his defensive stats were and if I wanted I could retain him to become a defensive midfielder. With years and years to develop he had the potential to be the best defender in the world. As you can see he was straight out on loan to help him gain first team experience. 
OUT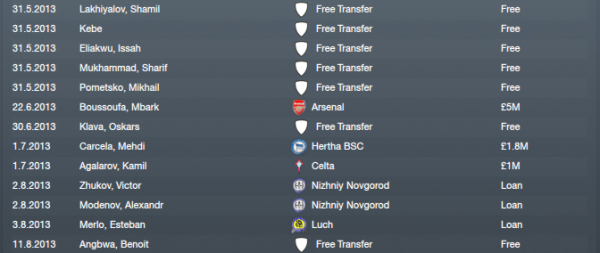 As the season started I need a clear out and quiet a few players were complaining about lack of first team action, so it was time for them to move on. Mbark Boussoufa was the most profitable departure, with both AC Milan and also Arsenal after his signature, Arsenal being the team he joined and also there were departures for Mehdi Carcela and Kamil Agalarov. My two Russian youngsters Zhukov and Modenov headed on loan to feeder club Nizhniy Novgorod and Esteban Merlo joined my other feeder club Luch on a season long loan. I've found a massive plus to having feeder clubs, I can send young foreign players on loan to them to a…get first team football and also b…to aid with there citizenship :) 
So with the transfer out of the way, could we kick off the season with a bang in the Russian Super Cup… 
Russian Super Cup Final vs CSKA Moscow (Olimp-2, Rostov-na-Donu – 30,000) 
Starting Formations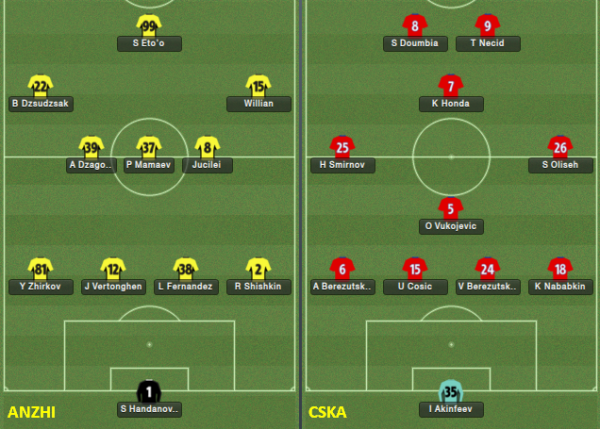 The top two teams in Russian battling it out for silverware…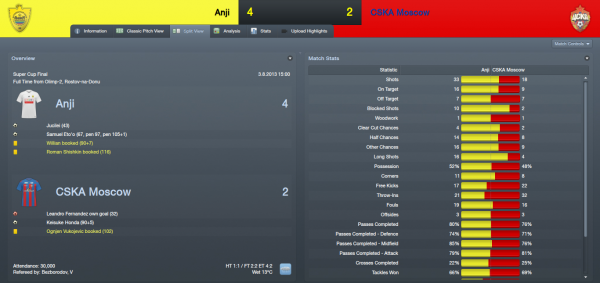 The trophy was ours! It took us until extra-time to beat them though but what a great way to start the season. 
Russian Premier League 

Results in the first half of the season 

After a defeat against Rubin in the second match of the season we knuckled down and got on with things, and with the exception of the draws against Sibir and Volga NN we had a very good first half of the season. I was impressed with the 8 cleansheets and only 10 goals being conceded was a brilliant achievement. But was our 36 points enough to give us top spot in the League Table…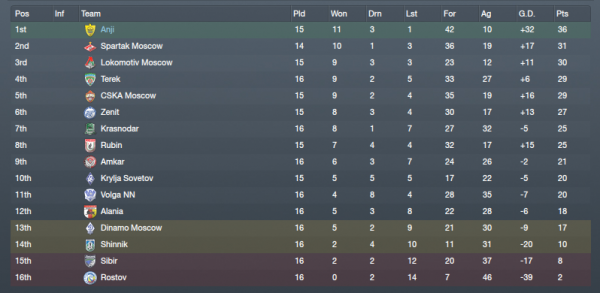 Yes it was…but only just, Spartak (who we beat 5-0) were right on our tail and just waiting for us to drop points. I was surprised to see CSKA Moscow in 5th position but then looked at the points and they were only 2 points away from Spartak Moscow. 
Mid Season Transfers 
IN 

Luan 

After finding Esteban Merlo, I continued to search for youngsters and I came across Luan, now I signed Luan at the same time as Merlo but due to a South American rule…players under 18 cannot join until they turn 18…but you guy already knew that. He joined us after turning 18 and I'm not sure he's worth his 11 million price tag but we'll see in a few years. 
Christian Ansaldi 

As soon as I saw that Christian Ansaldi was interested in joining, there wasn't any price I wouldn't have paid. He's potentially the best Left Back in Russian and he is also just as good on the Right and…this is the biggest bit…he's a Russian citizen! At 38.5 million it's a massive amount of money to spend but he meets the criteria and will strengthen our team no end. 
Seydou Doumbia  

Like with Ansaldi, as soon as I knew Doumbia was interested in joining Anzhi there was no hesitation, Doumbia is an animal, a goal machine, he'll get you 20+ goals a season every year without fail. The other plus side to this massive 42 million price tag is that he's closing in on his Russian citizenship and at 26, is got plenty of goal scoring years left in him. 
Javi Martinez 

The spending continued and in came Javi Martinez, an all round midfield work horse and at 13m…I believe a pure bargain. He comes in and strengthens the centre of midfield as I'm not convinced that Alexandr Sapeta steps up to the mark in European games, but with not limits on Foreign players in the Champions League I was able to look further a field. 
Alexandr Zubov 

The last signing was definitely the most exciting. I first notice this player last season but he had no intention of joining us….6 months later he's now a Anzhi player and just look at his stats…if I can nurture him right he has the potential to be an amazing winger. 
OUT 

As you can see Luan came in and went straight out to my Feeder team. Alexandr Kokorin was moaning bucket loads and I decided to also loan him out to shut him up and after trying to find Alexandr Samedov a club…and with no success, I let him leave on a free. 
Results in the second half of the season 

Mega goals scored in the second half of the season, and a massive 13 wins from 15 only a draw against CSKA and another draw against Volga NN. We managed 10 clean sheets in this half of the season, we surely must have won the Russian Premier League for a third time…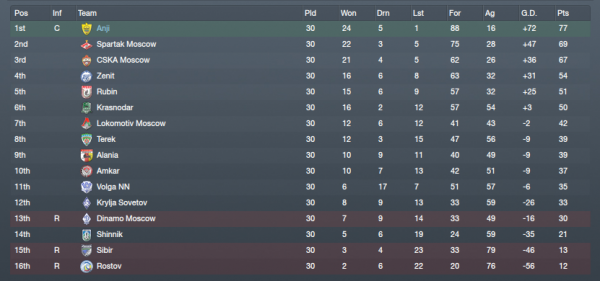 We had but Spartak Moscow pushed us all the way, I thought they'd slip up but no…still we we're too strong. CSKA Moscow also managed to climb to third in the table and Zenit rounded off the top four. I was shocked to see Dinamo Moscow relegated from the Premier Division. So with the Premier League Title wrapped up how did we do in the Russian Cup? 
Russian Cup 

We had an easy start to the Russian Cup with victories over lower league teams, but then we were our own worst enemies as we struggled to beat Krasnodar, we did however on penalties and then we faced giants CSKA Moscow, who we should have beaten in 90 minutes but we did after extra time which set up a Final against Volga NN…the only team we hadn't beaten this season… 
Russian Cup Final vs Volga NN (Olimpic Reserve, Krasnoyarsk – 22,500) 
Starting Formations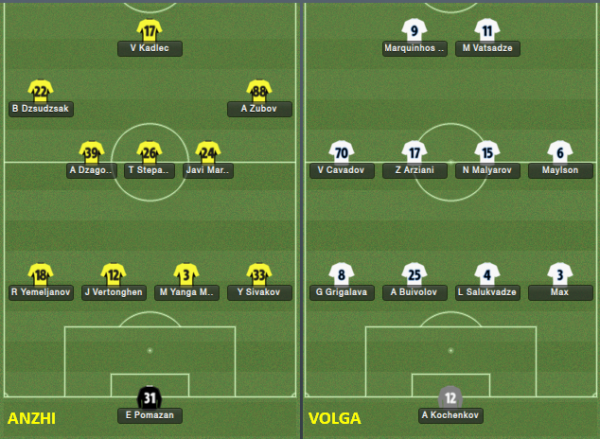 This was the best possibly team I could field…why I hear you ask…most of my first team squad were on World Cup duty…I was livid!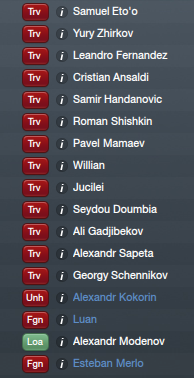 So with 17 players unavailable…6 of them defenders could we regain our Russian Cup…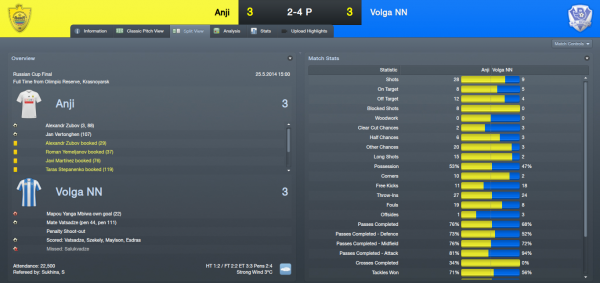 Looking back on the stats I found myself scratching my head…even with a weakened side we should have still won, but you cant win everything…winning the Champions League would take away the pain though :) 
Champions League 
Group Draw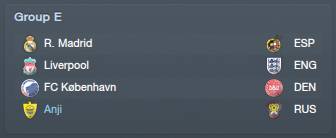 So UEFA decided to make a revenge group with Real Madrid looking for revenge for us dumping them out last season and for us to get one over on Liverpool for them knocking us out in the Knockouts…oh yeah and FC Kobenhavn. 
We opened our Champions League campaign against FC Kobenhavn and we could'nt have asked for a worst start as we left Denmark with no points and a 2-1 defeat. We had to quickly lick our wounds and attempt to bounce back against the mighty Real Madrid…we again was on the wrong end of a 2-1 scoreline. Our Champions League campaign looked to be nearly over with us having to probably win the remaining four matches and two of them were against Liverpool. So needing to kick start our stalling campaign we travelled to Anfield where we managed the unthinkable and left with a 3-2 victory. Our next match was again Liverpool and our campaign was back on track has we brush the English team aside with a 2-0 win. Our next match was against the Danish giant killers FC Kobenhavn but this time the match went our way and we recorded a 3-0 win… 

With the victory against FC Kobenhavn we had booked our place in the Champions League Knockouts due to Liverpool having an awful campaign. Our last match didn't really matter as both us and Real Madrid had qualified but I made sure that we were up for it nevertheless…and we managed to beat Real Madrid on there own turf, 2-1 the score. So like I said we'd managed to qualify but this is how the table looked… 

Haha Liverpool!!! 
Champions League Knockout Draw 

I felt very deflated once the draw had been made due to the fact I'd been keeping a close eye of Manchester City and who'd they been buying…and in this season alone they'd signed Eden Hazard and Thiago Silva both for 45m to add to Luka Modric who'd been signed the previous season…I wasn't looking forward to this one bit to be honest…but here we go… 
Champions League 1st Knockout Round Leg 1 vs Manchester City (Dinamo, Makhachkala – 15,200) 
Starting Formations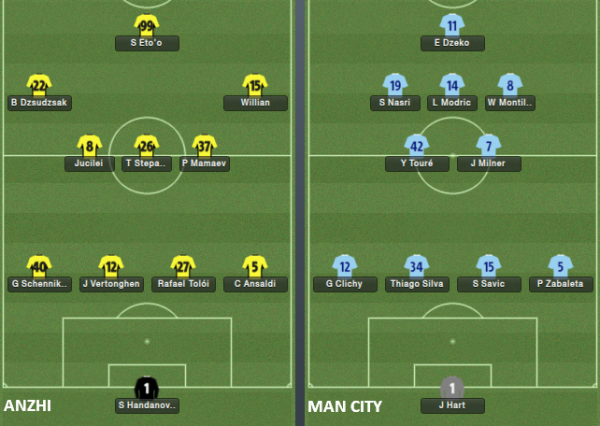 So the Manchester City line up surprised me, their defence wasn't as strong as I thought it would be…and I had no idea who Walter Montillo was (nope not a regen). So I was confident we could possible get a result…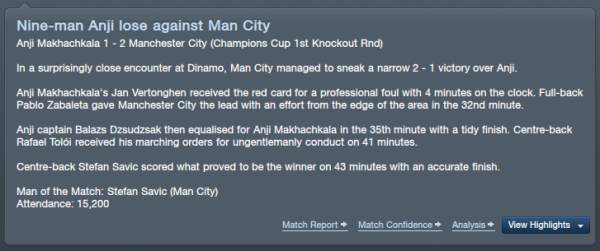 I didn't know whether to laugh or cry after this result, cry because we'd lost 2-1 and had two men sent off in the first half or laugh because we had two men sent off in the first half and Manchester City and their millions couldn't destroy a team with only nine men in 45 minutes, anyway the tie wasn't over but we had a hell of a lot of to do if we were to win at the Etihad Stadium.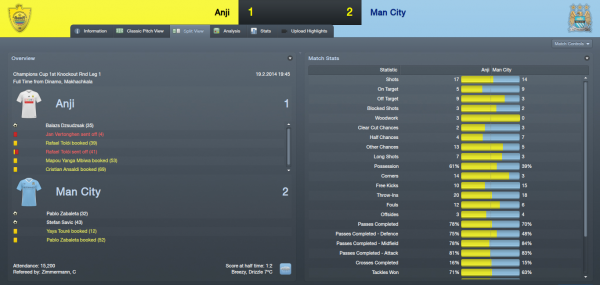 Champions League 1stKnockout Round Leg 2 vs Manchester City (Etihad Stadium, Manchester – 46,645) 
Starting Formations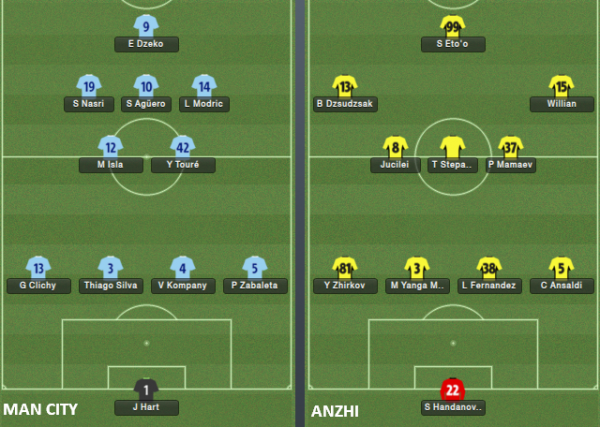 Now this was a better side, with them bringing Aguero and Kompany back into the side…I can only think they were banned/injured for the previous match but if we were to beat them we'd have to do it against possibly their best team… 

No it wasn't to be and we'd fallen at the same hurdle as last season. I was very proud of our efforts, we hadn't been destroyed and had managed to lose 2-1 in the first leg with 9 men…roll on next year!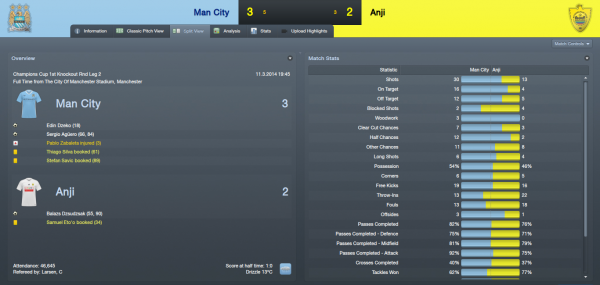 So that's it for this post another two trophies added to our collection but another exit in the Champions League 1st Knockout Round, hopefully we can come back stronger and got a couple of steps further next season. Thank you for reading and comments and requests are always welcome. 
Thank you again 
Martin Pickard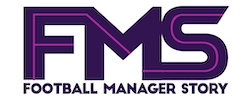 Subscribe to our Newsletter