Hey Everyone!
I'm back with the final update of my opening season in charge of Russian Premier League club Anzhi Makhachkala. In the last post I brought you the results up until the end of the league campaign, and we finished top…closely followed by CSKA Moscow. But now it's time to bring you the most important part of the season, the Championship Group stage. For those who aren't sure, this is where the top 8 play each other again, home and away…whoever is top after that is the Russian Champions. Let's get on with the show…
Match 1 – Spartak Moscow (Luzhniki, Moscow– 19,144)
Our Championship Group Stage kicked off with an away trip to Spartak Moscowin what I thought was going to be a difficult tie, we raced to a 3-0 half time lead, the goals coming from Jucilei and a double from Willian., we did have some luck with Spartak missing a penalty. Rafael Toloi added a forth and sealed the victory.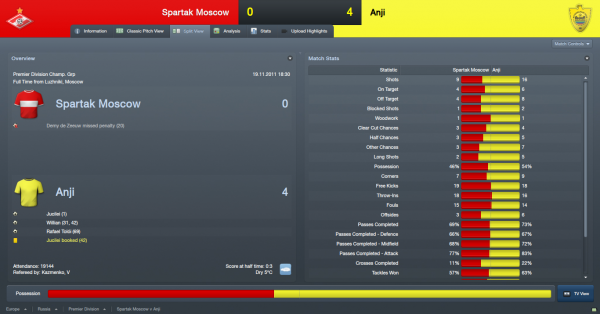 Match 2 – Amkar Perm (Dinamo, Makhachkala– 14,757)
The next match was against Amkar and unlike the previous match we could score and the match ended in a 0-0 draw. I wasn't happy because we'd dropped easy points in my eyes.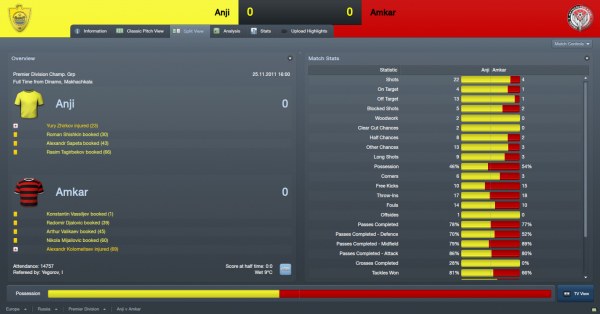 Match 3 – Spartak Nalchik (Dinamo, Makhachkala– 14,640)
I demanded an instant reply against Spartak Nalchik after our draw against Amkar, the lads did just that and we found ourselves 4-1 up at half time, Samuel Eto'o, Jan Vertonghen and two from Alexandr Sapeta. Willian added to the score as the match finished 5-1.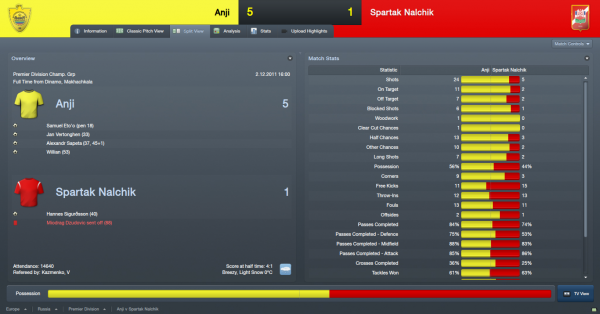 Now this is where I should be bringing you the 4th match, but the Russian League is so confusing and 3 matches into the Championship Group Stage…winter break started and our next match wasn't until March…madness I know. During the winter break the transfer window reopened and I decided to strengthen my team once again…
Transfers
Taras Stepanenko

I felt that our defensive midfield was our weakest area and Stepanenko could certainly strengthen that area. I found out about his guy on the Football Manager Stories 'Scout Network' and once I read about him I knew he was the guy for our team. His stats are very good and I can only see them getting better and 7.5m is a bargain.
Vaclav Kadlec

Another player that is highly recommended on the 'Scout Network', Kadlec comes into strengthen our Strike force. I know you might think I don't need him because I have Eto'o but, Eto'o has been picking up a few injuries and these injuries seem to be weeks rather than days and with only really Diego Tardelli for cover, we'd struggle if Tardelli ever got injured. Kadlec has got youth on his side and with a few sub appearances and also game time against the weaker teams…he'll become a top striker in the Russian League in the future.
With the massive winter break, the players were lacking match fitness and we need to restart the Championship Group Stages running…so I arranged a few friendlies to help with the match fitness, here are the results and scorers…
Now back on to the Championship Group Matches…
Match 4 – Rubin (Central, Kazan– 13,177)
Our next match was an away trip against Rubin and we didn't get off to the best start and Rubin led at half time. After a few strong words at half time the lads started to play football and Samuel Eto'o, Yury Zhirkov and Jucilei scored to win us the match 3-1.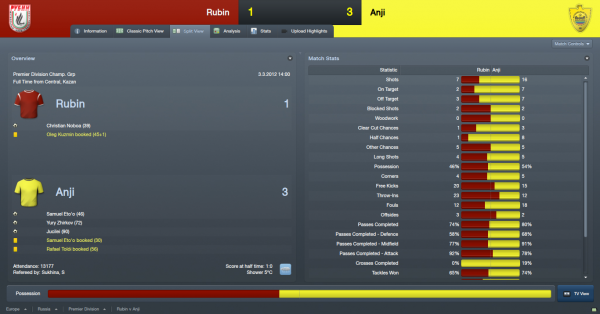 Match 5 – Zenit (Petrovsky, St. Petersburg– 21,403)
We were away again and had a very difficult tie against current champions Zenit. Samuel Eto'o gave us a 1-0 half time lead and Jan Vertonghen quickly made it 2-0 after the break. Zenit pulled a goal back but Balazs Dzsudzsak finished the tie off in the 90th minute, 3-1 win.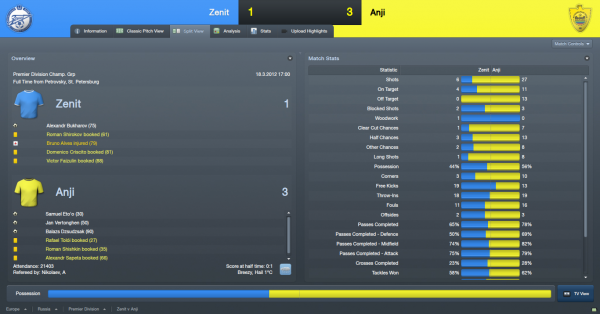 Things got a little worse for Zenit after as Luciano Spelletti was sacked…ooops :)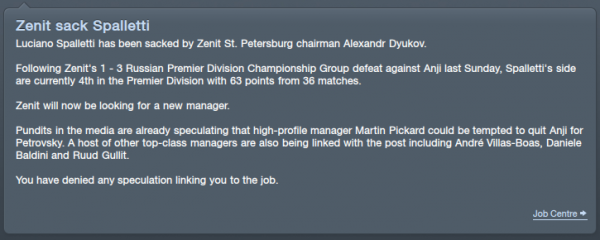 It was also time for us to celebrate (just a little) as with beating Zenit…

Yep…Champions League football for Anzhi next season.
Match 6 – Dinamo Moscow (Dinamo, Makhachkala– 14,878)
We couldn't have got off to a worse start against Dinamo Moscow, Taras Stepanenko was sent off within 8 minutes, but somehow we found ourselves 1-0 up at half time through a Samuel Eto'o goal. We then added the 2nd and 3rd goals thanks to Willian and Mbark Boussoufa. The match finished 3-0.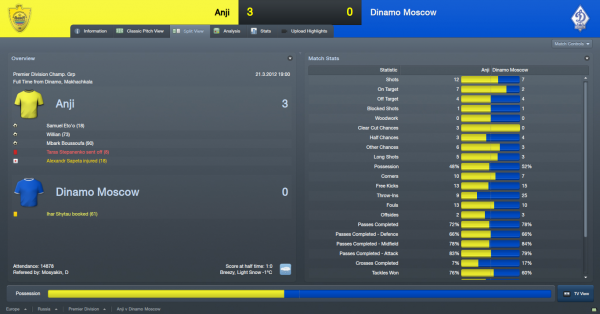 Match 7 – Amkar Perm (Zvezda, Perm- 10,099)
We then travelled to Amkar Perm in a match where we were 3-1 to the good at half time, Rafael Toloi, Samuel Eto'o and Balazs Dzsudzsak getting our goals. It was more of the same in the second half, Alexandr Samedov and Vaclav Kadlec rounding off a fantastic performance, 5-1 the final score.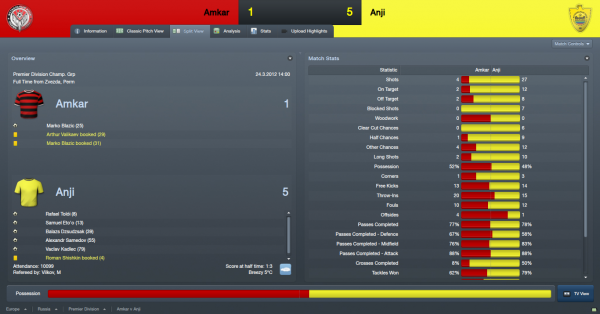 Match 8 – CSKA Moscow (Dinamo, Makhachkala – 15,114)
Our next match was against title challenging CSKA Moscow, without Taras Stepanenko I was a little worried about our midfield but Willian scored to make it 1-0 at halt time. Willian was then in the second half brought down in the box and Kebe who was in for the suspended Taras Stepanenko made it 2-0 and secured a vital win.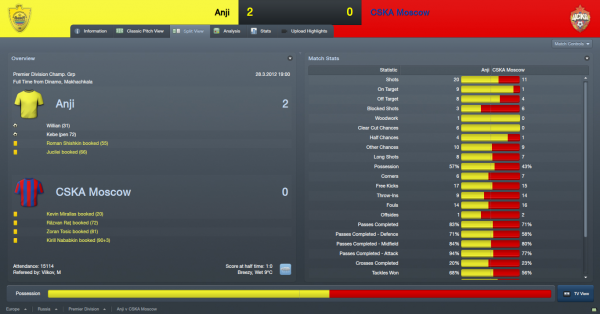 Match 9 – Spartak Moscow (Dinamo, Makhachkala– 15,145)
We then had to entertain Spartak Moscow, and entertain we did…well the fans at least. We headed in at half time 2-0 to the good, goals from Mbark Boussoufa and Taras Stepanenko on his return from suspension. Spartak Moscow never really got going and 2-0 became 4-0, Stepanenko adding his second from the penalty spot and Samuel Eto'o rounded off an amazing performance.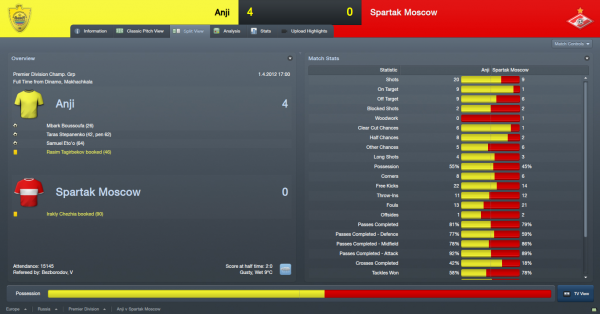 Match 10 – Spartak Nalchik (Spartak, Nalchik– 6,797)
I expected more goals against Spartak Nalchik and the team didn't disappoint, Samuel Eto'o, Taras Stepanenko with 2, Jucilei and Alexey Igonin giving us a 5-0 half time lead. Spartak Nalchik managed to got a conciliation goal in the 90th minute, an own goal from Ali Gadjibekov and Alexandr Kokorin rubbed salt into the wounds by making it 6-1 in the 93rd minutes.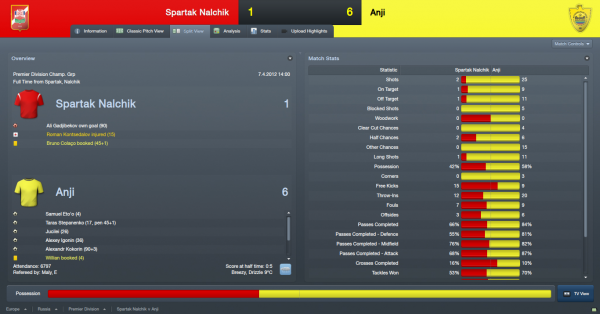 Match 11 – Rubin Kazan (Dinamo, Makhachkala– 15,200)
Our next match was against Rubin Kazan and this one was done and dusted inside 13 minutes, Ali Gadjibekov and Jucilei scoring to make it 2-0 and that's how it finished.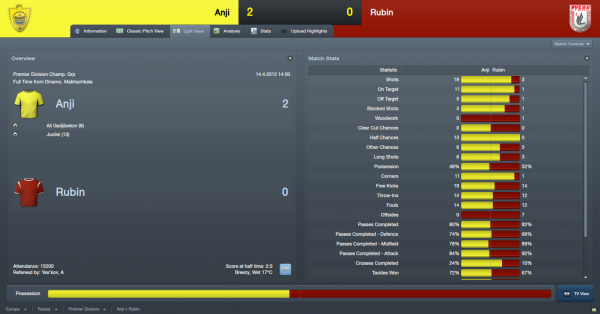 Once the match had finished…I got a massive shock!!!
Woo Hoo!!! I was looking forward to a juicy encounter with CSKA in the coming week but, they couldn't manage a win and we we're Champions of Russia and with three games left to play…I couldn't believe it!
Match 12 – CSKA Moscow (Luzhniki, Moscow– 12,663)
So after wrapping up the title, this match didn't mean much but I still told the lads to 'do it for the fans' and they did, we led 2-1 at half time with two screamers from Jucilei. It could have been different if Alan Dzagoev had converted a 45th minute penalty. There wasn't much action in the second half and it ended 2-1 to us.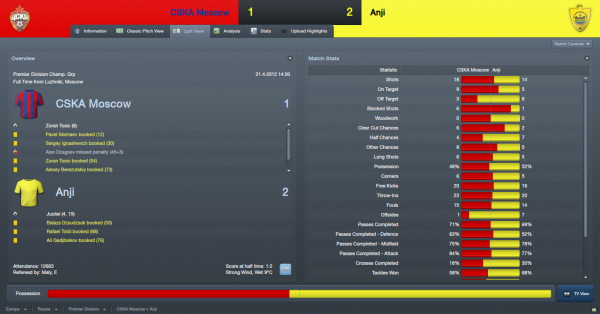 Match 13 – Zenit (Dinamo, Makhachkala– 14,174)
After increasing our lead at the top of the title, we then hosted Zenit who were chasing a Euro Cup place, so I expected a tough contest…that wasn't the case, we were 4-0 to the good in the first half, Jan Vertonghen opened the scoring and this was added to by two Willian goals and then a strike from Balazs Dzsudzsak. Dzsudzsak grabbed his second quickly after the break and Jucilei made it 6-0. Zenit grabbed a conciliation goal in the 90th minute. We'd completely embarrassed the previous champions.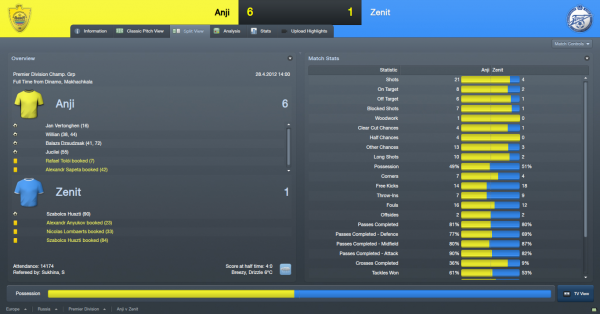 Match 14 – Dinamo Moscow (Arena Khimki, Khimki – 12,303)
We seemed to be scoring quiet a few goals in the first half and killing games off in recent matches and that's exactly what we did against Dinamo Moscow, Alexandr Sapeta and a double from Willian sealed off a 3-0 win in the first half.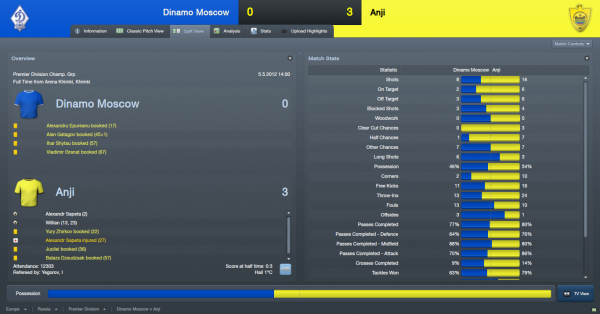 So with us wrapping up the season after match 11, just how far did we finish ahead of CSKA Moscow in the table…well let me show you…
Final Standings

We'd managed to stretch our lead to a massive 16 points and outrageous 43 points over 3rd place Spartak Moscow. I really didn't expect the season to be this easy in all honesty, but I'm looking forward to next season and seeing how we get on in the Champions League and hopefully regaining our League title. Now let me show you the final player stats and Team of the Season.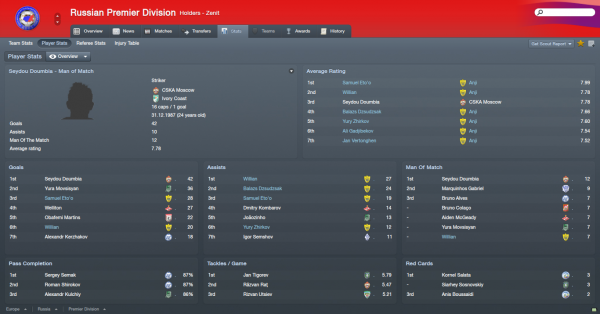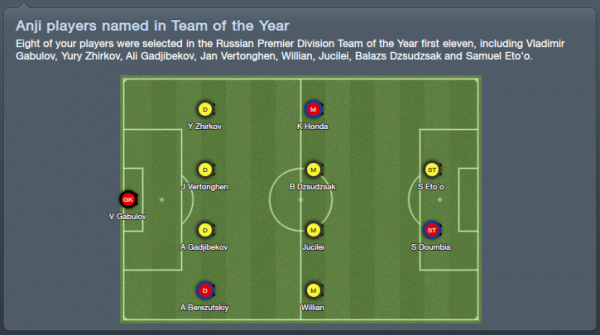 As you probably guessed already, we'd dominated both, well apart from the Goal Scorers…Seydou Doumbia was an absolute animal and I'll be definitely trying to sign him in the future. If you thought that this was the end of the post…sorry it's not lol…
Russian Cup
Now I didn't know when to post this as it originally started back in July. We entered in the 6th Round and faced Gazovik Orenburg away, I didn't know much about them and even thought they weren't a Premier League team I wasn't risking it and we comfortably beat them 4-0, a hat-trick from Diego Tardelli and Jucilei were the scorers. Our 7th Round tie was a little tougher and we we're up against Terek but, we managed a 2-0 victory give a Samuel Eto'o strike and an own goal sending us throught to the next round. The Russian Cup then halted until March where we faced Division One side Khimki. Samuel Eto'o netted twice and Jucilei also stuck not before Khimki pulled one back but we we're through to the Semi Finals against Lokomotiv-2 Moscow. Now I thought that they must have been in Division One also but when I looked I was shocked to find out that they were in the Second Divison –West. We ran riot and secured a 4-0 victory to send us into the Russian Cup Final, goals from Willian, Balazs Dzsudzsak, Jucilei and Samuel Eto'o.
The other Semi Final was Krylja Sovetov vs CSKA Moscow, and I expected to meet the Moscow side but Krylja shocked me and CSKA by beating them 1-0. I had the biggest smile ever…were Anzhi heading for a Russian double?
You Betchya! But it took us until extra-time to beat Krylja. A massive performance from Samuel Eto'o gave us the Russian Cup victory.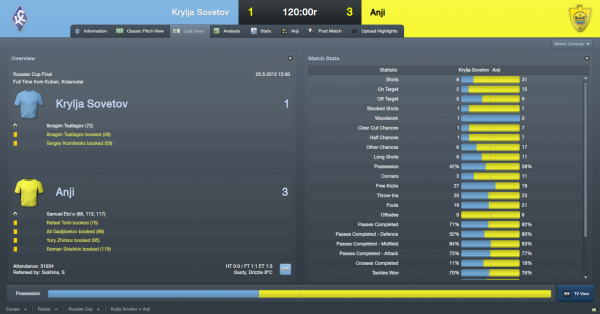 What a season…Double winners in my first season as manager. I don't think I've ever had such a dominant first season. But hang on this wouldn't be an Anzhi post without Suleyman Kerimov giving us more money…
Oh there we go lol. He doesn't like to disappoint. Just one more piece of information for you guys and this is funny…
Hahaha I don't even need to comment :)
So that's it for a MASSIVE end of season update, I hope you've enjoyed and I look forward to your comments and requests.
Thanks again
Martin Pickard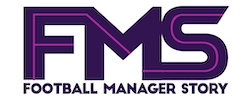 Subscribe to our Newsletter