Hey Everyone!
I'd firstly like to apologies for not commenting on your posts and also not posting an update in over 2 weeks! The reason – I've been away on a much needed holiday. I did hope to post a mid-season update before I went away but you know what it's like trying to get organized, packing, visiting people before you leave and before I knew it I was on the plane. So due to my neglect I thought I'd give you people a treat and bring you the whole of the season…yes in this very post :)
In the last post I brought you our results in the League and Cup in the opening two months of the season, our transfers, our Champions League Group and also our first Russian Super Cup victory. So on with the show…
Russian Premier League Results (Halfway Stage)

As you can see we dominated pretty much everyone, apart from the frustrating CSKA Moscow who always seem to turn in on against us. I was left a tad unhappy that we hadn't got more clean sheets but how can I really complain. So with 13 wins from 15 games in the first half of the season…we had to be sitting at the top…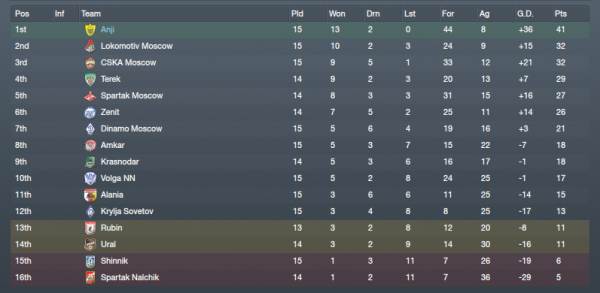 Oh yes a nice, healthy 9 point lead over Locomotiv Moscow who I was surprised to see in 2nd, but on the same points as CSKA Moscow. I also was surprised to see Rubin Kazan so far down the table as they were difficult to breakdown in our match.
Mid Season Transfers
IN
Samir Handanovic

I believed that Vladimir Gabulov was the weakest part of our squad and once Handanovic was interested in joining a I wanted him, well there was another keeper that I was interested in but Darren Smith talked me out of buying him, so in came Handanovic. He has monster stats his Handling, Positioning, Reflexes are amazing and as you can see his jumping improved during the season.
Roman Yemeljanov

Roman is a young Russian Defensive Midfielder, I signed him as cover for Pavel Mamaev who I wanted to be fit for Champions League duty. He not the best Russian player and I probably won't play him enough to get the best out of him but at 900k he's a bargin.
OUT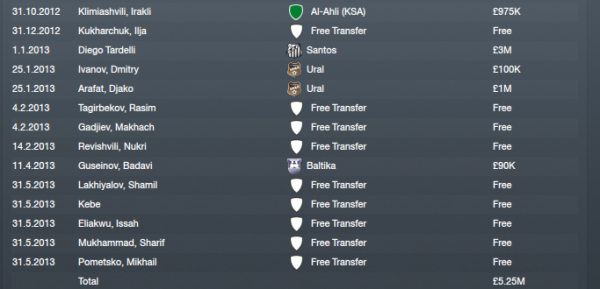 Someone made a comment on my last post about how I was managing two teams and selling my poor players for extra cash…I don't see mega funds coming through sales…do you?
Russian Premier League Results (End of Season)

As in the first half of the season we managed to record 13 wins from 15 games but this time there we some demolition jobs on quite a few teams. The final two games of the season thought were the most extraordinary games I've ever seen in my Football Manager life…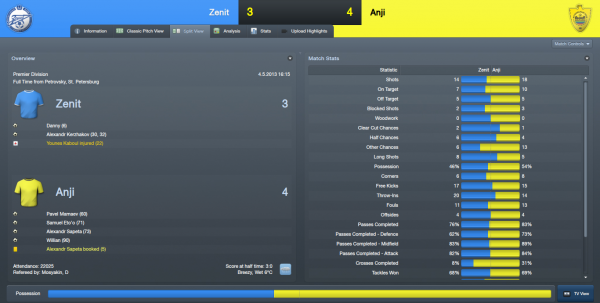 Yes you've read it correctly…we were 3-0 down at half-time and I was livid. After a stern telling off they rallied together and recorded an amazing comeback win.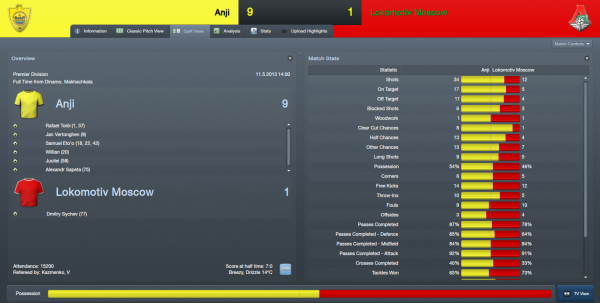 Again you've read correctly…9-1 and 7-0 at half-time. To beat any team 9-1 would have been amazing but to beat a team challenging for the title 9-1 was just crazy. So after those extraordinary games and with us only dropping 4 points in the second half of the season you've all guessed it…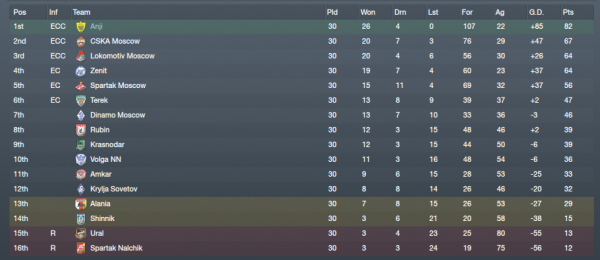 We finished a massive 15 points ahead of runners up CSKA Moscow who were the only team we hadn't beaten in the league…and I wasn't impressed with that! the 107 goals in 30 matches was fantastic and 22 goals conceded is a great achievement too.
So with the Russian League Title in the bag…could we add the Russian Cup…
Russian Cup Results
With Kuban and Zenit already beaten back in July and August, we had to wait until April to play first division side Gazovik Orenburg, a second string side disposed of them with ease and then we had a derby match against Terek, they too were dominated and it felt like the easiest semi-final I'd ever had. So on to the final…
Russian Cup Final vs Lokomotiv Moscow (Central, Kazan – 30,000)
Starting Formations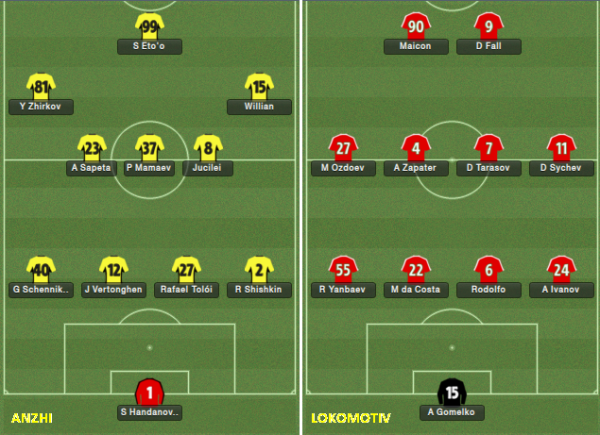 I wasn't expecting another 9-1 victory but I knew that my team had what it takes and was very confident in us grabbing our second Russian Cup title…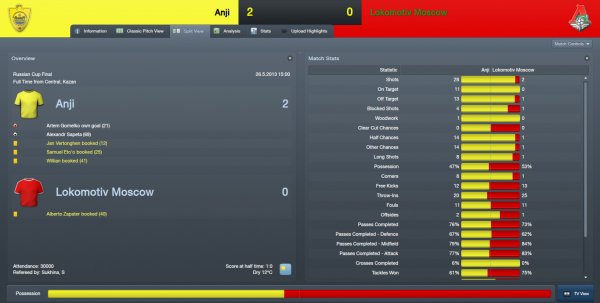 Yes we'd managed to secure a nice 2-0 win and our second Russian Cup Title and also completed our second Domestic Double :)

So with the Russian League and Cup titles in the bag we couldn't add the Champions League and make it a Treble…could we…
Champions League Group Stage Results
Our first Champions League match nearly ended in victory but a goal 7 minutes from time gave Marseille a share of the points. After Marseille we had a trip to Madrid and that didn't go well at all, Madrid showed us who were boss and inflicted a 5-1 defeat on us. We then travelled to Italy where we faced Juventus. I was expecting another defeat, but the lads dug deep and we recorded a 1-0 win. The second match against Juventus was a turning point, we recorded another win and we were looking good for a Europa League place…at least. I had confidence that a win against Marseille and we could possibly secure a place in the Knockout stage of the Champions League, forever Marseille had other plans and we lost 1-0. So with us guaranteed a Europa League position but a glimpse of a Knockout stage place still up for grabs we had to entertain Real Madrid. When the team line-ups were revealed I was shocked and a little smile grew on my face, Real Madrid had rested quite a few key players but still had good players within the team…could we sneak a victory…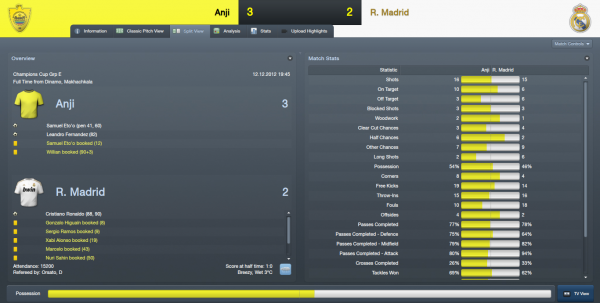 We had we'd managed to win 3-2 and Real Madrid had got too big headed and underestimated us and dumped themselves out of the Champions League.
Champions League Knockout Draw

Our heroics in the final Group Stage match had handed us Liverpool. I was releaved not to have drawn Barcelona, Bayern or Manchester United.
Champions League First Knockout Round Leg 1 vs Liverpool (Dinamo, Makhachkala – 15,200)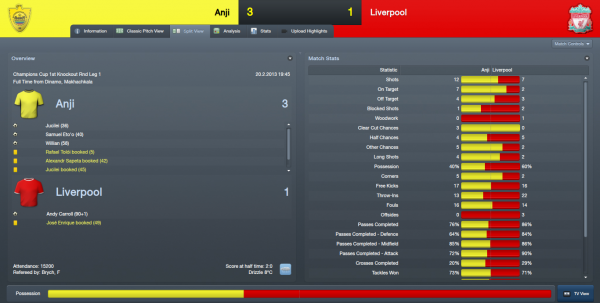 I was now a firm believer that the Big European teams weren't enjoying travelling to Makhachkala but I couldn't believe that we'd recorded a 3-1 victory against Liverpool. I made a massive error though…I made 3 substitutions all at once and Samuel Eto'o picked up a knock which left us having to play the final 30 minutes with 10 men and that's how Liverpool got there away goal. But the result left us in a fantastic position to qualify.
Champions League First Knockout Round Leg 2 vs Liverpool (Anfield, Liverpool – 44,653)
So this was it we were 90 minutes away from the Quarter Finals of the Champions Leagues league, we had a 3-1 aggregate lead…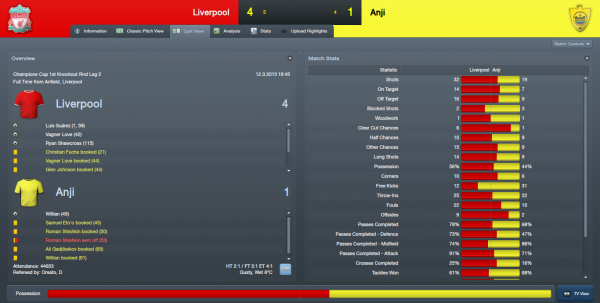 We were knocked out in Extra-Time…but there is a sour twist to this result…

It was a blatant penalty and if we'd have score this Liverpool would have need to score 2 goals in extra time and not the one that they got. It could have also been a different story if Roman Shishkin hadn't have been sent off, but there all ifs and buts and I was more than delighted by our Champions League heroics.
Youth Candidate Squad
I though I'd also share with you the Youth Candidate Squad…I don't know if this is just a Russian League thing or if every team/league has it (please tell me) but here are the youngsters that have been selected for me to sign

As you can see only one player really has some potential to make it through the ranks and potentially make the Anzhi first team in the future, here is his profile…

He's not brilliant but I'm hoping that with some first team football he can develop into something.
So that's it for our second season and it was another trophy filled season with us retaining both the League and Cup and also adding the Super Cup title to our growing Trophy Cabinent. Again I'm really sorry for the delay in posting and I promise I'll post the next upate quicker. Comments and requests are more than welcome and thank you for reading…I'll leave you with a couple more screenshots…

Thanks again for reading :)
Martin Pickard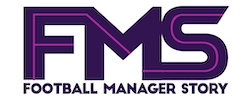 Subscribe to our Newsletter