Hey everyone!
Welcome back to another instalment of FM12 Story with the potential future world beaters Anzhi Makhachkala. In the last post I'd managed to guide the Russian club to top spot in the league at the halfway stage, although CSKA Moscow were snapping at our ankles. Could we continue this amazing form and be top once the domestic league finished…Let's find out…
But first, transfer news time…
Transfers
With us marching up the Russian League, we we're making a name for ourselves and with that…in came the big clubs to try and unsettle us.

Yep ALL our top players we're the centre of transfer stories, but some how I managed to hold on to them with ease. The one player I did expect to want to leave was Willian, but nope not a peep from him which I was ecstatic about as he was on absolute scintillating form. Now, on to the players that would be joining Anzhi, but hang on, Suleyman Kerimov wants a word…
After this message popped up I decided to throw caution to the wind and change as I believed adding a few more players would definitely make this more possible and then Mr Suleyman Kerimov did this…
Right on to the transfers…
With the additional funds, plus I didn't spend all of my budget at the beginning I had a nice amount to spend and that I did, let me introduce you to the new recruits…
Roman Shishkin

Roman Shishkin joins us to strengthen our defence once more, I was fearful that if one of my Russian players were to pick up a long term injury we'd have to make serious changes to the whole team, so in he came. He isn't the best but he is better than our current rightback Kamil Agalarov and he's very expensive at 12.5m, but like I said in the previous post this was the problem but he's Russian and decent and I need him.
Alexandr Samedov

Alexandr Samedov was signed just after the first transfer window closed. I suddenly realised that if Willian picked up an injury I didn't really have any cover on the right wing, and if he did get injured with the team already have the maximum amount of foreign player in the starting 11…we'd be stuffed. He was signed from Dinamo Moscow and as you can see some of his stats have changed, this is due to him not playing since he decided to join. Dinamo Moscow placed him in the reserves to basically rot. Again like Shishkin he's a little pricey at 11.5m but he is needed.
Alexandr Sapeta

Another player signed from Dinamo Moscow and I think I've found a beauty in Alexsandr Sapeta. He has plenty of years left in him and at 7m he's a bargain and slots straight into my starting 11. His passing is brilliant along with his speed, stamina and strength. He also possesses good long shots, anticipation, first touch, teamwork and work rate. I think his guy will become a Russian National regular in the coming years.
Alexandr Kokorin

After searching high and low for a Russian under-21 player, I've finally found one…enter Alexander Kokorin. Again I ransacked Dinamo Moscow for this youngster and at 20, 9m maybe a little expensive but he's the best Russian youngster around. I'll potentially loan him out next season because he'll be too old for the league rule, but for now he's my u21 gem.
Rafael Toloi

Now with all those incoming Russian player I could splash out on a foreign player. Rafael Toloi fit that bill nicely. He's a well known young Brazilian defender and good enough to make the starting 11 immediately so they'll be plenty of match time for the 20 year for him to develop, plus playing with Jan Vertoghen will also help. 7.5m is a bargain for this player and I can see him being a future star for us.
So with a cool 47.5m spent in the transfer window…did this help our cause or destroy the team's cohesion…
July
After a three week break our league campaign kicked back off with a trip to Rostov, we quickly raced into a 2-0 lead with goals coming from Balazs Dzsudzsak and Ali Gadjibekov. In the second half Dzsudzsak got his second and Jucilei finished off a fantastic performance, 4-0 the final score. The last match of the month was at home against current champions Zenit, it was an ill-tempered match with Igor Denisov being sent off for Zenit and Kamil Agalarov for us all in the first half, Diego Tardelli converted the penalty that resulted in Denisov's sending off. We came out the better side in the second half and Balazs Dzsudzsak and Alexey Ivanov finished off Zenit and gave us a 3-0 victory.
August
The first match in August saw us take on Volga NN, one that we quickly wanted to forget as it ended in a 1-0 defeat. We quickly needed to bounce back and our next match and grab a victory, Alexandr Samedov had given us an early lead but Krasnodar pegged us back. It took us until the 94th minute to get the winner, Alexey Igonin scoring a screamer from the edge of the box, we'd sneaked a 2-1 win. We needed a better performance in our next match as it was against Spartak Moscow. It was Spartak Moscow who scored the first, but then 2 goals in the space of 3 minutes from Willian and Samuel Eto'o (on his return) put us in the lead but it wasn't for long as Spartak levelled just before half-time. Spartak picked up from where they left off and score 19 minutes from time and yet again it was a goal deep into injury time that saved our blushes, Ali Gadjibekov this time with the goal, 3-3 the final score. We then hosted Dinamo Moscow, I demanded a win and the players responded with 3 goals in the first half, Jan Vertoghen, Ali Gadjibekov and Samuel Eto'o all on the scoresheet. Ali Gadjibekov added to his tally in the second half and we took a 4-0, the only negative was Yury Zhirkov's sending off 13 minutes from time.
September
Tom Tomsk at home was our first match of September and Willian and Samuel Eto'o got us off to a great start as we led 2-0 at half time. Balazs Dzsudzsak added a third before Tom Tomsk decided to turn up and make the game interesting, scoring 2 goals in 10 minutes, but Willian rounded off an awesome performance with his second and we took a 4-2 win. Our next match was a trip to Amkar Perm where Samuel Eto'o stole the show with a first half hat trick. Amkar grab what turned out to be a conciliation goal as Jucilei rounded off a solid performance, 4-1 the final score. Our final game of September was a home tie against Rubin Kazan, in took us until the second half to get going but Willian and Alexandr Sapeta got the goals that gave us the 2-0 win.
October
We started October at home to Krylja Sovetov and this match ended pretty much like the last time we played them…bad for Krylja. Samuel Eto'o started the scoring and then quickly grabbed a second. 2-0 quickly became 3-0 through Willian and Jucilei finished off the scoring, 4-0 the final score. We then hit the road…or should I say plane lol, as we travelled to Kuban Krasnodar where we dished out another scintillating performance, Willian and Eto'o getting on the scoresheet and Ali Gadjibekov grab a double, 4-0 the final result. It was then time for the top of the table clash, the one you'd been waiting for. Our performances in early august had dropped us to second and 4 points behind CSKA Moscow, we needed to win. It was a very nervy first half which we edged but couldn't find a breakthrough, but in the second half that changed, Willian scored on 71 minutes and Samuel Eto'o 4 minutes later, I had a smile from ear to ear and the smile got even bigger when Alexey Igonin made it 3-0 and that's how it had finished, we were only a point behind CSKA in the league. We followed up the CSKA result with a victory against Locomotiv Moscow, two goals from Samuel Eto'o and a nice finish from Alexandr Sapeta gave us a 3-1 victory. Our penultimate game of the season saw us travel to Terek Grozny, where goals from Jan Vertoghen and Samuel Eto'o gave us a 2-0 victory.
November
Our only match of November was our final league match before the Championship Group commenced and that was against Spartak Nalchik. We ran riot with Samuel Eto'o grabbing two goals, Mbark Boussoufa, Mehdi Carcela, Alexandr Sapeta and own goal giving us a 6-1 victory.
With 13 wins from 15 matches I couldn't fault the performance from the lads, but was it enough to grab first in the league standings going into the Championship Group…
League Table

Course we had but only just, by a single point. I'm absolutely staggered by the 22 point gap between 2nd and 3rd. The gap is so massive that even with 14 games still to play (total of 42 points on offer), us and CSKA Moscow look certain to be playing Champions League football next season. Our goal difference is absolutely amazing I can't believe we've only conceded 20 goals and our scoring record is just…WOW, 92 in 30 games.
Now to show you the tactic I have been using throughout the season as requested…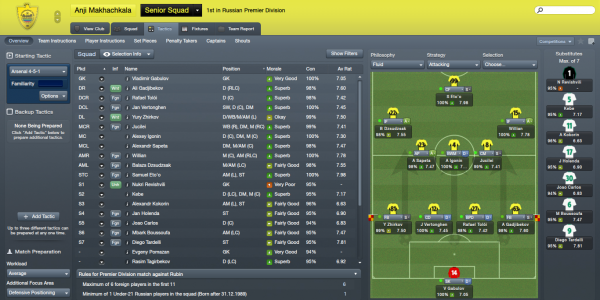 Yes the tactic I am using is the FM2012 'Play like Arsenal' Tactic brought to the site by Darren Smith. I have achieved these results without touching the tactic one single bit. It an absolutely awesome tactic, and a big thanks goes to Darren Smith for bringing it to the site :)
You can use the information for the tactic by click the below link
http://www.footballmanagerstory.com/2011/10/football-manager-2012-arsenal-tactic-play-the-passing-game/
So that's it for this post, thank you for reading and if you have any requests, post them below and I'll either answer them or post them in the next update…which may take me a while because this is where my knowledge of the Russian League becomes foggy as they only play 3 matches of the Championship Group and then have a massive 3 month break…crazy I know lol, but I'll bring the next update asap.
Oh wait just before I go…
I love Suleyman Kerimov :)
Thanks again for reading
Martin Pickard x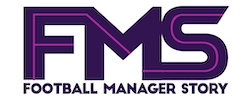 Subscribe to our Newsletter