Hey everyone welcome back to AIK for the final update of the season!
Last episode saw Gnaget hold there own in the first half of the season and push up to a highly respectable 2nd, six points a drift of Orebro in 3rd. Honestly I was really hoping for promotion, I know I said it didn't matter at the start of the season but now we are performing well, I have raised my own expectations! Whether that pays off or not, I don't know.. But you will by the end of this update ;)
July 2029
So the month started off with a new addition to the squad, Viktor Lundquist on a massive £8,000 p/w deal! Not that it exactly mattered due to me just wanting the club to gain promotion, but it didn't impact on the finances (and my budgets) very well as we were over after having been £5K in the green ;).
That mattered little though as our first game of the month would be away, against top of the table Syrianksa. Not the easiest of starts granted, but with our new found confidence im sure the lads could hold there own. Now I didn't think much of it and only did one change which was obviously Lundquist in goals. I sat there in awe of my lads performance in the first half, resulting in this rather enjoyable half time team talk:
Haha! I was laughing it up as the way we dominated the game (away from home!) was absolutely astounding. I tell you what it could have been a lot more too after the break but we failed to make the very most of our chances with the game finishing 5-1. Still, I was more than happy when the final whistle blew! After that performance I thought anything was possible, and we went into the next game, a Swedish 4th round Cup tie against Premier League outfit Oster with high optimism. Coming from behind twice, we snatched the winner in extra time thanks to Francisco Sampaio.
Our third game in eight days saw us face Hammarby, with most of our squad out due to tiredness. The so called reserves managed to pull one out of the bag though, winning 2-0 before we managed to win again at Grondal finishing 3-0 with a hat-trick from Francisco Sampaio, who else? Talking of him though, he set a new record for player goals in a season:
Considering that it is only just over half way through the season, that is a pretty epic feat! Only two goals away from being AIK's best goal scorer in the league as well. Too see if he could achieve that goal by the end of the month, we faced Sleipner in the penultimate game of the month. He scored, but we only managed a 1-1 draw due to some lapse defensive work. Rounding off the month we faced Vasby where Sampaio scored all four in a 4-2 win! Nearly 100%, and the best bit was we were closing the gap with Syrianska, gaining one point on them over the month.
August 2029
Things kicked off off well for me as I started the month with the 'Manager of the month' award for July. In all honesty, the lads deserved it after their amazing display at top of the table Syrianska along with their performances over the course of the month. Special mention to Francisco Sampaio too.. Probably wouldn't have got it without him ;)

Anyway our first couple of games were won 4-1 against fourth and third placed Brommapojkarna and Orebro. Couldn't believe the preformances I was seeing, it was great to watch.. Didn't even have to 'manage' most of them, just sit back and let my little pixilated characters do the rest.
I did get some bad news though half way through the month, as Viktor Lundquist managed to get himself injured for 5-6 weeks. Not the best of situations, but I guess we had the cover in that area to be sure that nothing bad will come of it.
Some good news though after that Orebro game, our main man Sampaio continued breaking records on the way to legend status at the club in his first season ;). This time it was for the most 'Man of the Matches':
Two games to the end the month, first against IK Sirius. Last gasp winner from Nielsen ensured we got all three points in a 2-1 win while we finished off in less than emphatic fashion against Orgryte, drawing 2-2 on the night. All in all a very good month though, just hope it continues really with only 7 games left!
September 2029
Again another good month, another 'Manager of the month' award! Hopefully with these we can go onto win the league.. Although top of the table Syrianska are pushing us all the way, still 2 points ahead.

With that then, we faced another Premier League relegation team in the form of Helsingborg. I was a little worried as I knew that the dip in form had to come somewhere along the way, but the lads motivation for winning games was not dying out as this half time scoreline can confirm:
One word, destroyed. Sampaio getting a hat-trick in 23 minutes no less to take us on the way to an eventual 8-1 victory with our main man scoring another three to cap his first (and my first..) double hat-trick! Woop :D. You know I said he and we were breaking records? Well get a load of this..
Magic. Anyway, we tried to carry on the run with success in the Cup as we hosted Kalmar FF. As a Premier League team they should have come out of the blocks on this one, but they never really got going. We took full advantage, winning 5-2 on the night to coast through to the Semi finals where we would face Orebro at the end of the month. Want more records broken? Of course you do.. and by now I'm guessing you know who it will be:
Beating my own Adam Lecomte (Messiah of Varberg) to the post of most goals in the competition, ever! He really is something. Anyway, four games to comment on till that Semi final, the first away at Ljungskile. 4-2 the final score after two very late goals sealed the points before we hammered Degerfors 3-0, breaking yet another record along the way:
Almost feels like I'm cheating..
I'm not, of course. Give me some credit ;). Anyway a couple of league games to go till the end of the month, the first against Norrkoping. If we were to win this, we would be a Premier League team next year but unfortunately we went behind early on as they away side hit us on the break. Grabbing one before the break we went in level and managed to grab the winner half way into the second half. Cue the celebrations…
Although there was little cause for concern after I managed to loose my main man for a month:


Still it was a great relief seeing us finally confirm promotion, but now we were gunning for the title. Three games left to secure it, and the last league game of the month was at home to Husqvarna. Struggling to take the game by the scruff of the neck we went down to 10 men only half an hour in as Alonso was sent off. Although that did little to dampen spirits and we scored a hat-trick of goals before the break adding a further in the second half to run out well deserved 4-0 winners.
Last game of what seems like a very long season saw us face Orebro in the Swedish Cup Semi Final. Probably not as invincible as I thought we were as we crashed out of the competition after loosing 2-0 in a game that honestly, we got pretty much dominated in. Still, even though that wasn't the best of scenarios, I knew we were still well in the mix for this title.. Next months games will decide that fate.
October 2029
Or was it..? As I clicked continue to go into the month of October I got a flurry of messages. Syrianska had lost against Vasby (I knew that half a million £ worth of investment was good for something) meaning they didn't have enough games to salvage any sort of title hope so…:
We won it! Haha.. Yes! They took us all the way, but with Syrianska literally falling at the final hurdle by loosing the last two games of September, they effectively gave us the title and I couldn't complain. I was just overjoyed at how the season has gone to be honest. The lads (including one very special one..) have given their all and I couldn't fault them either way.
Two meaningless games left then, the first against bottom of the table (and already relegated) Angelholm which we managed to loose 3-0 and another against Syrianska, which I thought would be some sort of d-day match to see who would win the title, which we won 4-0 :D
Anyway with those polished off, lets have a look at the final league table:

Couldn't be happier with the above, 83 goals, 71 points.. Magic!! Just happy to get promoted in the end ;)
Player of the Post – Francisco Sampaio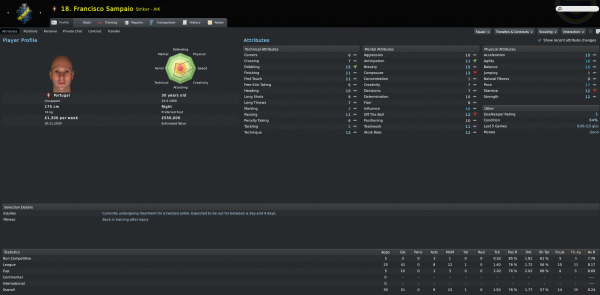 Expand the picture and glorify yourself in his profile. Well I will anyway, as he has been the spark that has set this season alight and there aren't many debut seasons that I can say I have witnessed that are better than this. If you have a look at his stats for a second, that is not a misprint.. You are really reading that he has scored 51 goals in 30 games, and that he has got 'Man of the Match' in exactly half the games he has played in, I can assure you ;). What worries me is his age, I just hope that he has enough to produce more of the same next season!
Anyway that't it for AIK, next update will be just before we kick off the new season in the Premier League. It was a very long update, so if you managed to read all of that, you've done well ;)
Lastly before I go, I'd just like to say that I managed to get a ticket for one of the most anticipated games in my life:


Manchester City vs Napoli tomorrow night. Most of you will think nothing of it, but this is our first game ever in the Champions League. Regardless of all the money we have hacked into the club, it's been a dream of mine (and pretty much every City fan) to play in the CL. Just listening to the song, it gives me tingles! Anyway, Napoli will be very, very hard as they have the likes of Cavani and Hamsik, but I'm praying for a win ;)!
That (finally..) concludes my post, see you next time.
Hej då :D

Subscribe to our Newsletter