The default FM 2009 skin is good enough for me, or maybe I got used to it. I enhanced it with backgrounds, logos, kits and facepacks and it looks quite nice. 
If you want a custom skin I definitely would recommend the Steklo Skin. I used it for FM 2008 and it was very good. Now the author, Tom Dixon, released the FM 2009 version. If you install it your game screens would look something like this: (please note that I have the custom English stadiums backgrounds installed)
How to install
Extract the rar file to \My Documents\Sports Interactive\Football Manager 2009\skins (if there is no "skins" folder creste it yourself). Start your game and go to preferences / display & sound and choose your new skin. Press confirm and your skin should load.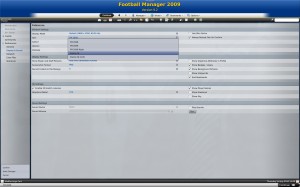 If you like the idea, download the Steklo skin from here. (17 MB)

Subscribe to our Newsletter