As I promised I'm going to reveal the tactics that helped me to get my Chester team from a media prediction of 21st to the real… 1st place in League Two. The tactic is nothing special, it's a 4-4-2 tactic with an offensive touch. 
The team instructions might give you more information about the style.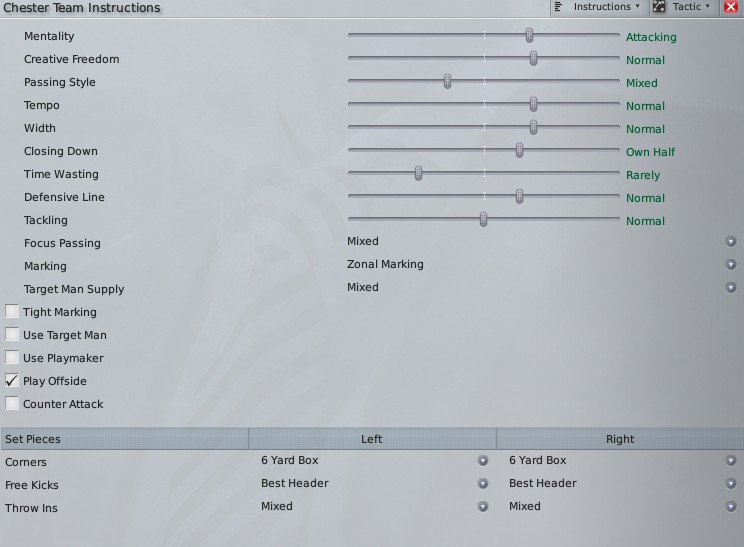 As you can see the tactic uses zonal marking and the offside trap. There are individual player instructions too but I won't get into details. I think that the results it produced for me are very good:
– the media predicted my Chester would finish 21st in League Two
– We finished 1st with 96 points, 100 goals scored and 47 conceded, 29 wins, 9 draws and 8 losses. 
I'm not saying that the tactic will work for your team too, that would be stupid. I'll give you some pros and cons of using this tactic as I observed during the League Two season.
Pros
– creates many chances
– many goals scored (more than 2 per game average for my team)
– often produces spectacular passing football (if you have decent players at least)
– score many goals from corners and indirect free kicks if you have a centre back with at least 15 heading and good corner and free kick takers for each side. I used the left footed taker for the right sided set pieces and the right footed taker for the left sided set pieces as I noticed that I scored more goals this way. The result is that my centre back (James Chester, 15 heading) scored 16 goals in 37 games!
Cons
– quite leaky in defence (average of 1 goal conceded per game)
– midfielders get tired quickly if they don't have very good stamina
That's about it, I'll give you more explanations if you want them, so feel free to ask.
Oh, I almost forgot. Here is the download link :)
In the next post I'm going to reveal the training schedules that I'm using and the type of coaches that I think you need to get the best out of your players.
UPDATE
Here is a slightly tweaked version of the tactic. It should work better with patch 9.2.0.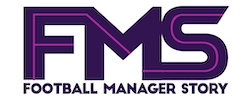 Subscribe to our Newsletter