Hello folks! As I promised I'm going to reveal the tactic that brought me to some unexpected triumphs with my Chester City team in FM 2009. You already know that I won the Europa League, European SuperCup, Carling Cup, Premier League title and, last but not least, the Champions League using these tactics, so I can say that it really worked for me.
The tactic was not made by me, I only added a few tweaks here and there. It was made by a nice Romanian user down at The Dugout Forums, his nickname is Steeler. Here is the thread that he opened to describe the tactic, I guess nobody can do that better than him.
I'm using two versions of the tactic, depending on the opponent that I have to face. The one that I use the most is the counter attack tactic, which I used in the Champions League final against Barcelona.
The second version of the tactic is more attacking, with the full backs getting more forward runs and with the striker set up as target man. I used this version mostly for home games and for games against weaker opponents that use very defensive tactics.
The thing that I like about this tactic is that it produces a very good attacking play, if you have good creative players in midfield you will be amazed of the plays that they will produce. The wingers are essential to the success of this tactic, you will need fast wingers with good dribbling and good shooting also. If your midfielders have good long shots they will score a lot of goals too.
The other great thing about this tactic is the set pieces, specially the corners. If you have good corner takers and players with good heading you will score loads from corners.
About the opposition instructions, most times I don't set specific instructions, I do that only if I see during the game that one or two of the opposition players are giving me a hard time. For instance, in the game against Barcelona I chose to hard tackle and show to the weaker foot their two central midfielders because they were dictating play and giving their team a lot of great passes. 
That's about it, you can download the two tactics by clicking on the download badge below. This has been the best FM 2009 tactic I've used so far, and I've used it only with patch 9.3.

If you have questions about the tactic just leave a comment, I'll try to answer as soon as possible.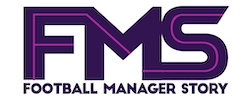 Subscribe to our Newsletter