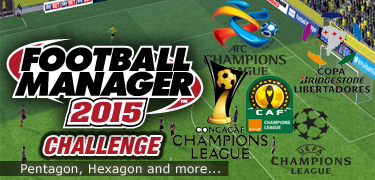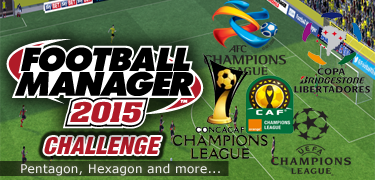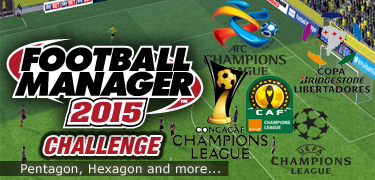 Now it's time for another episode of my FM 2015 Challenge series. So up next is one of the most famous challenges. The Pentagon Challenge and a few variants of it. This one of the challenges I would advise you try at least once. Even if you can't go all the way you will get to know many different football cultures, especially outside of Europe.
The Pentagon Challenge
Most of you have probably heard of this challenge before. Named after the geometrical figure (not the building) with five sides. This challenge have you travel all over the world to challenge other teams for their regions biggest trophy. That means you have to win the following cups:
UEFA Champions League
Asian Champions League
African Champions League
North American Champions League
Copa Libertadores (South America)
Extra: Start with Sunday League Experience.
Note: Not the best creativity when naming these competitions.
Before I start on strategy one thing you need to know is that a Pentagon is a challenge that's hard to plan. Like most journeyman saves it is dependent on what job openings you get. But the teams you have a good shot at winning the cups with may not be available because of your reputation. So at times you have to be creative and take a job just to increase your reputation like a national team job or a team that are possible overachievers. But in the next few paragraphs are my recommendations.
If you start with low experience you usually end up in South Africa which is the only league to manage in in the original game from Africa. You get close to one of the bigger trophy's with a 2nd tier team because of  the low reputation the league has. In the bottom of the other leagues you are hampered by the bad economy in those leagues. And the bigger teams are very dominating comparing to South African teams in which are more equal. Of the top tier league South Africa also is the league with lowest reputation that has a decent chance of success. Egyptian teams are your biggest enemy here but you can with great focus and smart play overcome this. Look at their tactic and strike at their weak spots. In most cases a defensive-minded tactic and counter attacks.
Next is usually North America. Find a good team in either Major League Soccer (U.S.A) or Mexico. Almost the only possible teams to claim the North American Champions League. I would give Mexico a small edge for simpler league rules (by far) and the teams are slightly stronger than their American counterparts. CD Guadalajara (Chivas), America or Cruz Azul are good alternatives. CD Guadalajara only uses Mexicans so you can't buy foreigners as special rules for the team. But if you go to the MLS New York often has a decent team to start with. Los Angeles has a very good economy but league rules makes it harder to use it on more than 2-3 designated players.
Asia could also be your 2nd choice but to get a good team in Asia going to North America first is better for the most part. In Asia look for China or South Korea. They have great teams and they are wealthy most of them. You can strike gold and get Guangzhou. They are by far the richest team and many of the best Chinese players usually end up there. Shangdong and Beijing are good alternatives. Seoul is your best bet in South Korea with a good mix of good players and budget. I would consider them 2nd in both. They also has the best facilities in South Korea so by the time you get there they should has decent players coming through the ranks. Ulsan has the best economy so they can be a good choice. Suwon usually have a good team by the time you get to Asia. Before choosing a team from another league check if they are eligible to play in the Asian Champions League. As Asia have three development stages which make it impossible for some teams to qualify. Teams from Hong Kong and Singapore only compete in the Asian Confederations Cup and not in the Asian Champions League. They can however be used as a stepping stone to the bigger leagues.
Next is usually South America with Copa Libertadores. Brazil dominates this competition with the exception of a few Argentinian teams. If you get a middle of the table team in Brazil you have a better chance of qualifying and competing in the Copa Libertadores then their counterpart in the other South American leagues. The league are more even and players are attracted to more teams. They also have a very lenient loaning policys with many teams have built half their teams with players on loan. Brazil also has many competitions which can go in your favor with focusing on the league and then the Copa Libertadores. While your rivals have focus elsewhere. I could recommend a few teams from Brazil. Corinthians, Sao Paulo, Flamengo, Cruzeiro, Internacional and Santos all can go for the championship. But half of the first division have a chance to qualify for the Copa Libertadores. In Argentina you usually have to get a job with one of the biggies. Like Boca Junior, Velez or Independiente. River and San Lorenzo are two other choices.
Last is in most cases is Europe as you need a great team to be able to win the Champions League. England, Spain and Italy is the safest choice. Many good teams there. Germany is another good choice but you often need to coach Bayern Munich or maybe Dortmund. Europe has better chances to get a smaller team to win the Euro Champions League than any other of the regional competitions. Economy and the endless possibilities of tactics makes this possible. Especially teams from England has a good shot a this.
The Hexagon Challenge
Also named after a geometrical figure. This time with six sides. This challenge include Oceania as a region. You need to include New Zealand as playable nation in the game.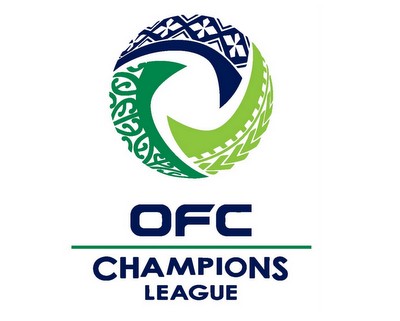 New Zealand is you only choice here as Australia now is a member of the Asian Football Confederation. If you want to start in the lowest reputation league you start in New Zealand. But the way after here can be troublesome and include a league in between this and the South African 2nd tier. Because the league has a really low reputation. But if you do a great season with a good team from Hong Kong (like South China) or Singapore after New Zealand could get you there. For a shorter game New Zealand is best done last but that could be awkward for some. If you do this you have to add the league late in the game. But remember to add the league as playable in the database though.
Variant: Pentagon/Hexagon for National Teams
Euro Cup
Asian Cup
African Nations Cup
Gold Cup (North and Central America)
Copa America (South America)
OFC Nations Cup (called OCE Nations Cup or Oceania Nations Cup in-game)
This variant can be done in many different ways. You often start with a team that are not seen as contenders if you begin the game unemployed. In most cases smaller teams in Asia or Africa is your first job. Depending on how long you wait I would recommend Asia. They have many regional competitions you can win with the smaller national teams and get a trophy or two. Singapore, Indonesia or Malaysia are good choices. They are dominant in the AFF Championship. That can land you a medium team in Asia or Africa. Maybe even North America. A strategy for this type of challenge is hard to lay out. I can give two tips though.
Manage a domestic team too. That can give you an extra boost of reputation.
Make use of smaller jobs. You may not get the Head job of the Chinese National Team but you can do really good as manager of their U23-team in the Olympics so apply for these teams as well when you are unemployed. Timing you application is key. Which is right after the qualification or competition is scheduled.
One thing to watch out for is to make sure the team you want to manage have enough players to be playable. Before you start a new game you can choose to include players to fill every national team. That could be a good choice. Else you need to carefully scout every national team you apply for to make sure.
If you go for the Hexagon New Zealand is the only alternative in Oceania so look for them to fire their manager (or he resigns/retire) which do not happen that often as they win most of their games and competitions.
Variant: The Olympic Games and the World Cup
These two variants are often combined with other challenges and mean you have to qualify with a team from each region and play in the competition. Winning the competitions is almost impossible as Europe and South America is very dominant. If you include Oceania (Hexagon) you have to use New Zealand as they are the only choice here. They smash most teams with a difference of 5-0 or more in most qualifying games. But else this challenge is easier than the National Team Pentagon/Hexagon because you only have to qualify. With 5-6 spots from South America and about the same from Asia makes it easier as you do not have to finish first in your group.
Variant: The Player Challenge
This variant means that you win all tournaments you can with a player from each region.
Europe
Asia
Africa
North and Central America
South America
Oceania
Finding good players from all but Oceania is in most cases no problem. New Zealand sometimes produce decent players and you need to keep a look out for them. Rules about foreigners can be a problem. So players who can qualify for a new nationality soon or already have dual nationality should be on your shortlist. A team in Europe is probably your best choice. As Europeans generally don't move outside Europe. But a team in North America can sometimes work but the rules there are also more complicated.
Conclusion
This was it for the Pentagon and Hexagon Challenge and it's variants, one of the most common challenges out there and one you should always do at least once. You should look through some of the pentagon stories on the forum as most of them are really good. Next week we will look at Lower League Management and the challenges that can bring.

Subscribe to our Newsletter