FM 2011 player profile – Lucas
Lucas
Age – 17 years old
Position – Anywhere in midfield or upfront, but best as AMC
Club – Sao Paulo (Brazil)
Nationality – Brazilian
Value – £6.25 million
Price tag – £3.6 million minimum fee release clause (in patch 11.3.0)
Lucas Piazon starting attributes

The above screenshot is taken from a new Football Manager game using patch 11.3.0. Lucas has some good attributes for a 17 year old, his strengths being dribbling, technique, flair and acceleration. However, the value lies in his potential ability. This kid has a lot of room to grow and I've heard many gamers rave about him. Below is a scouts rating from one of Arsenal's best backroom staff.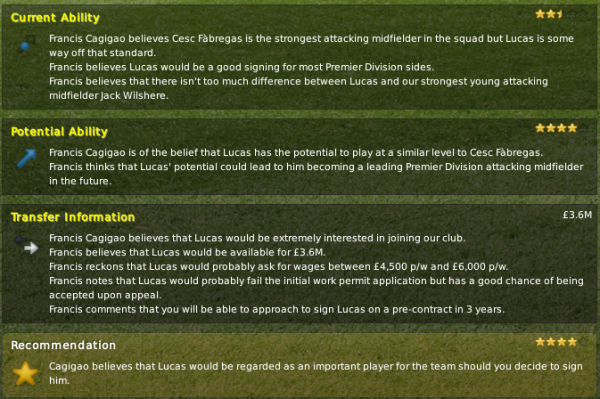 Has the potential to be similar to Fabregas, he can't be bad then. Also seen as a leading star for the future, Cagigao rates this wonderkid as a four star. Remember this report is based on the Arsenal team, so Lucas is been compared to Fabregas, Wilshere, Nasri and many more. Add a price tag of £3.6 million and this Brazilian wonderkid is irresistible. Now lets take a look at his attributes in 2018. The screenshot below is taken from my UEC game.

Now maybe some of you will see why I've held off on this profile. During my game, Lucas doesn't reach his potential, in fact he falls a mile short. While the Brazilians understanding of the game is much improved, his physical and technical attributes leave much to be desired. I wouldn't take much notice of this screenshot, and just see it as the midfielders worst case scenario. Lucas did however play some nice football in Russia after signing for Spartak Moscow. Below are the 17 year olds career stats.

My best buy rating – 8.8/10
You may also like
Comments